Day 3 - Atlantic, Iowa to Laramie, Wyoming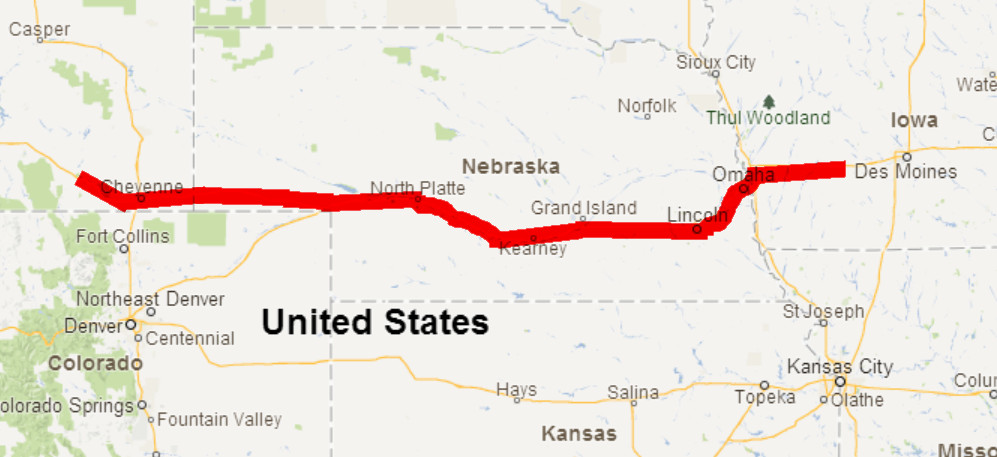 Sunday morning, bright and clear - but you could feel the heat starting to build. And the wind was more noticeable as well. Actually, the wind turned out to be a rather constant presence for the rest of the trip - all the way out, and all the way back until we got into West Virginia. It came out of the north, and before the trip was over, we sacrificed our awning to it. (No, it didn't blow off while extended...we'll get to it.)
I thought it was also rather odd that the night before, we'd parked pretty much way out at the edge of the parking lot, with no cars around, and yet this morning, when we got up, there were four or five cars parked RIGHT NEXT to us, as if we were some kind of mother ship and they had to dock right next to us. The whole rest of the lot was free, and these nuts parked right along side. Curious. The first thing we did was go into the Wal-Mart to buy a microwave. The one we had in the RV had started life in the house, but it was getting flaky, so we put it in the RV. It got even flakier there, so we just decided to chuck it and buy a new one. $100 microwaves might be some kind of statement on life in the early 21st Century, not sure. In any case, we got one, and got it going.
We didn't really do much cooking in the MW, actually. We had a gas grill for cooking up things like burgers and hot dogs, and the gas stove and range in the RV was perfectly adequate. Melissa had her coffee maker, and all was right with the world. Anyway, we got directions back out to I-80, and trundled our way back out. The road here from I-80 was not just a straight shot, had we gone back the way came in last night it would have meant back tracking a couple of miles or so, so we got directions to the next westward entrance to I-80. It just involved cruising down an Iowa country road for a couple of miles, but it put us back on the big road with no problem, and we weren't really in that much of a hurry. As we headed towards Omaha, more and more large wind turbine farms appeared on the horizon, smack dab in the middle of the corn and cows. The towers are huge, they seem much taller than the ones I've seen around here. I guess every little bit helps. Curious though as to their payback. How long will it take to amortize a half-million dollar windmill like that, I wonder? And how long for a farm with about 40 of them?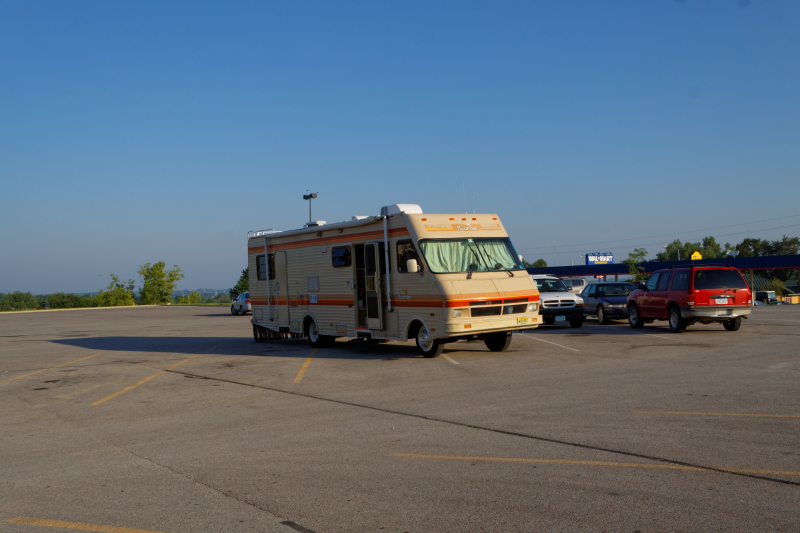 The Mother Ship, Wal-Mart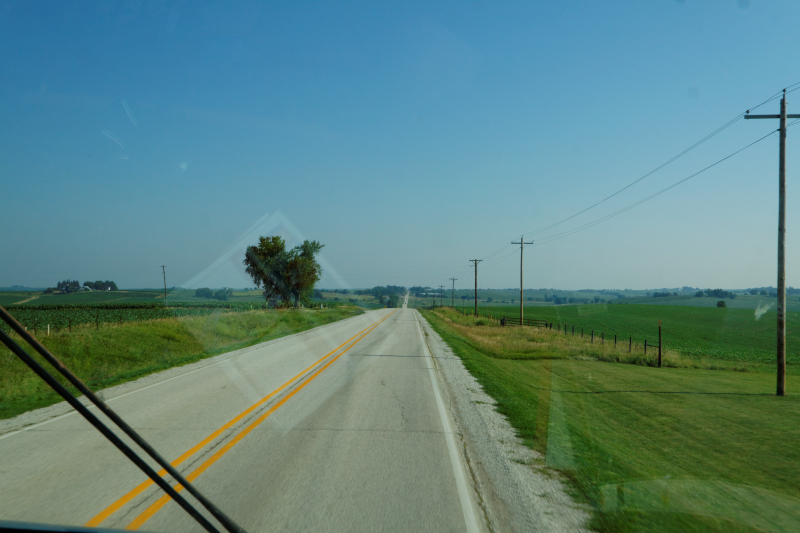 Follow me to Interstate 80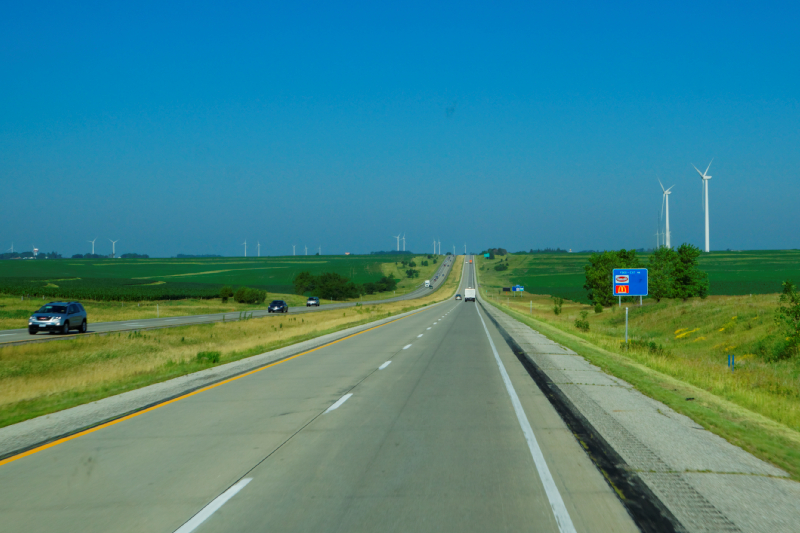 Interstate 80 in Iowa, with wind mills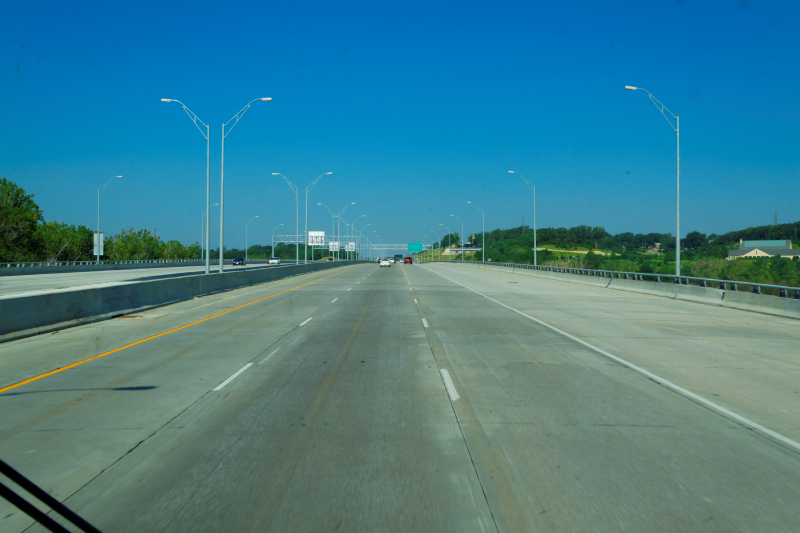 Just east of Omaha
We hit the outskirts of Omaha just before 10AM - wide, broad lanes with hardly any traffic to speak of. Omaha is a pretty fair sized place, so it was a little surprising to see so little traffic. We crossed the Missouri River and, greeted by a big locomotive heralding the Union Pacific Railroad, buzzed right through Omaha on 10 lanes of fresh concrete.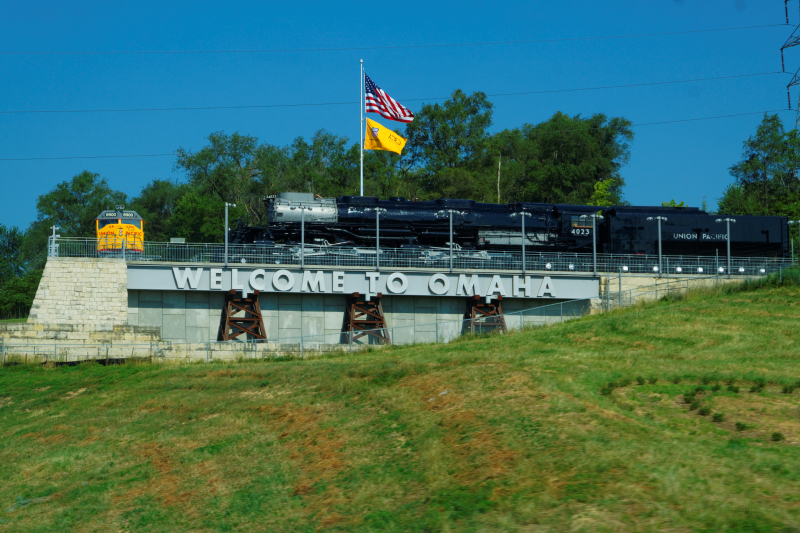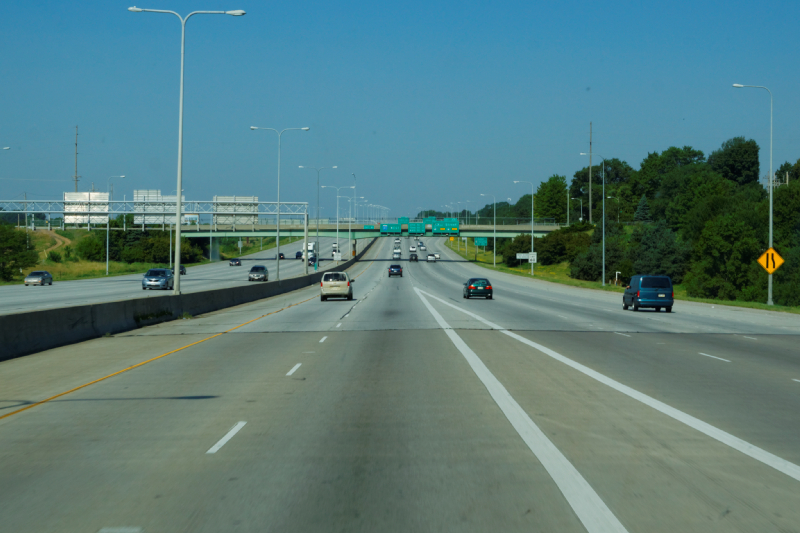 I-80 out of Omaha, Sunday Morning traffic
The Nebraska Welcome Center was just a few miles out of town. I remember stopping there in 1975 on my way to college in California. Nebraska seemed to go on forever, but I think part of that was our U-haul was straining to stay at 55 mph. Now, we could cruise all day at 65 or so, if we wanted. We often didn't want to, as I knew that used up gas at an alarming rate, and at a price about ten times what we paid back around the Bicentennial, a few MPH could be sacrificed. The Great Platte River Valley is the big thing out here, it's part of the Oregon Trail, the Chisholm Trail, the Santa Fe trail, and lord knows how many other trails the pioneers, cattle drovers, and gold rush miners took to get out to California and other points west. The route follows the Platte River all the way across the state. We passed a few spots where the Highway Department was repaving or otherwise working on the roadway. We'd get shunted to the Eastbound lanes for a dozen or so miles, and then slide back over, or vice versa. It wasn't too bad, as traffic was light, and everybody just kept up. I guess in Farm Country, they don't have such a bizarre fascination with heavy machinery like we do back East, where you have to slow down to 3 MPH to peer at an asphalt spreader as you go by. The helpful volunteer at the WC told me Nebraska has just two seasons - Winter and Construction.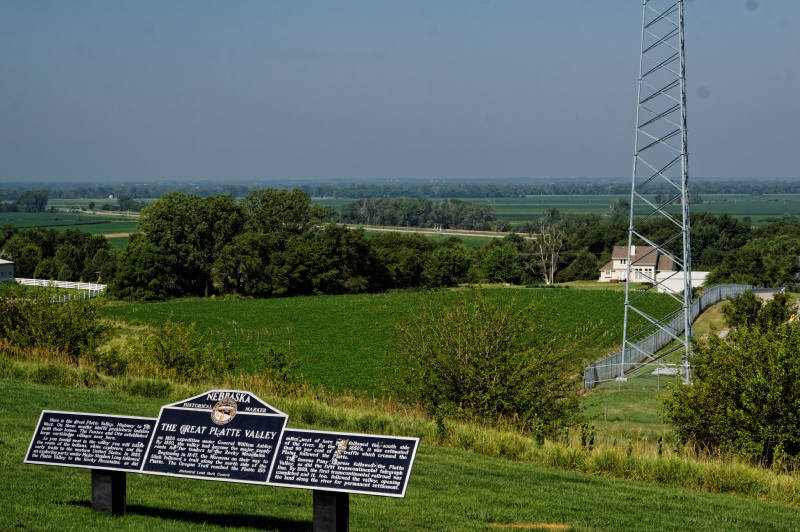 The Platte River Valley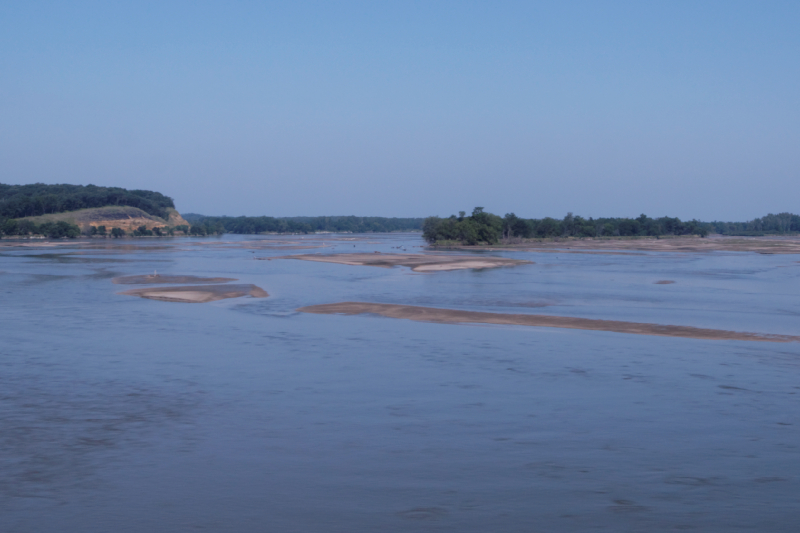 The Platte River - low, a dry season
Just outside of Kearney, there's a new touristy thing that celebrates this Great River Road, with a fancy archway over the interstate, and some bizarre looking stainless steel sculpture up top. But they don't announce the thing, and unless you know it's coming and get off the exit about four miles before hand, all you can do is kind of peer at it as you go by. Odd. It was getting very hot out, we noticed the temp had been between 95 and 100' all the way since Lincoln about two hours back.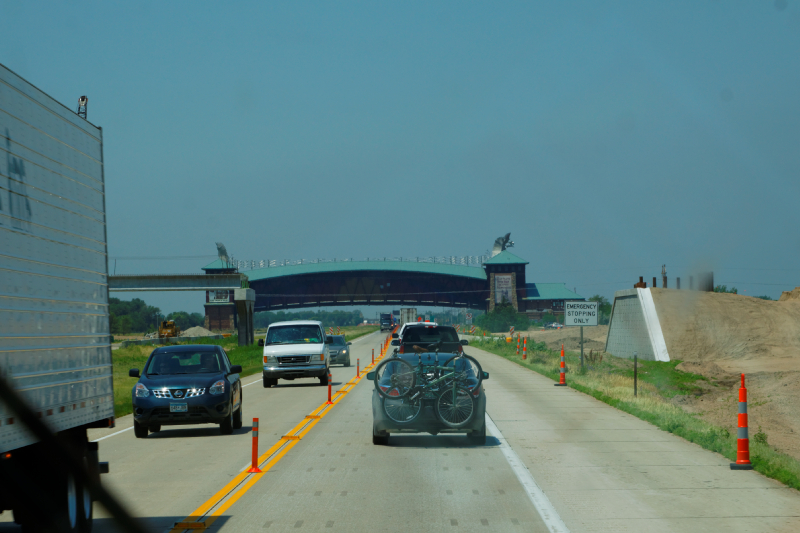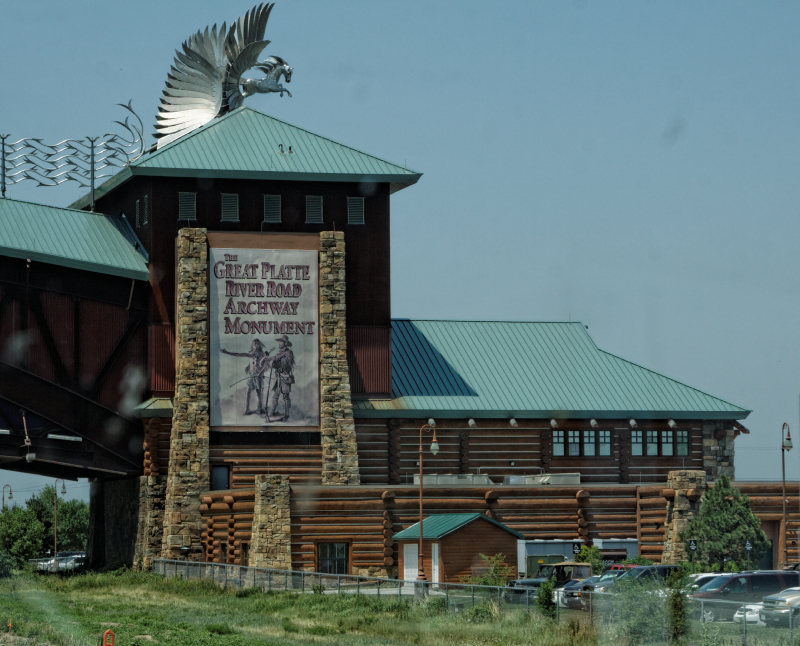 We stopped in central Nebraska for some gas, and the heat hit us like a big hot pillow. We'd been running with the generator and AC on for most of the morning, and didn't realize how warm 102' was. And the wind made it feel like a blast furnace. Lexington, NE, Conoco station, we took on 63 gallons of regular. Or so we thought. It turned out to be E85 corn oil blended fuel. Here on the east coast, we may see E10 methanol, with 10% corn oil, which most new cars don't have too much trouble with. But our old carbureted big monster Detroit Iron from 1988 just didn't like it at all. E85 is not much more than Crisco Oil run through some cheesecloth. We didn't know it yet, but this gas would cause the engine to shut off every time we came to a stop, and run rough in between. We decided to run along the heartland for a while, paralleling I-80 on US 30, the Lincoln Highway. We trundled on down the two-lane road, through Cozad and Gothenburg. We passed endless fields of corn. We passed a derrick in an corn field. I wonder if it was pumping corn oil? We even saw a tree. Between the heat, the wind trying it's best to blow us into the Platte River, and the constant shutting off of the engine, it was getting to be trying. All we needed to complete the picture would be an attack by some Sioux. Around North Platte we got back on I-80, to try to run some of the crap out of the gas tank. We were very gradually climbing up in elevation as well - our stop in Lexington had been at about 1600 feet, by the time we reached Sydney and pumped in about 30 gallons of Super Hi-Test Shell V-Power to counteract the corn, we were over 3000 feet above sea level.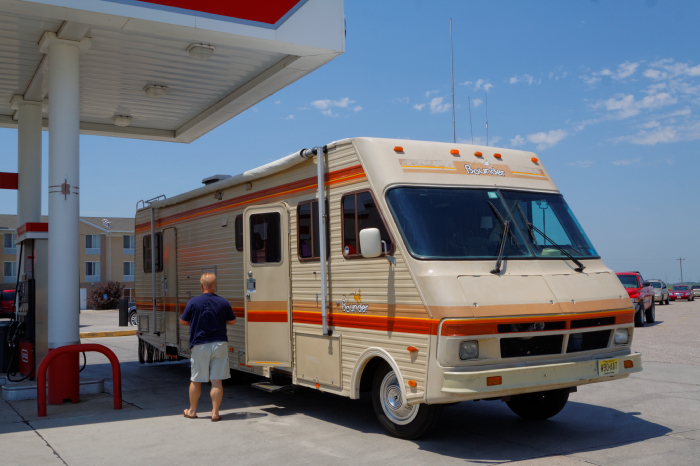 The fateful fillup - Corn Oil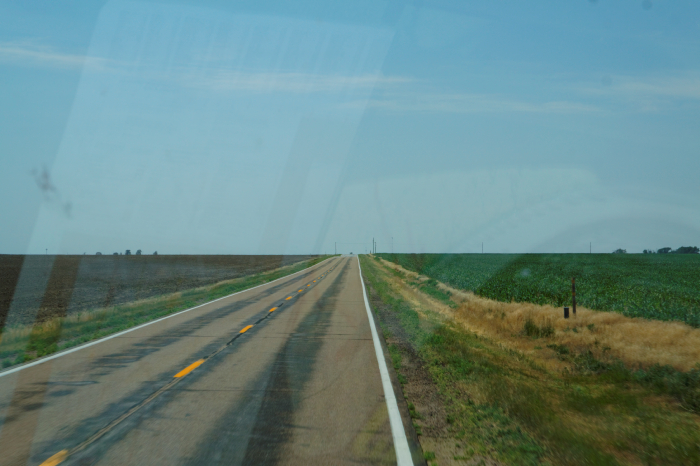 US 30 in Nebraska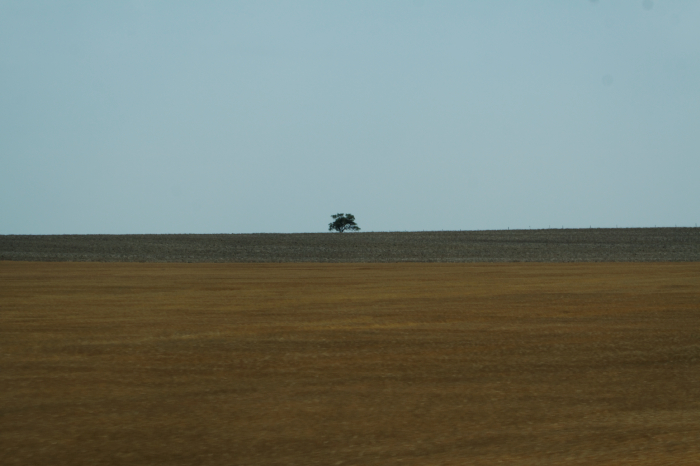 Nebraska's tree
We were getting closer to Wyoming - we passed within a few miles of the upper north-east corner of Colorado, where Interstate 76 veered south west towards Denver. This is an oddly numbered road, since I-76 is the numbering for the Schuylkill Expressway in Philadelphia and the Pennsylvania Turnpike. In any case, we started up the Eastern Front of the Rockies, which is a much more gradual climb than using the more southern routes through Denver. We crossed into Wyoming a little after 5PM. The elevation at the Pine Bluffs Welcome Center was 5,108 feet, almost a mile. Temp was 102'. This WC was kinda cool, they had a big exhibit center and some fancy bathrooms, and a big hiking path around the rocks and such, but at over a hundred degrees, our interest waned. Onward we pressed towards Cheyenne. Large dark storm clouds rumbled overhead as we passed a huge Wal-Mart distribution center with about six hundred trucks arrayed around it. The rain sprinkled but luckily, never materialized into anything more dramatic. The low flat farmlands of Iowa and Nebraska transformed into bare grasslands here, where they grew cattle instead of corn. Still, the wind was constant.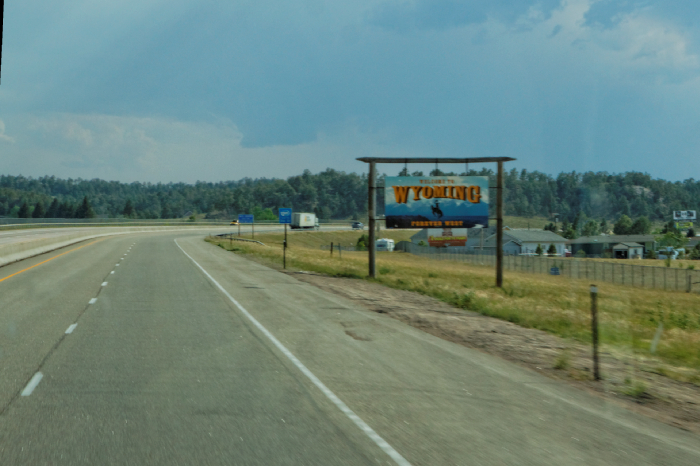 Crossing into Wyoming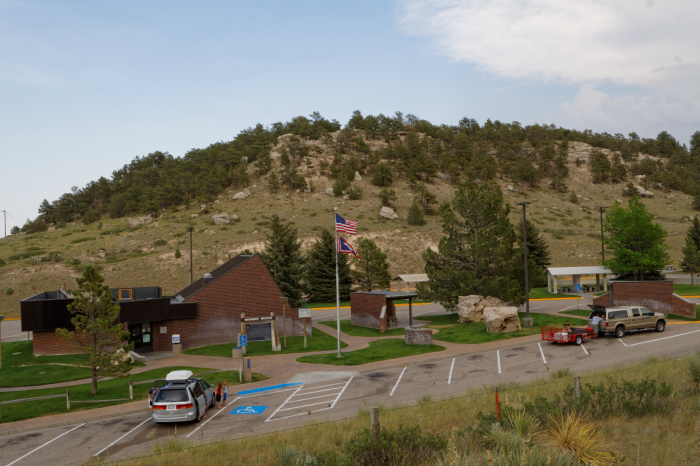 The Pine Bluffs I-80 Welcome Center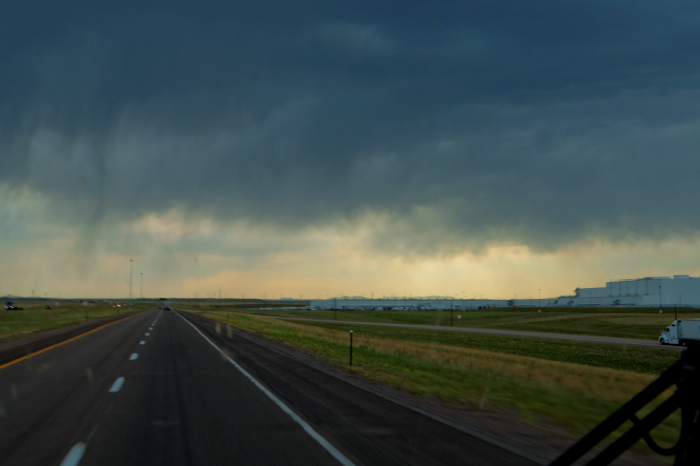 Clouds east of Cheyenne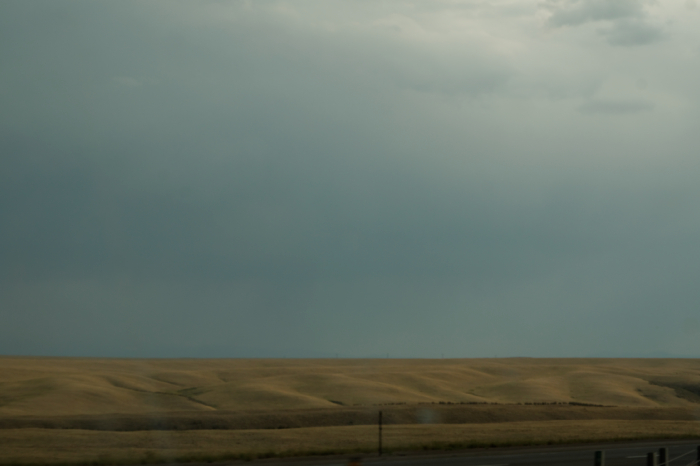 Wyoming Grasslands
Once we passed the unassuming Cheyenne, the climb was much more noticeable. Gradual, and no real grades to worry about, but you could tell we were rising. We passed the 6,000 foot level soon after Cheyenne, and then in another 30 miles or so, the 7,000 foot level. Then, after a bit, we came upon the aptly named Summit Rest Area. This is the highest point of I-80 from coast to coast, at 8,640 feet. It's also a bit of a memorial to Henry B. Joy, who was one of the movers and shakers back in the 1920s for pushing the Lincoln Highway across the country. It passes over a ridge just a couple of hundred yards from here. There's a big old statue of Lincoln, some nice views down the road, and a warning about bears. Typical Wyoming, I suppose. As you leave the rest stop, warning signs announce about 6 miles of steep grade down into Laramie. The road switches back and forth, and we passed three or four 'runaway truck ramps', where you can escape off the main road if you lose you brakes or something. These ramps go up a quarter-mile incline and then, oddly, come to an abrupt halt at the side of a cliff. One hopes one gets one's truck slowed down before one runs out of road. We pulled into Laramie and got off I-80 onto Route 30, looking for a place to have some dinner and stop for the night. We passed the buildings of the University of Wyoming, and found a nice little city park to eat dinner at. Then we drove back out of town a bit to a large Wal-Mart SuperCenter we'd seen on the way in, and parked there for the night at about 8:30PM. We also ended up taking the microwave we'd bought that morning in Iowa back, because it was too small, and exchanging it for a bigger one that fit better. The air was ripe with the scent of wildfires, as much of Northern Colorado was on fire. It had been, and continued to be, a very dry summer in the mid-west and western states, and fog and smoke was evident. We could look down on Laramie as the lights blinked on. We ran the generator all night to try to use up some of the gas, which was still giving us hiccups with the corn oil mix we'd gotten way back in Nebraska.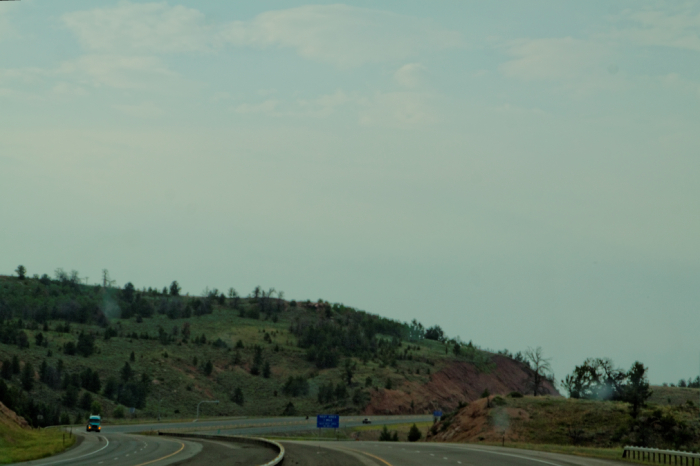 Climbing, west of Laramie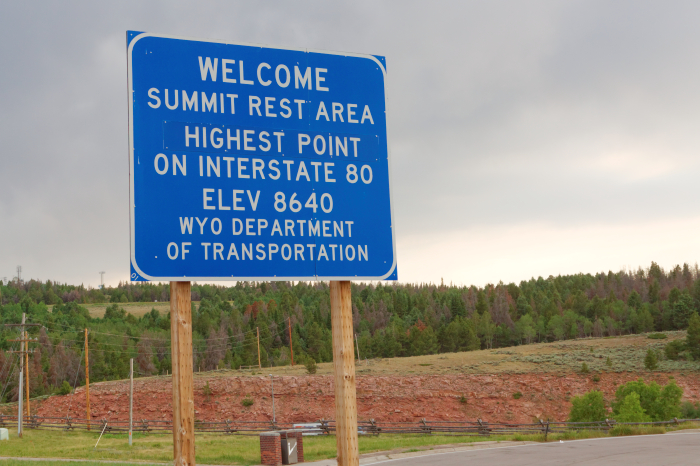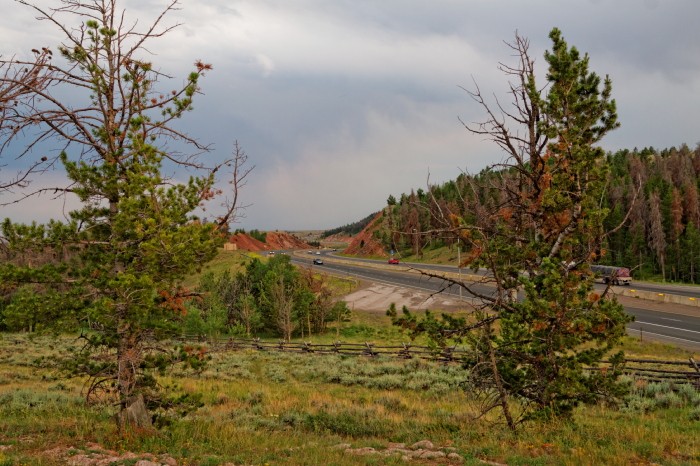 The way we'd come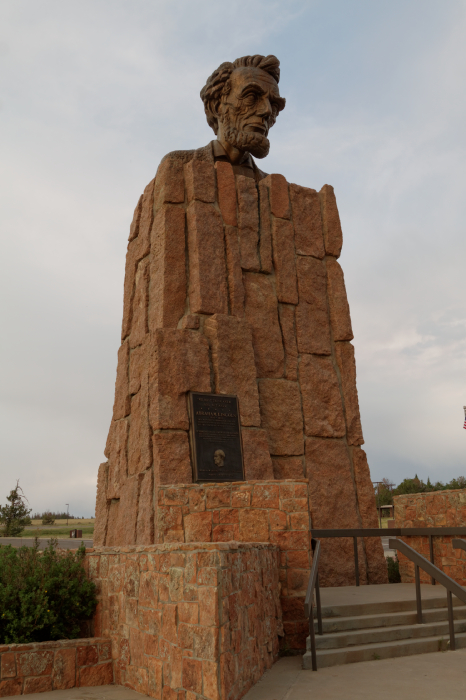 Large bust of Daniel-Day Lewis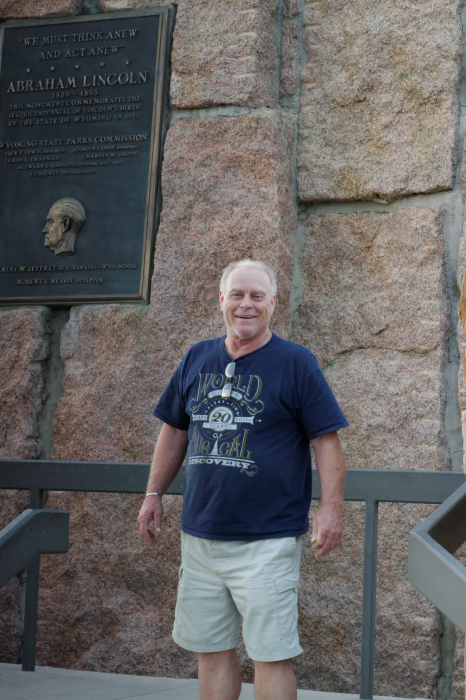 Uncle Hal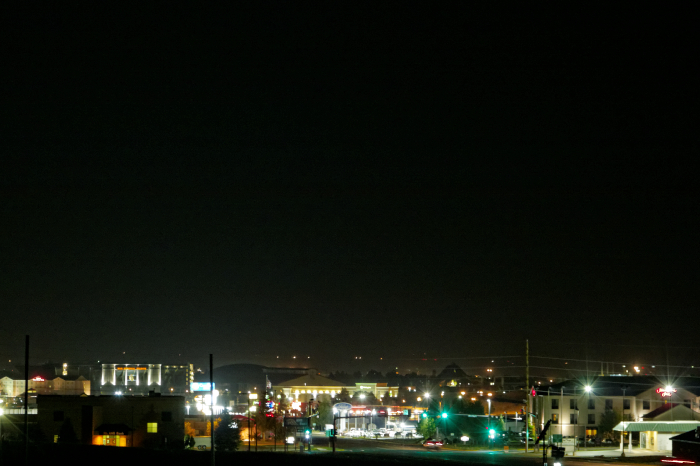 The Lights of Laramie
Day 3 - 609 miles, and another hour gained via Mountain Time zone
Day 4