Day 4 - Laramie, WY to Ogden, Utah

6:30 AM I got up and started coffee - and the coffee machine promptly sparked and blew up. The generator, still running rough, was sending anywhere from 92 to 160 volts to it, which is generally believed to be not good. A quick trip into Wal-Mart for a replacement. So far, we'd spent more time at Wal-Marts across the country than anywhere else. Of course, we parked overnight for free two out of three nights so far, I guess that's a trade-off.

We got back on I-80 after breakfast and coffee. The air was still noticeably hazy and smoky. We noticed a fair number of college kids in town, and it seemed odd that there would be so many so soon before a school season. Maybe they started school in July around here, don't know. The road out of Laramie was fairly straight most of the time, and very slowly climbing up towards the hills of Rawlins and Rock Springs. This wasn't mountain country so much as high plateau, although there were spots where we could see some good sized hills out in the far distance. The smoke and haze made it tough, though. About 10 AM, we stopped for a bit at Fort Steele State Park, east of Rawlins. The sky had cleared, as the wind was now blowing directly out of the north and across our bow as we drove. It was a constant struggle to keep the ship pointed in the right direction and not drift leftward across the lanes. It was still very warm, hot and dusty. The rest stop was a nice oasis of green amid the dusty brown surroundings of the area. This part of Wyoming is very much unlike the typical Yellowstone National Park idea of the state - around here, it's flat, rocky scrub grassland, with not much more than barbed wire fencing and train tracks to break the monotony. You'd never know you were 7,000 feet high. The prominent man-made features are oil derricks, and huge wind turbines. This is oil shale country, and unlike when I drove it 35 years ago, the price of energy has made starting up the derricks worth while, and building the wind farms to take advantage of the near constant breeze now makes economic sense, I suppose. It shouldn't be surprising what $100 a barrel oil, and taxpayer subsidized wind energy will do for a region.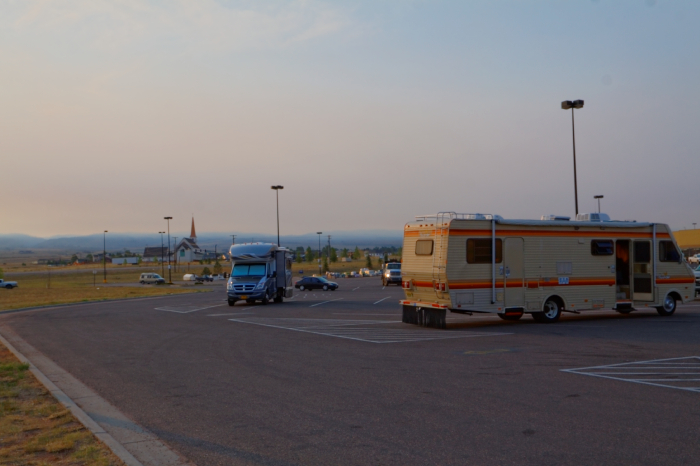 Early morning Laramie Wal-Mart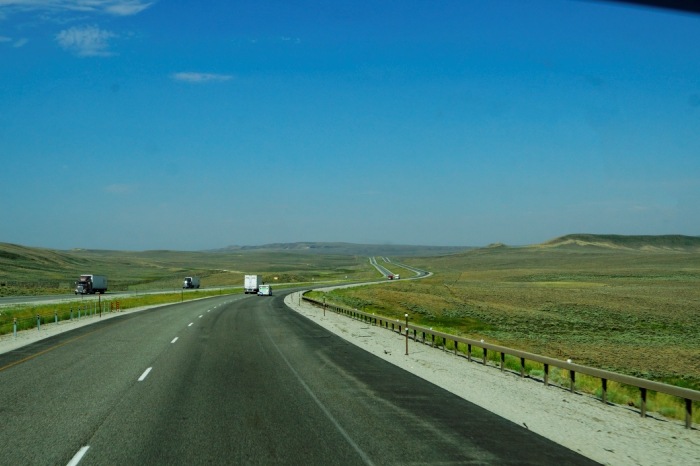 I-80, west of Laramie. Another four hundred miles, and we'll be in Utah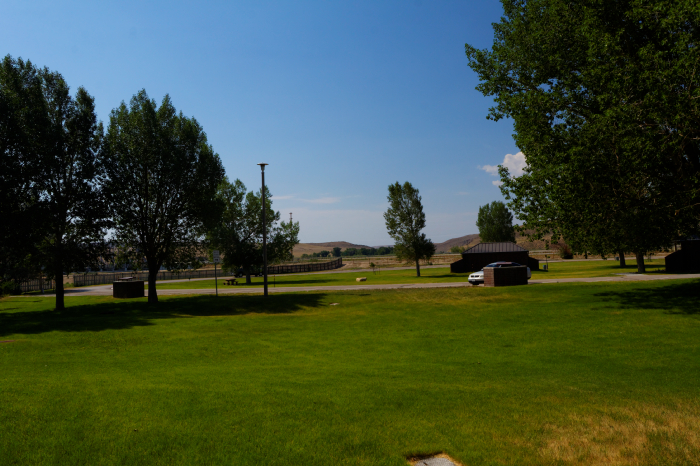 Fort Steele State Park
Rawlins passed by, notable only because of a huge, miles-long freight train heading east that we seemed to be passing for hours. Another two hours and we were passing Rock Springs and then Green River, a jumping off point for sport enthusiasts who kayak down the Green River towards the Grand Canyon, or into the Flaming Gorge area. Lots of dinosaur fossil around here too, of course - the world's most complete T-Rex was chipped out of the rocks around here somewhere. The flat, treeless plains finally gave way to some geology, and the large mesas and buttes of southwestern Wyoming were finally visible.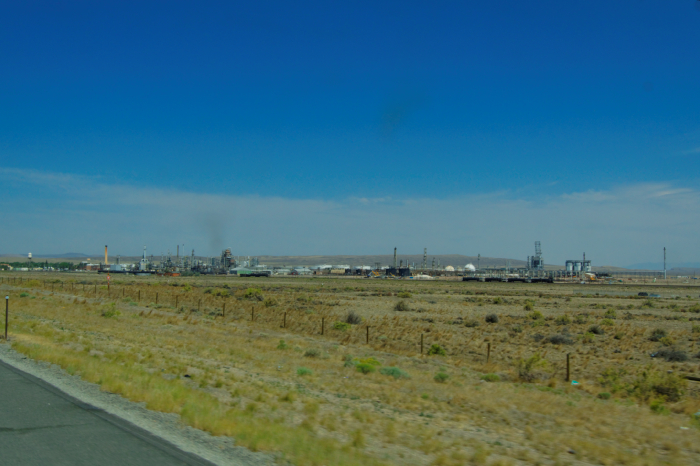 Sinclair oil shale refinery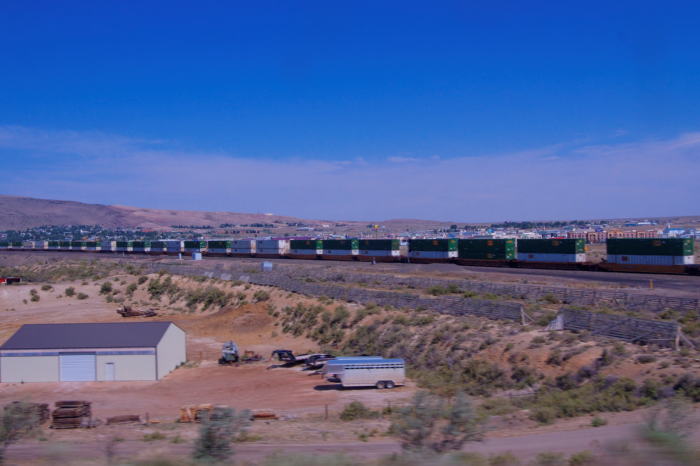 Rawlins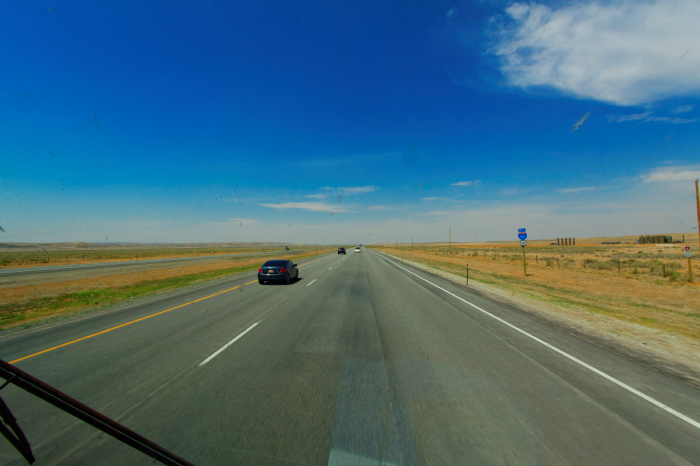 Central Wyoming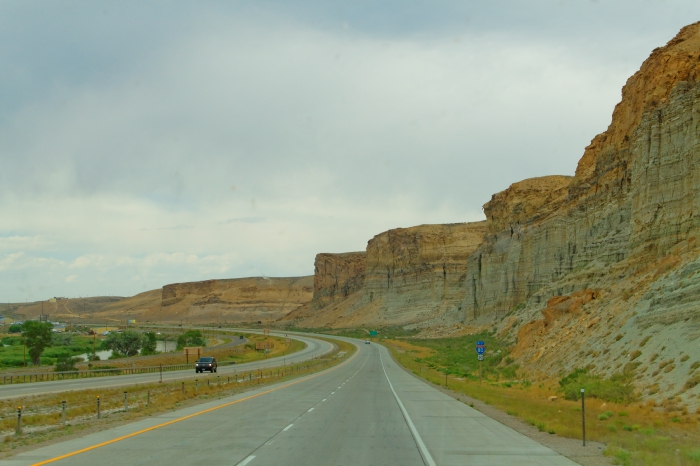 Bluffs near Green River
One of the places I'd remembered from 1975 was a huge truck-stop touristy place, called Little America. Named in honor of the equally remote research station in Antarctica, L/A began advertising 50 cent ice cream cones and other assorted reasons to stop and spend some money, similar to the East Coast's South of the Border. But when we got there, finally, about 50 miles west of Green River and about as remote as I'd remembered, it was a disappointment. When you're looking forward to tourist schlock, a cleaned up, whitewashed, tree-lined place just doesn't cut it. They'd fixed it up so nice, it bore no resemblance to the huge, tractor-trailers-everywhere 30-island gas pumping station I'd thought of for so long. It was if they'd taken the cheap serape off of Pedro and put him in a tuxedo. We gassed up, at an exorbitant price, and visited the souvenir shop for some postcards and other junk. Then it was over to the cement buffalo for the required pictures, and back on the road. Utah beckoned.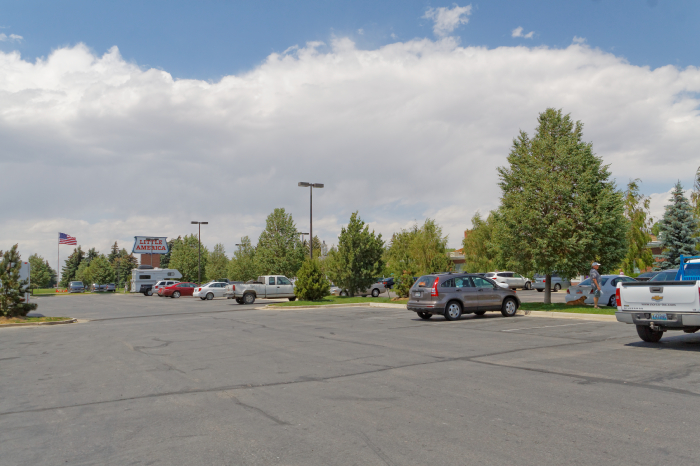 Little America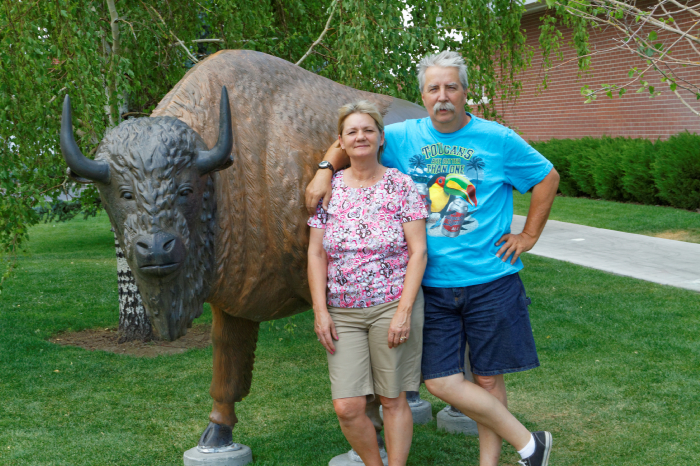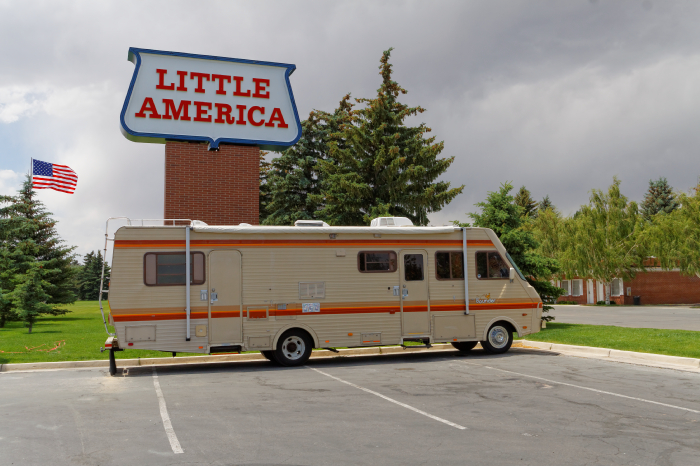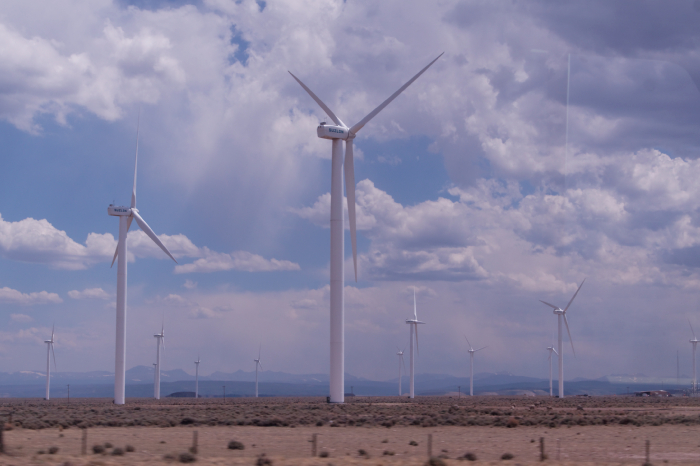 Wind Farm near Evanston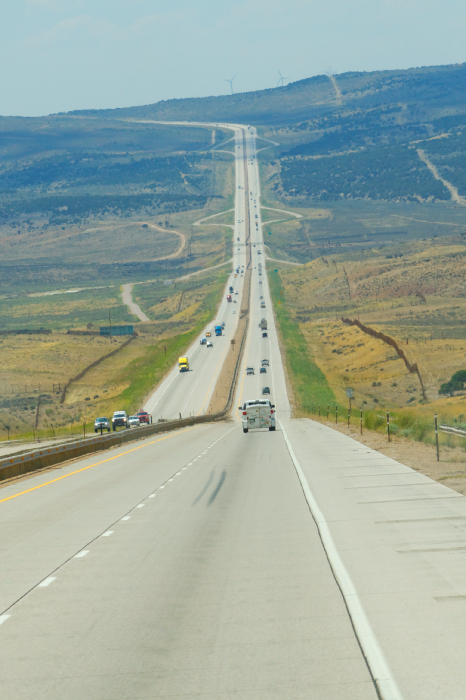 Past Evanston, I-80 stretches off into the distance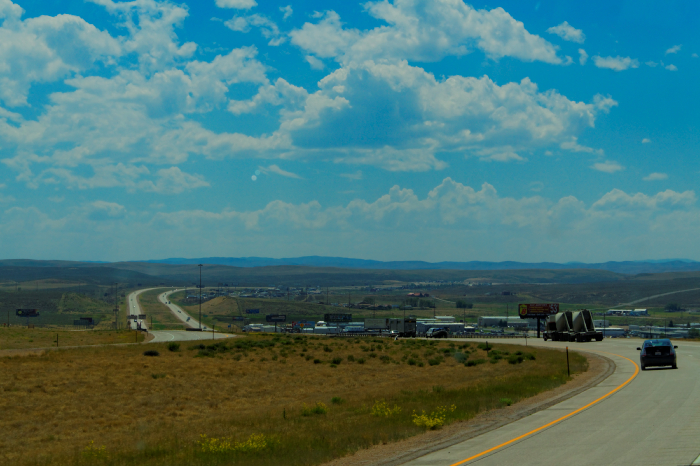 Crossing into Utah, blue skies finally appear
We went through a brief shower just as we crossed over in to Utah. Now we were crossing the Wasatch Range, moving westward through some good sized hills. Hal took the wheel, and I tried to get some shots out the windshield. The first twenty or thirty miles were not much different from Wyoming, but then we started to see more elevation change. We seemed to be going downhill most of the time. The road was in fine shape, nice broad sweeping curves, and spots where you could see a small river running along side the roadway. At Echo, we branched off to Interstate 84 which would take us to Ogden and the Great Salt Lake area, north of the city proper. We'd been looking in the guide books, and thought it might be nice to check out Antelope Island State Park, which was right in the middle of the Great Salt Lake. The sky was blue and clear now, perhaps the best air we'd seen since we left New Jersey. Even this late in June, we saw patches of snow in the shadowed hollows of some of the peaks. The ride down from Echo, through Weber, where we stopped at a very nice roadside rest for a few minutes, was very pleasant.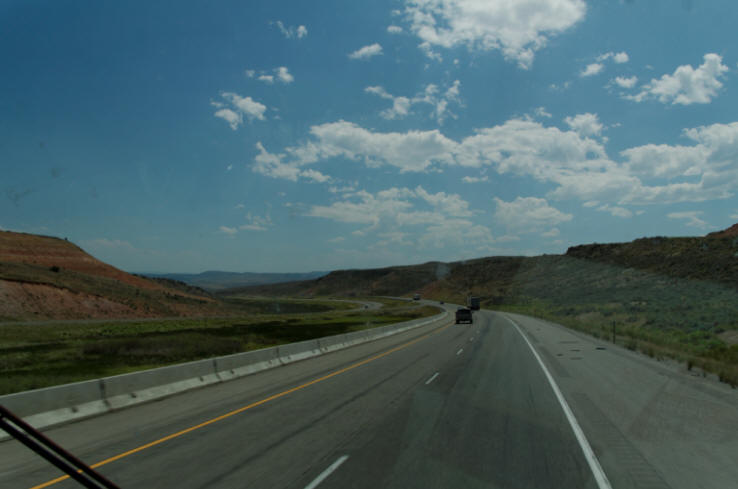 I-80 in Utah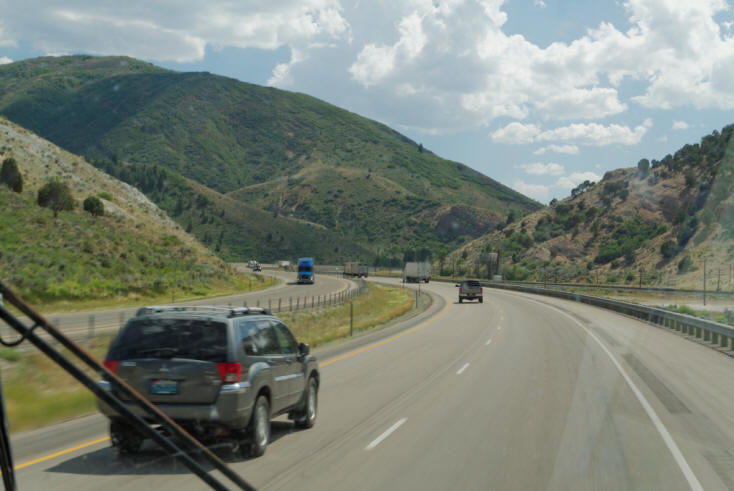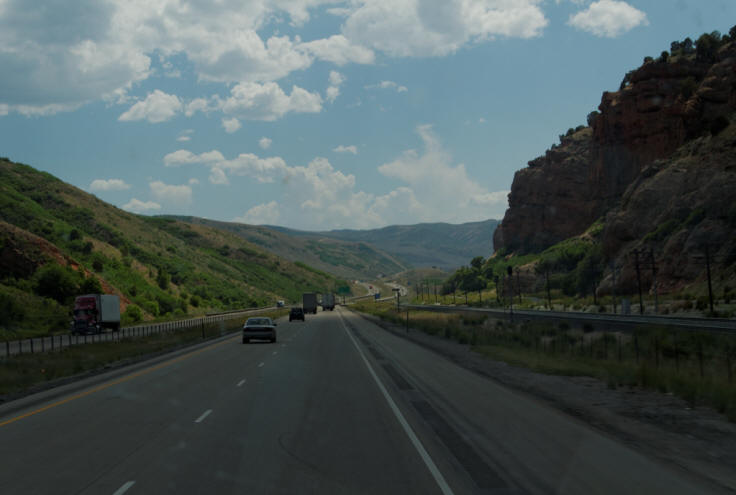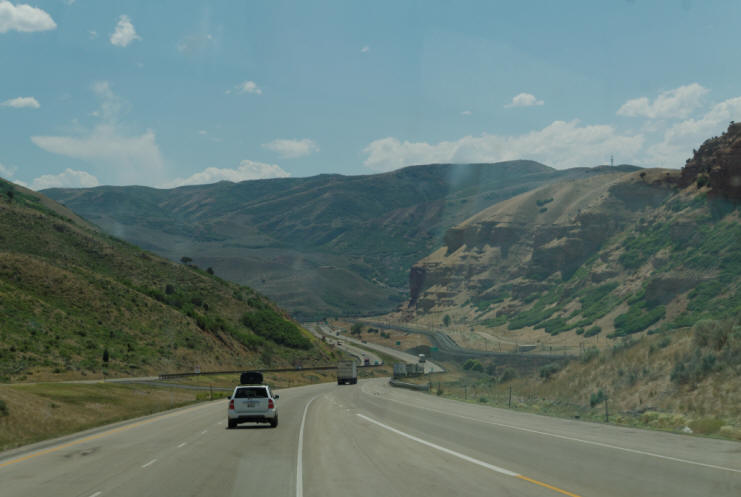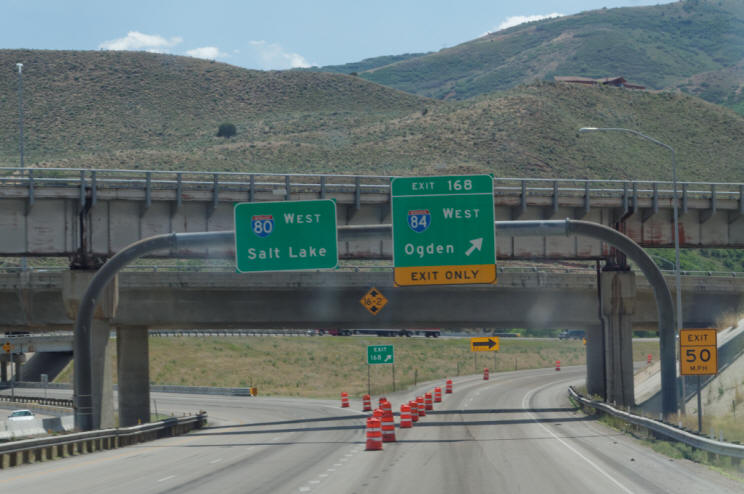 I-84 splits off towards Ogden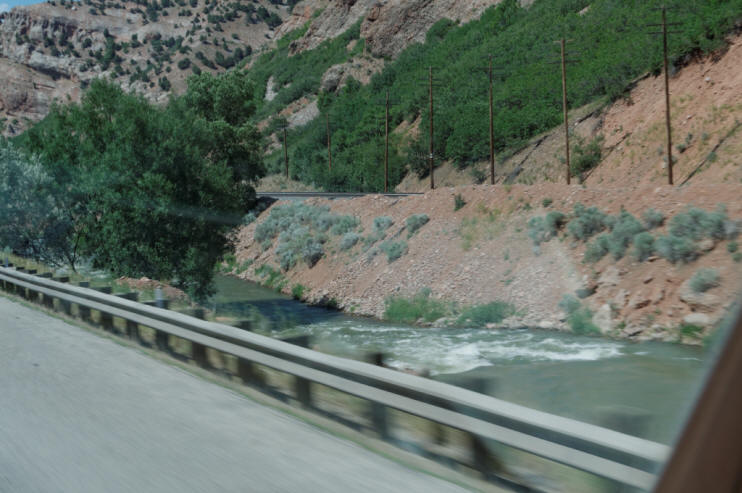 The Road, the River and the Rails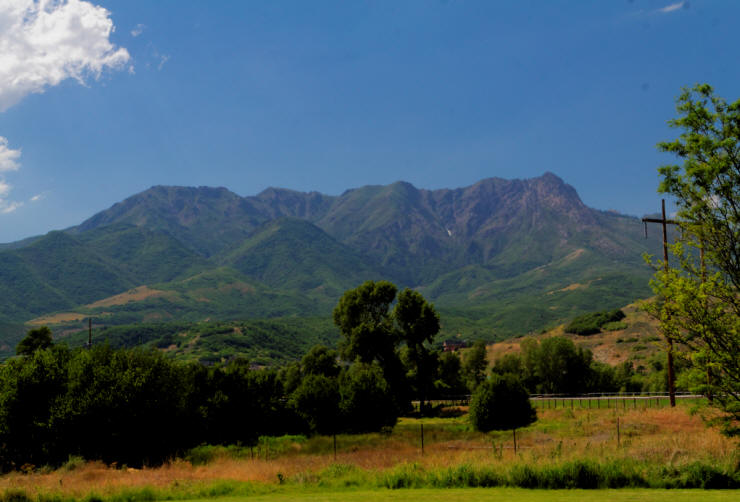 Rest Area, Weber, Utah
We finally came down out of the mountain after about an hour or so, and hit Interstate 15, the main north-south roadway we'd be using for a few days. We drove south a few miles to the town of Roy, where we headed to the State Park entrance. By now, the sun was blazing hot, and it was over 105 degrees, with a really stiff wind as well.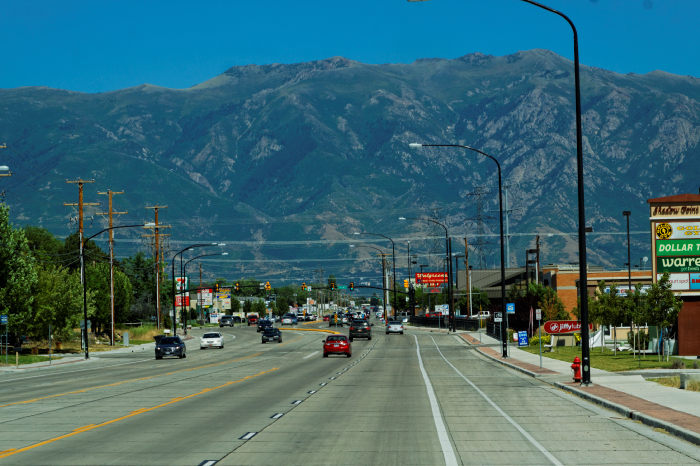 Back towards I-15 from the Park
Once at the park entrance though, we found out that it's a 'primitive' park - no real facilities. And no shade. That was the killer. I didn't really want to spend the next five hours sitting in the direct sun at 105', even if we DID have air conditioning. It was just too bloody hot and windy. So we turned around back to I-15 and went back up to Ogden, where we found a very nice RV park with hookups, showers, laundry, and shade trees. So we ended our fourth day. We'd pretty much come as far west as we had planned. We were 2287 miles from home, and according to the GPS, we'd averaged 56 miles an hour, not bad at all. Tomorrow, we'd go see the State Park and Great Salt Lake.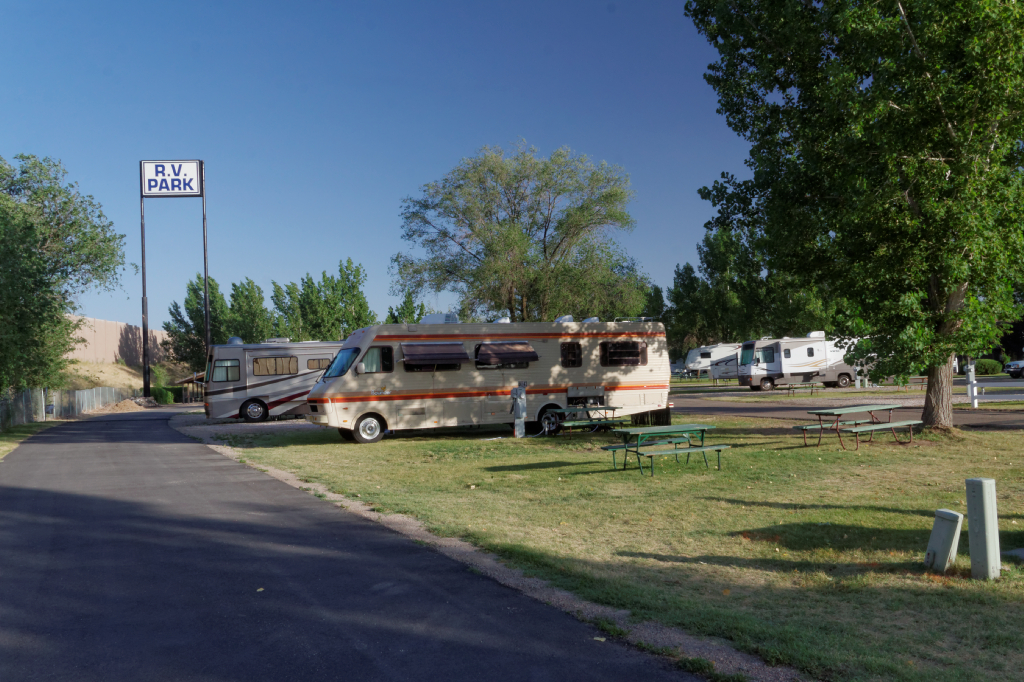 End of Day 4 - 413 miles
Day 3
Day 5