Day 2 - 23 June, 2012 London, OH to Atlantic, IA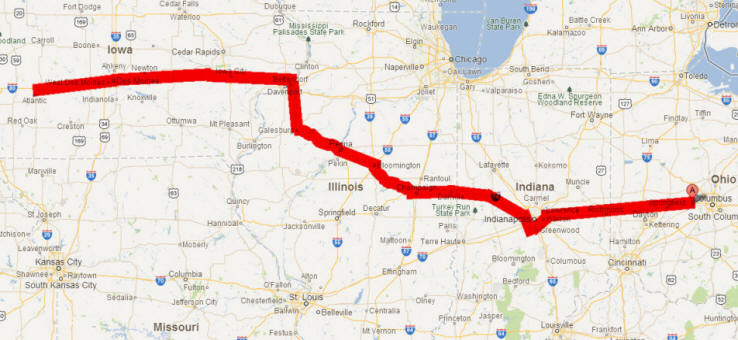 Saturday morning dawned clear and bright. The noise and cacophony that greeted our arrival at the truck stop was muted, as much by distance as anything else. I wandered into the Pilot Store for post cards, and picked up Arby's breakfast sandwiches for us all. Hal was playing with his test light on some electrical component that has now slipped my memory, and blew out the light bulb on it. This was unknown to him until he touched the probe to a hot wire and because he saw no light, assumed the circuit was dead. It was not, and luckily, neither was he, although it did take a few hours for him to stop glowing. We thought perhaps the refrigerator onboard was acting up but tests proved that it was working just fine. I called Pilot again but was not able to get them to see the light. We finally got it worked out, but not until I was able to call my email provider, have them reset my password after calling ME back to verify my identity, and then logging into my web-based email on Hal's laptop to see the email I'd just gotten from Pilot. They authorized the card. I took a few pictures around the spot, enjoying the clear, golden morning light of Ohio farm country. Once on the road, Indiana beckoned about 90 miles west of us. The road was clear, very little traffic, we passed by Springfield and Dayton with no measurable excitement. The geography had flattened out considerably from yesterday's up and down travel, so while not exciting, it was easy on the gas. I'm sorry that Ohio was not more memorable, but that's the way it is.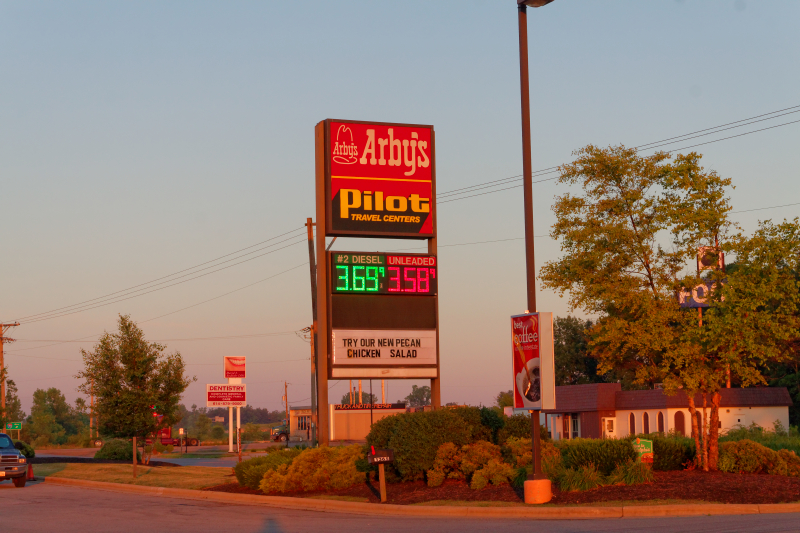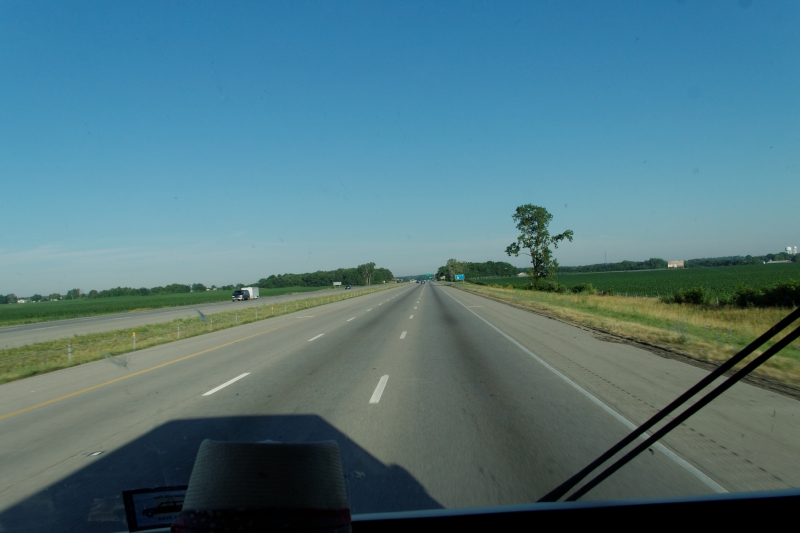 I-70 in Ohio
Our first border crossing of the day into Indiana was encountered after about an hour and a half on the road. We kept an eye out for the Welcome Center.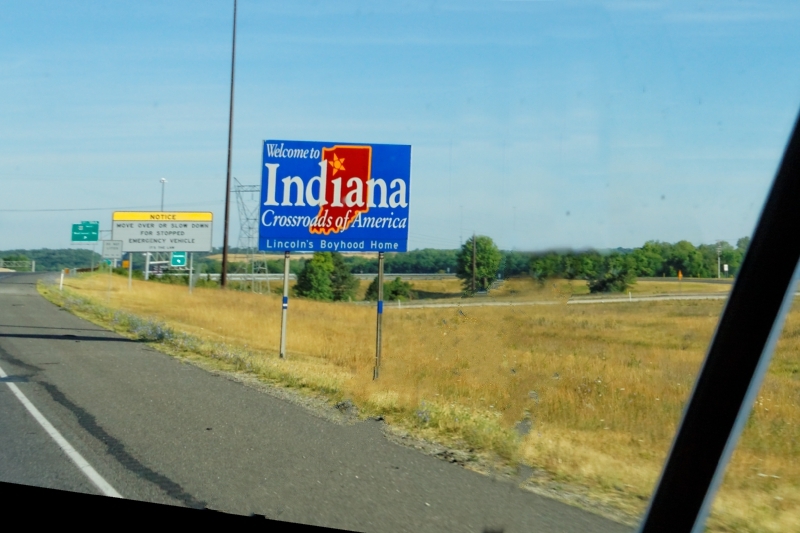 It was only a few miles down the road. There were half a dozen semi's and a few cars, and so I pulled in and Hal and Melissa went in to check it out. We collected brochures and maps, as usual. There was a "Welcome to Indiana" photo display of the governor and his lieutenant, and I was struck by the mirror image of Hal & Melissa looking at it. I took the time to wash the windshield, as the bugs were starting to become more numerous, and more desperate in their attempts to flatten themselves on the glass. We couldn't use the wipers since I'd never gotten the washer fluid mechanism to work quite correctly, and without some liquid to wash them away, I only spread insect entrails all over the front. Soon enough, we were back on the road, headed towards Indianapolis and our next interstate junction.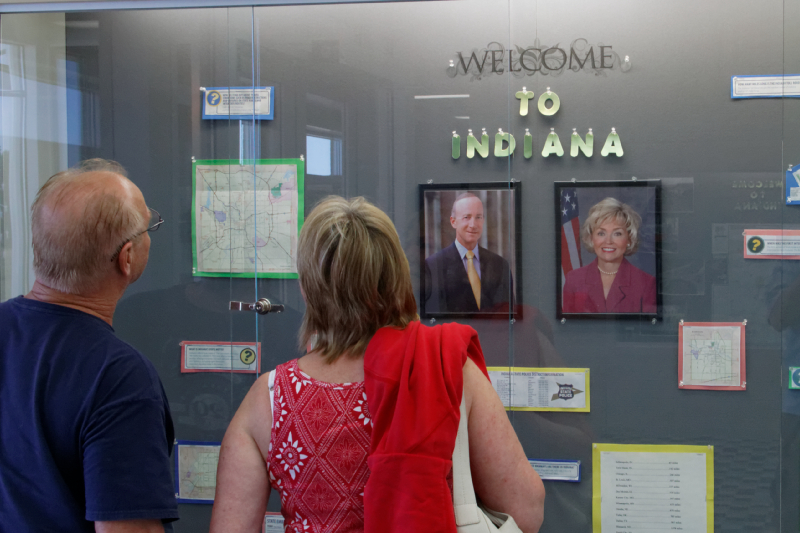 By mid morning, we were nearing Indianapolis. We ran into some construction around town, but it wasn't too bad - the traffic volume was, to me, remarkably light for 10:30 on a nice Saturday in the summer. The bypass loop around Indianapolis was having some lanes added to it. It almost seemed that six full lanes was overkill, but perhaps around Indy 500 time, it might be barely adequate. The weather was still good, nice and clear, although it seemed the breeze was picking up. We picked up I-74, headed northwest towards Illinois - Danville, home of the Van Dyke brothers, Champaign, Bloomington, Peoria, and points west. The topography was still uneventful, just the occasional small valley with a creek at the bottom. Somewhere along here we crossed over the Wabash River.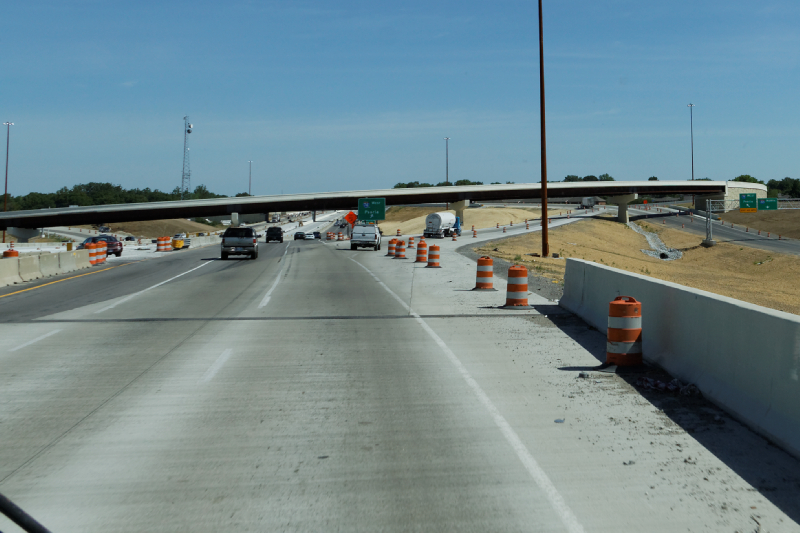 Indianapolis, catching I-74 and heading Northwest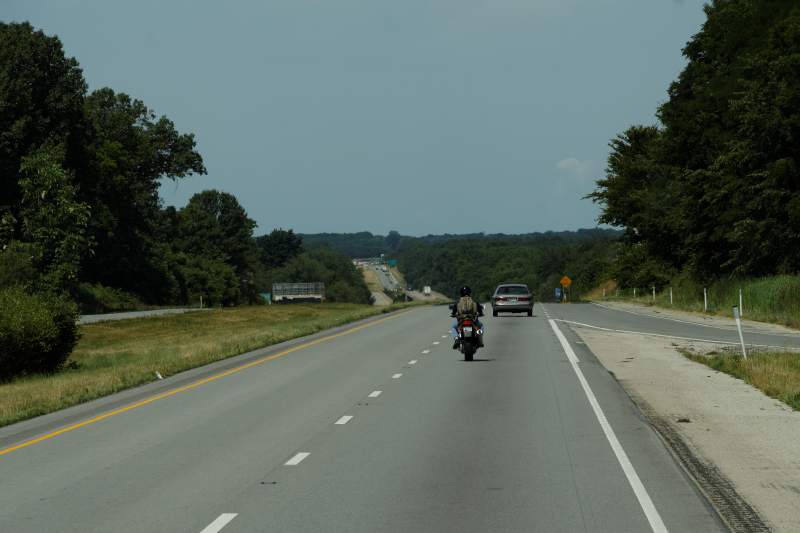 I-74, somewhere between Indianapolis and the Mississippi River
Somehow, we missed the Illinois Welcome Center. I'm not sure they even have one. The road was flat, straight, and somewhat boring. As we drove deeper and deeper into real farm country, the local seed merchants and grain elevators became more common. Between Champaign and Bloomington, we saw our first wind farm. On my last cross country trip, back in the mid 80s, there were of course none of these giant mills catching the breeze coming down from Canada and turning it into electricity. Now, they seem to be fairly common all across the Midwest. We saw them all the way to Utah. It seemed that many of the machines were not yet in operation. They sprouted out of the corn fields like gargantuan, arm-waving scarecrows.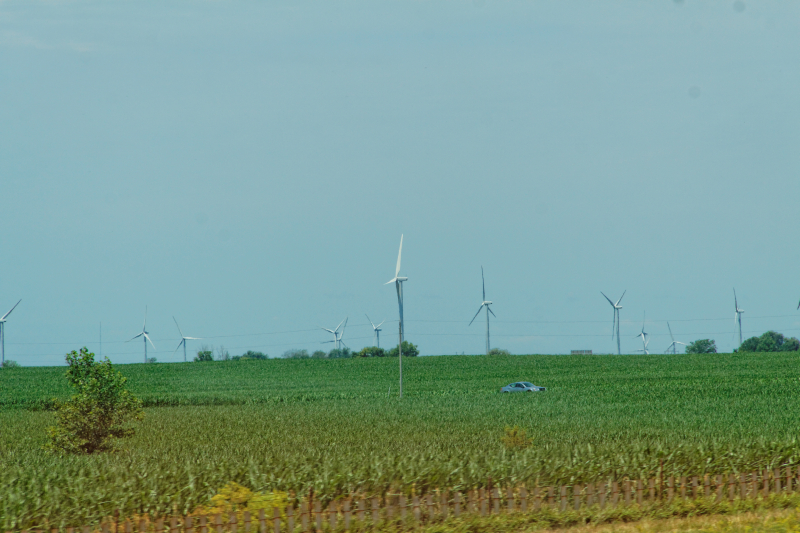 Wind Farm, Bloomington Indiana
We bypassed around Peoria, crossing the Illinois River. The highway department was resurfacing one bridge, so we bobbed and weaved over to the east bound lanes to cross the river. As we drove on through the heartland, Hal told us all about GMO corn, steel recycling, and motorcycle handlebar laws. It seems that handlebars reaching higher than the drivers shoulder blades are illegal. Somewhere. We saw dozens of flagrant examples of law breaking on the road. At Galesburg, we made a sharp right turn, and headed directly north to the "Quad Cities" area - Davenport, Moline, Rock Island, and East Moline, all straddling the mighty Mississippi, and our connection to Interstate 80, which we'd follow the rest of the way west. We picked up an hour crossing into Central time here as well. The sky clouded up and we went from a nice, bright sunny day to a rather overcast and threatening sky, but the temperature stayed warm - mid 80s at least, with a hot breeze as well.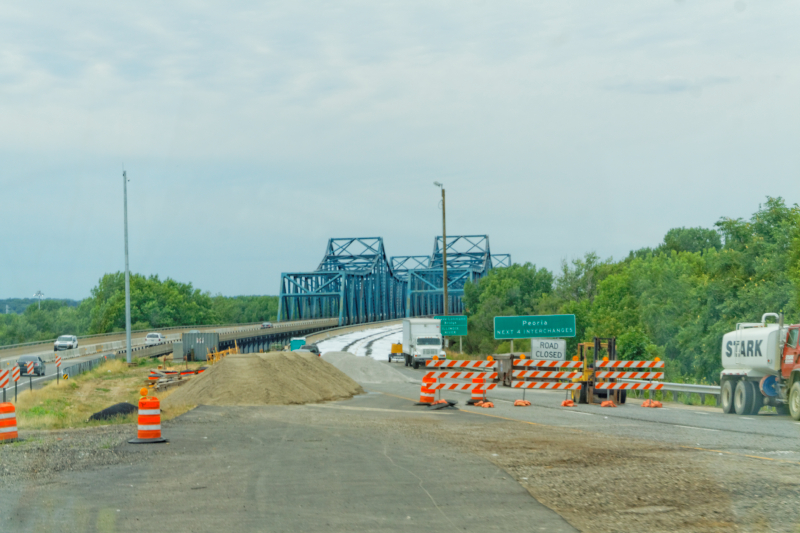 Crossing the Illinois River at Peoria
I remember little about the distance from Peoria to the Quad Cities and the Mississippi crossing. When we crossed the river, the sky was clouding over completely, and I was driving, so Melissa took this picture. Any faults are mine for the poor stability control.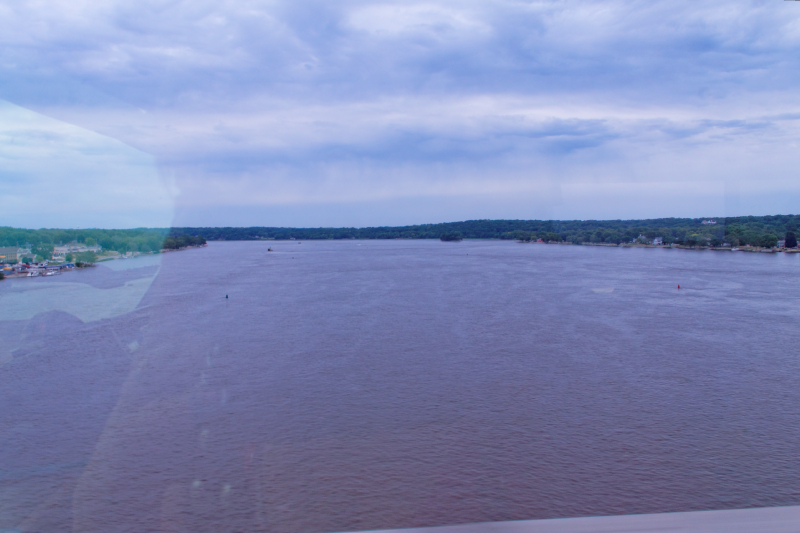 Crossing the Mississippi, Rock Island/Moline/Davenport
We crossed into Iowa about 3PM. and our next destination was the famous "I-80 Truck Stop", self-billed as the largest truck stop in the world. If you've never been to a big truck stop out west, you've missed an interesting part of Americana. Yeah, we have the occasional Pilot or Flying J kind of place here in the East, but out west, there's room to roam, and the places are huge in comparison. Usually, their prices are higher than a 'regular' gas 'n' go place, but these big places have an entertainment value it's hard to put a price on. This place has everything from an on-site chiropractor to a huge truck-oriented chrome plated gift shop. Need a new 400-gallon diesel tank? How about 6000 reflective running lights? An air horn that plays "Never on Sunday", "La Cucaracha" or any of 20 other tunes? Yep, we got 'em... The place is only about 20 miles into Iowa, so we followed the signs, and soon enough, there we were. The skies were leaden and grey, threatening rain but I don't remember any falling. We went in and wandered round the place, Melissa bought souvenirs for the kids and all back home, postcards and the like. You can be sure a place is big if they have three full-size, 60-foot long tractor trailers parked inside, in the aisles!! It was too early for dinner so we passed on the restaurant, Dairy Queen, Wendys and other assorted places to load up on carbs and fat. I took some pictures in the chrome shop and out in the lot Hal and M posed for a shot.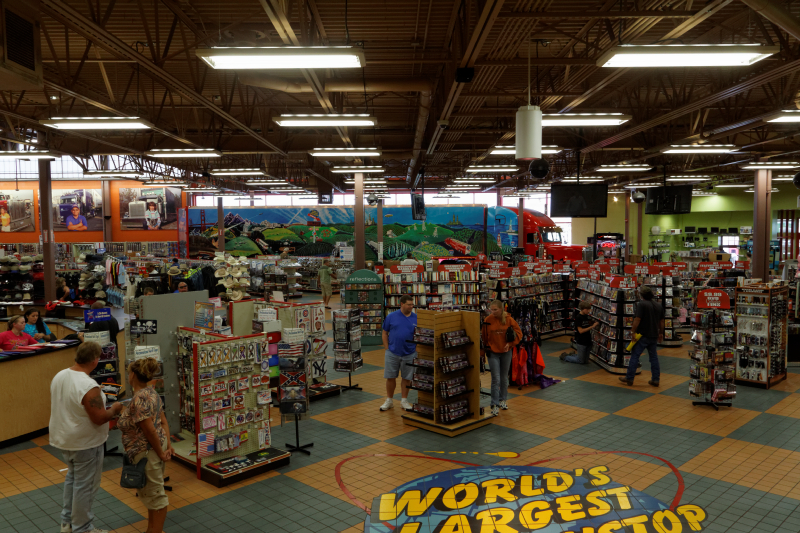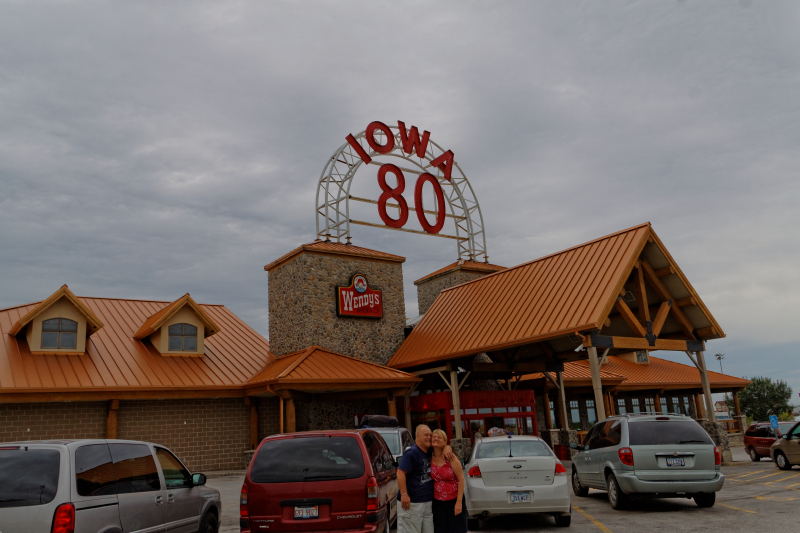 We headed west to Des Moines. The road was as predicted, flat and featureless. Corn, wheat, soybeans, wind turbines, and, interestingly, the odd oil derrick. The price per barrel being what it was, it was now worthwhile to pump even ten or twenty barrels a day out of the sandstone and Jurassic shale lying underneath much of the midwest. It was not good picture taking weather, and there wasn't all that much difference mile to mile, so I don't have a lot of evidence of the trip here. We stopped on the outskirts of Des Moines about 6PM for dinner, and had a very nice time confusing the poor young counter clerk at a Church's Fried Chicken joint. Hal has a talent for completely clouding the mind of anyone trying to take his order at a restaurant. Nevertheless, it was a decent meal, and we relaxed a bit in the parking lot of the place. The air was clearing, and it appeared that the threat of rain had passed.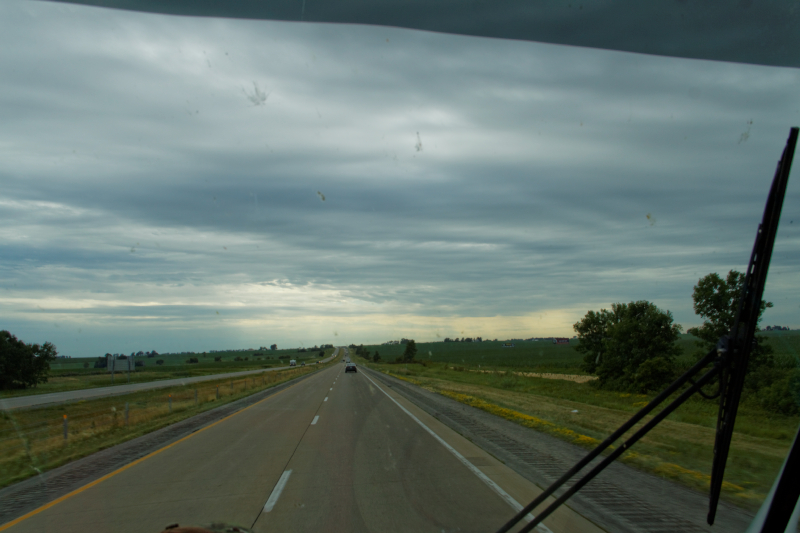 I-80 in Iowa
We had no particular destination in mind for our overnight. My goal for the day was Des Moines, so I felt any mile west of it was a bonus for our schedule. Due to the time change, we'd picked up an hour, as noted, and apart from the hour or so at the truck stop, and the hour for dinner, we'd been rolling along at a good clip. It got dark after a while, and we pulled into a rest stop along I-80. We had been told that overnight parking was allowed in Iowa - some states prohibit it, for safety reasons, but evidently Iowa had patrols that wandered through the places on a regular basis all night, keeping the brigands at bay. The one we pulled into had two or three long lanes at which about a dozen or so trucks were parked for the night. I got out and took some artsy shots of the place, and even got one or two of those "car brake lights" long exposures of the traffic on I-80 passing by. We got settled in, but after a few minutes we realized an important point - the noise here was just as bad as at the Pilot the preceeding night. Diesel trucks, especially reefers, tend to run their engines 24x7 for purposes of cooling, heating, and generating electricity for the drivers TVs, computers, microwaves, and satellite dishes. We knew it was too nerve-wracking to stay there for the night. So, we got back on the road around 9 PM.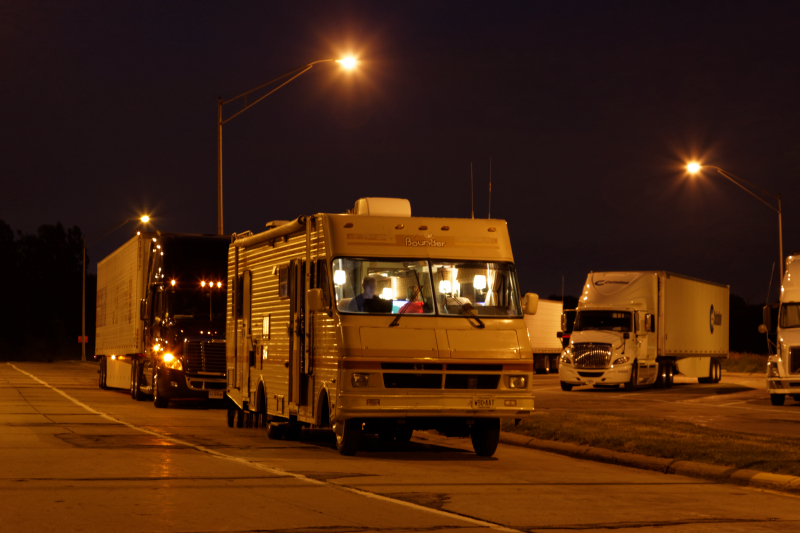 I-80 Rest Area, too loud for comfort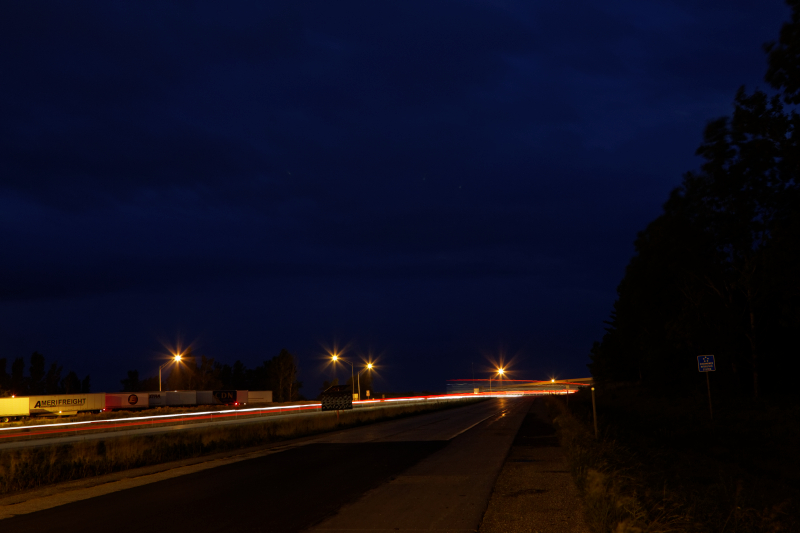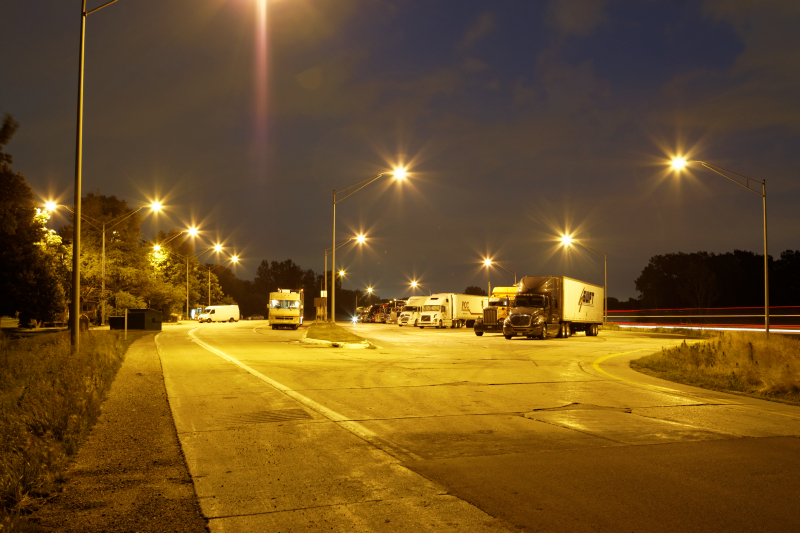 I checked the maps and guidebooks, and found the nearest Walmart about 45 miles further west, in Atlantic. We headed there. Following our GPS, we found the exit, and headed off into the Iowa darkness. The place was about 6 miles from the Interstate, and one doesn't know true darkness until one is about four miles down a narrow, unlit, Iowa county road at 10pm on a Saturday night. We finally found the little burb, and of course, the lights of the Walmart were a welcome sight. We parked out at the edge of the parking lot and shut down for the night. We thought.
There's not much to do in Atlantic, Iowa on a Saturday night. One diversion that the local 'youths' have developed is driving up to a parked and sleeping RV in the Walmart parking lot around midnight and, creeping up slowly, banging the hell out of the side of the RV right below the bedroom window. Melissa and I shot up and heard the kids giggling and running back to their car. She and Hal and I ran out and confronted them, and oddly enough they professed total innocence. They must have really thought we were stupid, as theirs was the only car within about 60 feet. In any case, we gave them a piece of our minds, and as we went around the RV to go back in side, we spied a police car making the rounds to we flagged it down. The officer said he more or less knew what was going on, and, in true Mayberry RFD style, said he knew their parents and that he'd make sure they got a proper comeuppance. The rest of the night passed in with only minor interruptions, as the local drag races were scheduled outside next to us at 2 AM, 3AM, 4AM and 5AM. The sun came up at 5:05AM.
Day 2 - 717 miles!
Day 1
Day 3