Day 1 - 22 June, 2012 - Salem, NJ to London, OH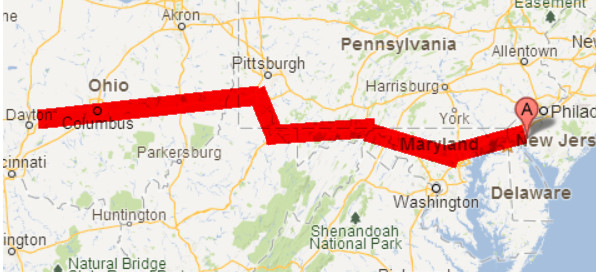 We hit the road about 9:30 with everything pretty well tied down and ready to go. Melissa is a crafter, and so brought along about 70 pounds of beads in small trays. I have been camping and such since a Cub Scout, so I was pretty much aware of what to expect on a long journey like this. Our first stop was for gas about seven miles from home. $3.21/9 per gallon.

We crossed Delaware via the Delaware Memorial Bridge without incident, navigating the familiar cloverleafs, left-hand exits and other memorabilia of northern Delaware roadway. Since the orange construction cone has been adopted as the state tree, we were more than prepared for any challenges I-95 might throw at us. The roadway, once one leaves the suburbs of Wilmington behind, is easily travelled, and while the scenery might not be overwhelming, especially to a native, it made for a relatively calm beginning. Wide swooping curves and very slight up and downhill sections mark the road as it nears the Susquehanna River crossing at Havre De Grace, about 25 miles from Wilmington.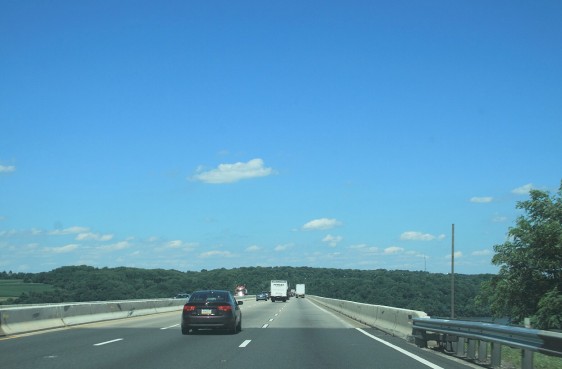 Tydings Bridge, I-95 over the Susquehanna
Passing exits for the Perry Point VA hospital and, further along, the Aberdeen Proving Grounds, we soon found ourselves in the outer limits of Baltimore, keeping a watchful eye out for the exit to connect with I-695, the Baltimore loop road that will head us slightly northwesterly. Road construction at the interchange, initiated during the administration of Grover Cleveland, makes frequent high-speed lane changes both frightening and requisite. Clever engineering design also brings the new high-speed on-ramp of merging traffic to bear on your right just about 50 feet before the off-ramp for those wishing to exit over to I-695. I never understood why a traffic engineer brings an ON ramp along just before an OFF ramp. Be that was it may, in a 10 ton traveling brick, one just sets the blinker going, waits four complete milli-seconds, and fishtails right. Anyone in the way, well, too bad.

Successfully, if somewhat shakily, planted on I-695, it was now nearing noon, and travelling on a summer Friday in the Great Northeast Megalopolis, we understood the ancient prohibitions. Traffic, I must admit, was not all that hectic however, and once I simply accepted the fact that moms in minivans would be swooping in and crossing my bow with inches to spare on a regular basis, my blood pressure returned to normal, and I concentrated on missing the larger potholes, speed bumps, road debris, and animal carcasses. This is the area of the Baltimore bedroom communities like Towson, Bel Air and others - huge tracts of housing development hidden just beyond the sound-deadening walls of the interstate, each house cunningly sculpted to look just like the one across the street, individuality marked only by the different colored sheds and outdoor accoutrements. It was amazing what a seat about four feet higher than usual afforded you when peering into roadside America.

Towson receded in our mirrors (not that we could SEE anything in them, mind you, but I hear it was back there a ways), and the rest of Baltimore's outer ring passed by. Soon enough, we started seeing the signs for the intersection with Interstate 70, our next leg, and our pathway across the narrow neck of northern Maryland, towards Frederick, Hagerstown and the Cumberland mountains. It was nice to be driving across land that offered some elevation change here and there. We crossed up and over and down numerous low ridges, as the Appalachians started to make their presence known. The heat and haze made the scenery shimmer in a greenish wave, and you could almost feel the humidity. In fact, you could feel the humidity. It was 100%. Brief summer showers are commonplace in the northeast, and the rain sizzled and splattered on the windshield, briefly washing away the hari-kari bugs. As quickly as it started, it stopped. Then, steam began rising up from the roadway, mixing with the ozone and unburned hydrocarbons to make a somewhat glutinous miasma that was at times difficult to see through.

Interstate 70 headed off to the north, finally leaving the housing developments, transmission shops, and fast food eateries behind. Traffic thinned out. Melissa complained about the heat. Hal regaled us with his tales of travel on this same road in blinding snowstorms and sleet. It did little to cool us down.

Hagerstown seemed like a nice little place, what little we could see of it. Now we were really getting into the hills. On some long climbs, our speed dropped to the 40s. They weren't steep, by any means, but were long, long grades. This stretch of highway is alternatively known as the "Great National Road", the Eisenhower Highway, and the Cumberland Scenic Byway. By any name, it was still a highway. Around Hancock, MD, I-70 runs off north into PA, and I-68 heads west. The first real excitement came just west of Hancock. Sideling Hill is a long, narrow ridge of the Alleghenies that runs from up in Pennsylvania all the way down in to somewhere in Virginia. It's the first real big hill that westward settlers had to drive their cattle over back in the 1700s.

Up in Pennsylvania, there's a couple of turnpike tunnels and a new road up and over the hill, and a railroad tunnel or two through the mountain. But here in Maryland, they don't fool around. They just cut a huge chunk right out of the mountain, leaving an 800 foot deep gash in dinosaur-laden Devonian rock, that's visible for miles around. There's a pretty cool looking visitor center area that was closed due to budget constraints, and a pedestrian walk-bridge over the interstate for curious gawkers. Unfortunately, the authorities frown on stopping along the roadway itself to plumb for fossils or anything interesting, so one has to speed by the dig at 70 miles an hour.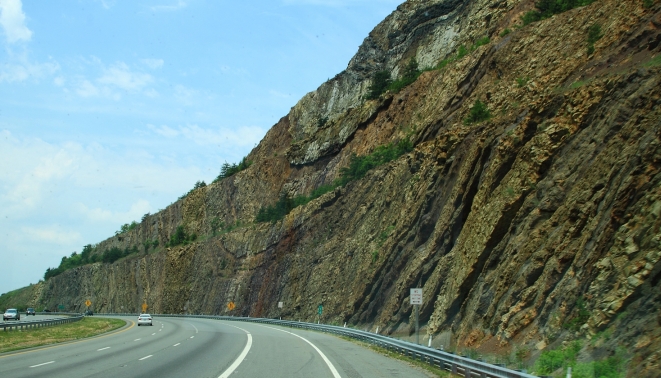 Sideling Hill Cut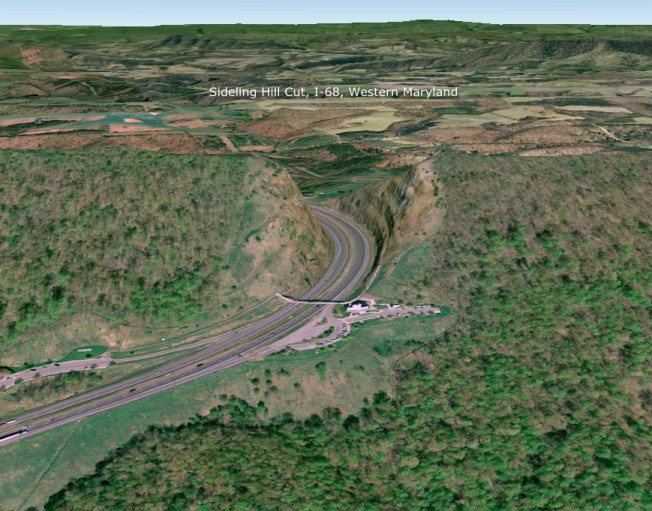 Google Earth View of Sideling Hill
Beyond the Cut, the road settles down a bit, and the scenery, while calming, is not overly dramatic. For someone who grew up on the East coast, and is used to the gently rolling hills and unsurprising geology of Pennsylvania, I was anxious to get out where a 'mountain' was really a 'mountain'. To me, that description didn't apply unless there is snow on it in July. We trundled on, rolling westward over the ridges that ran mostly north-south, sometimes swerving around them, sometimes just following the ribbon of concrete right up over the top. Interstate 68 is co-aligned with US Highway 40 along here, which was interesting since I'd lived along US 40 in a couple of different places in my lifetime. I-68 was a major improvement over US 40 when it was laid down over these hills, as 40 is a two-lane country road with numerous switchbacks, hairpin turns, and steep grades. Since 40 was laid down pretty much over the old cow paths and native trails, there probably wasn't much of an effort to make it easy for trucks, busses and cars going 70 miles an hour. The late 1960s finally saw the construction of the interstate over these hills, and the cities of Cumberland MD and Morgantown WV saw improved traffic flow and, to some extent, based on the number of billboards, an influx of tourist/traveler dollars. One drops down out of the hills into Cumberland. After a slight curve to the right, you climb "Church Hill", a stretch of overpass through Cumberland that offers at least a half-dozen churches and ministries perched on a hilltop in the center of town.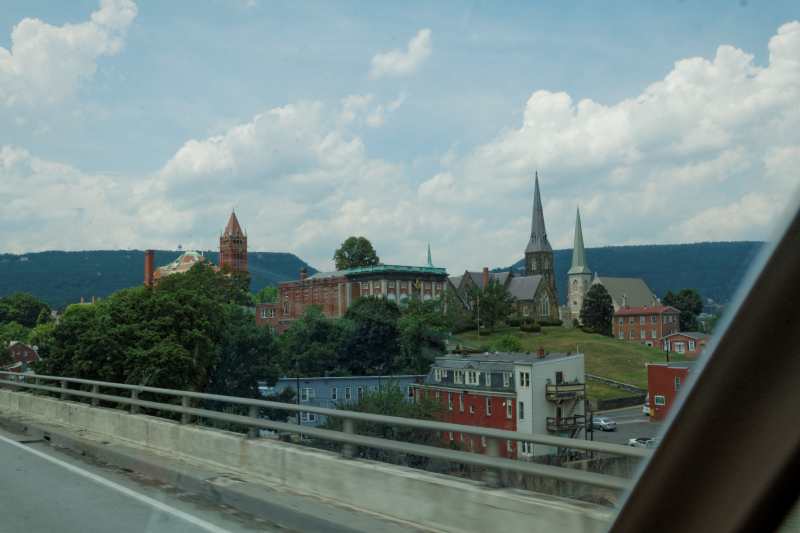 Church Hill, Cumberland MD
Out of town, you climb up Haystack Mountain, all 1200 feet of her, and pausing for breath, begin another roller coaster ride across the ridgeways of western Maryland. After Cumberland, you pass beyond or along the hamlets of Frostburg and Grantsville, passing alarming close to the Pennsylvania border. There isn't really much memorable here, but as I noted, the scenery is verdant. And, of course, there's the calming influence of the Wal-Mart trucks everywhere you look. Around Grantsville, you pass over a spot marked as the Eastern Continental Divide, whereupon waters flow to the Atlantic on one side, and the Gulf of Mexico on the other. More interestingly, what it means is that every drop of water you'll see from then until you cross the main Divide over in Wyoming will drain into the Mississippi River at some point.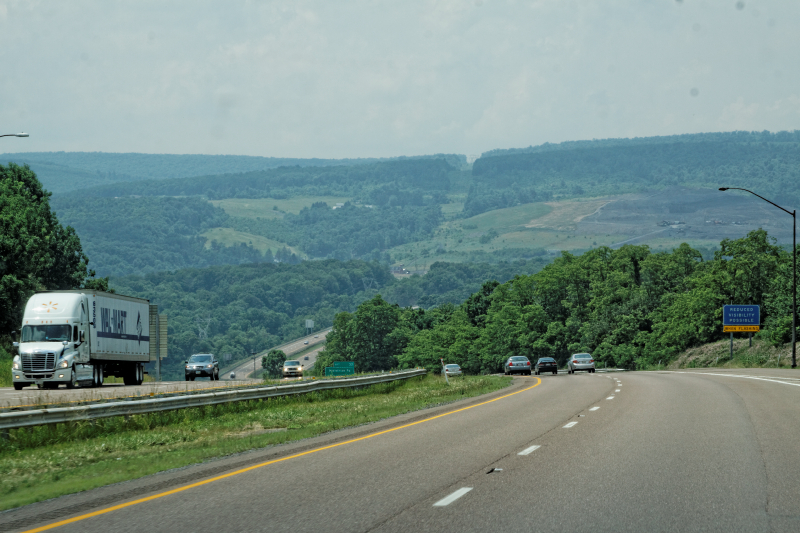 I-68 West of Cumberland, MD
A little farther along, we were ascending Negro Mountain (I wonder if that's a 'cleaned up' name?....) when another 30-second downpour hit, and cleaned the bugs off the windshield again. It didn't seem to drop the temperature or humidity much, though. Before we knew it, we'd left Maryland behind, and crossed into West Virginia at about 3PM, for the first of two times we'd enter it today.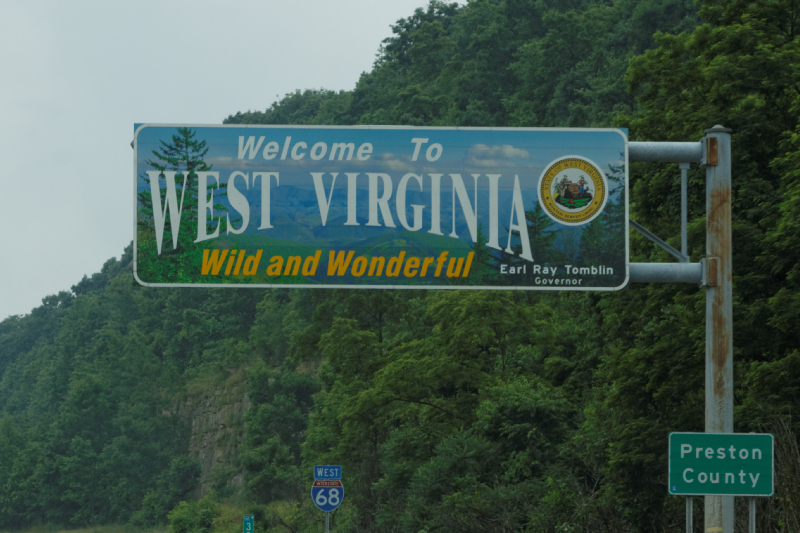 The recent rains left fog and mist settling into the hollows and valleys as we motored on into Wild and Wonderful West Virginia. The border sign reminded me that we were now entering the area where everybody has three names. A few miles in, the requisite state Welcome Center beckoned, and we pulled off for our first break since Sideling Hill. We'd decided to stop off at as many welcome centers as we could, to collect post cards to send back home to our grand daughter, and maps, brochures and other touristy information to add to the archives. Hal and Melissa pointed out to me that they were WILD and WONDERFUL too... The University of West Virginia was carrying out a survey on travelers, so I stopped and gave them the kind of answers that would totally skew their results, ("yeah, I was born here, this is my first trip, there are 39 of us, heard about you in geography class, but I probably won't be back") and took a bottle of water as my door prize.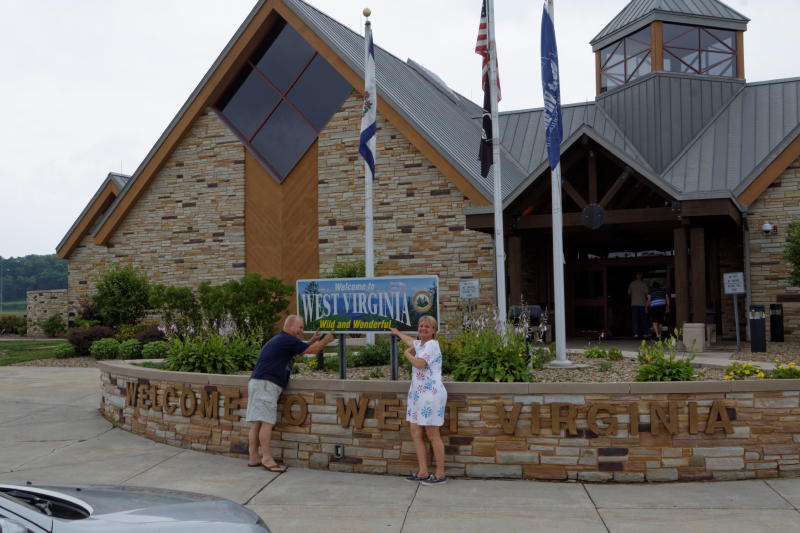 About ten miles into West Virginia, you come upon the Cheat Lake area. It wouldn't have been all that memorable, but for the alarming descent down to the water level, and the sudden and abrupt left turn that the interstate took. Staying straight, and not paying attention, would have landed us in a very short downhill off ramp that ended quickly, and bore the scars of not a few inattentive drivers. Researching the local archives later on pointed out numerous tractor-trailer and fuel truck roll overs, which made being a volunteer fireman here a busy part-time occupation.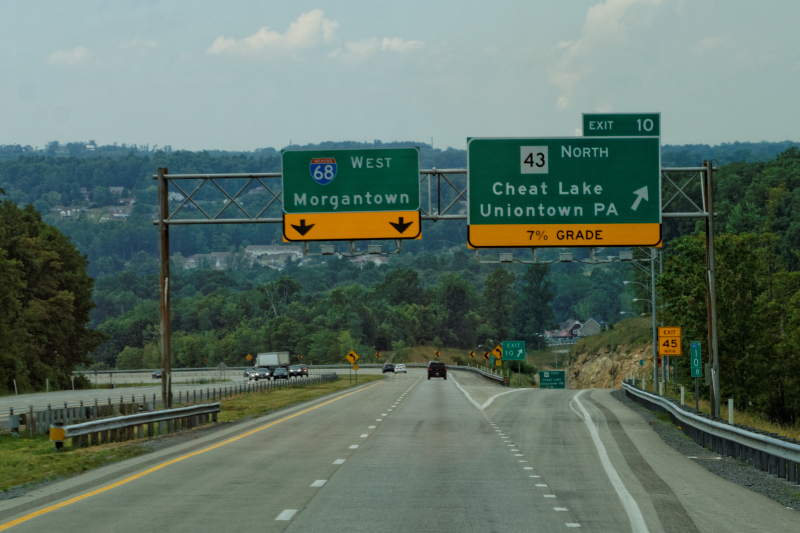 Cheat Lake exit ramp, check those brakes!
As Hal pointed out numerous times, "if West Virginia was flattened out, it would be the largest state in the country." And I believed him. It was all rolling hills, curves, and bends, some of them quite steep. When you consider that a 6% grade is the design high limit throughout most of the US interstate highway system, and here we were still virtually along the Eastern Seaboard and already has gone up, down or around almost a half-dozen 7% grades, it made one appreciate the road building out west even more. The big difference of course is not the grade itself, but how LONG of a grade there is - these 6% and 7% slopes in the east were maybe a mile, maybe two, in length overall - out west, they went on for miles and miles. When you've climbed a 14-mile 6% grade at 22 miles an hour, you can definitely tell the difference.

I-68 skirts Morgantown, WV to the south, and just as you leave the town proper, our northern route into Pennsylvania showed up. Interstate 79 would take us up into PA, where we planned to hook up with our major east-west route of Interstate 70. This would be outside of Washington, PA, a spot where Northbound I-79, the PA Turnpike, US 30, and I-70 all converged into a construction zone.. We swerved right, and in just a tick, crossed the Monongahela River.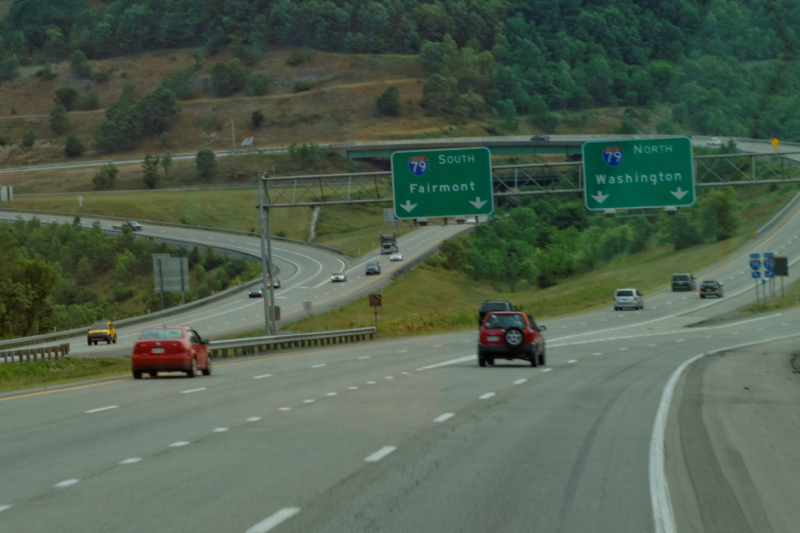 Splitting, north to PA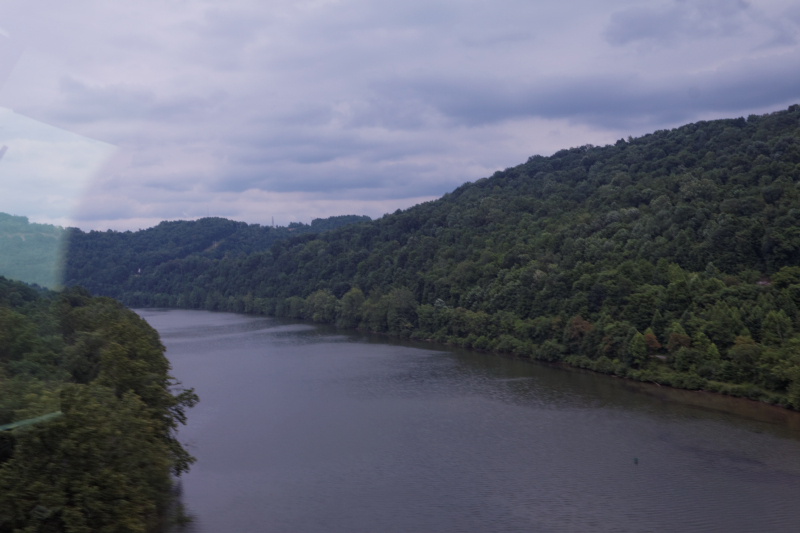 Over the Monongahela River
Going north into Pennsylvania wasn't too much different than going west across Maryland, but for the fact that we were now traversing the ridges along their top and sides, rather than going up and over them. This led to somewhat different scenery, and I snapped a couple of pix out the window as Hal drove. I have to make a note to pull off the window tinting plastic along the passenger window before the next trip - the eye couldn't tell, but the blue really played havoc with the camera's sensor recording bits and most of the pictures I took out the side window were garishly miscolored. It felt somewhat odd to be taking tourist pictures of Pennsylvania, since I was born there and spend a huge portion of my life there, but this was western PA, and I was used to eastern PA. Not a huge difference, just a little bit hillier.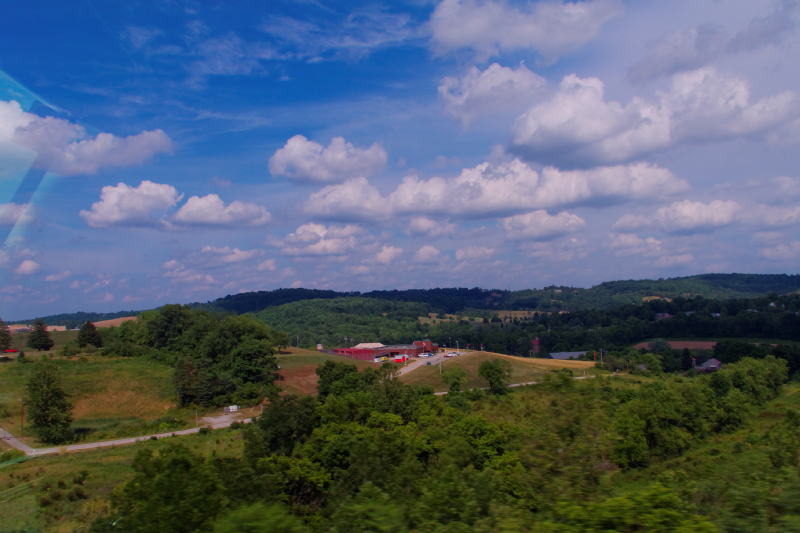 Western Pennsylvania Scenery
We hit Washington, PA about 4:30 in the afternoon on a Friday. Perfect timing. No more needs to be said.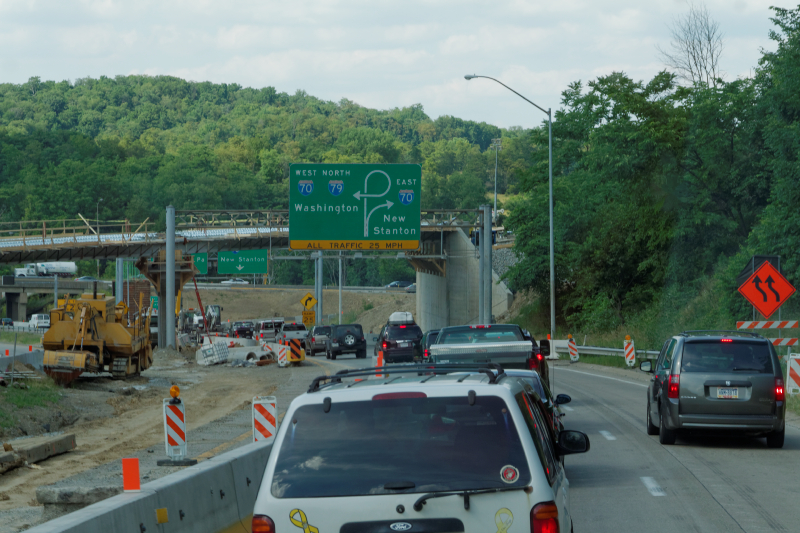 I-70, I-79 meet in Washington, PA
Sooner or later, though, we made our 270-degree turn to the west, merged on to I-70, and proceeded apace, heading towards the north-south panhandle of West Virginia, and the border crossing at Wheeling. I will always remember "Wheeling, West Virginia" because as a youngster I had a book called "The Child's Geography of the World" or some such, and there was a picture in it of a kid with a wheelbarrow, pushing a big outlined state of West Virginia, with a caption that read "Billy has a hard job WHEELING WEST VIRGINIA!" Just as we approached the border sign, I noticed a state cop had stopped someone. I wonder if they sat in their car and thought, "Damn. Another hundred yards and I'd have gotten away..."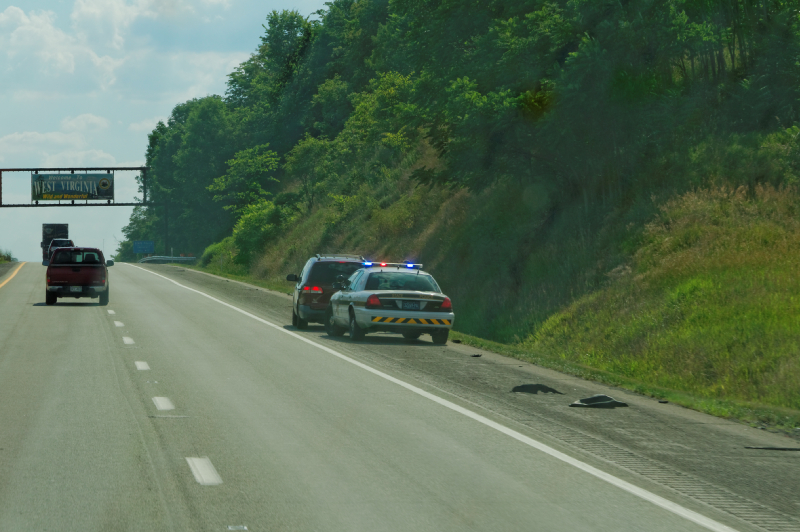 A run for the Border
Once over the border, there's not a whole hell of a lot of West Virginia before you come into Wheeling. There's a spot where I-70 goes through a short tunnel before it comes out and crosses one of about 87 bridges across the Ohio here. Sorry about the reflections but there's not much you can do when shooting through a windshield the size of a dinner table.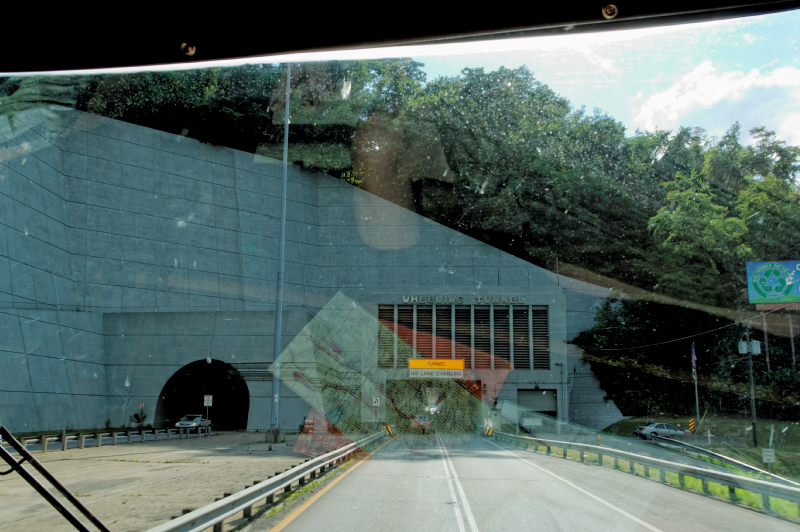 Wheeling Tunnel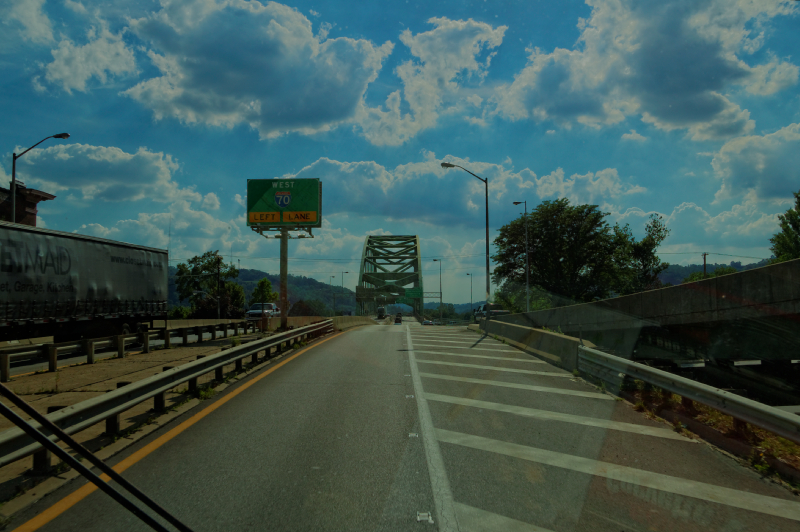 Hal leaned back to afford me a shot down river.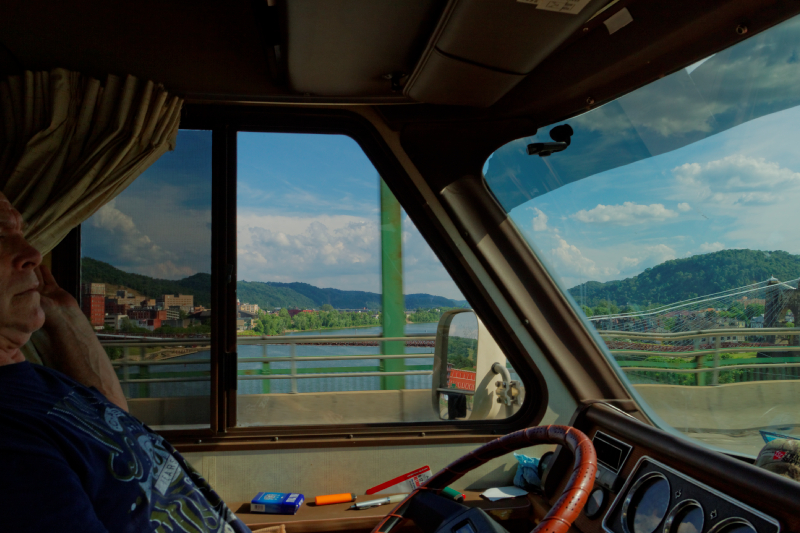 But they fooled us! We came out onto an island in the middle of the river, so there's another bridge before you can say "A Child's Geography of the World".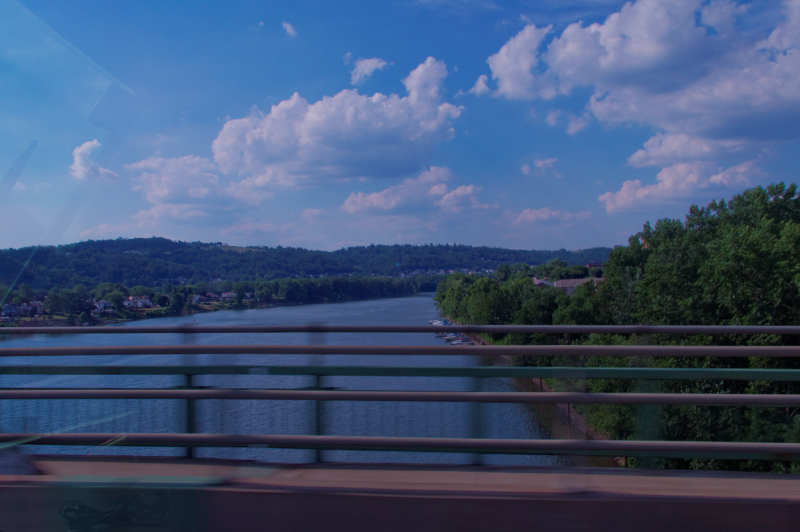 Over the Ohio River
Once back over solid ground, we were in Ohio. It was our SIXTH border crossing of the day, and it was barely 6PM. Very sunny in Ohio, as we seemed to have moved west past the line of damp thunderstormy weather we'd been in off and on since around Baltimore. Ohio was a continuation, geography-wise, of Pennsylvania, Maryland and West Virginia. They even tried to take a page out of Maryland's book at one point along I-70, but it just didn't work.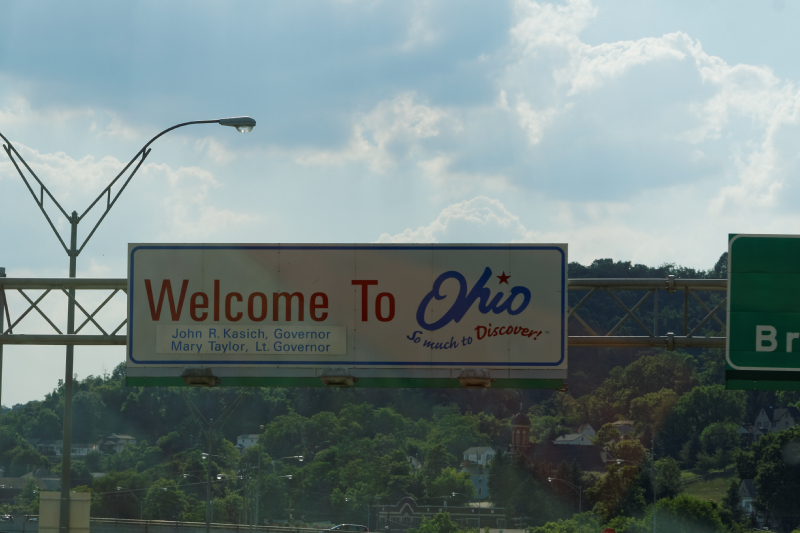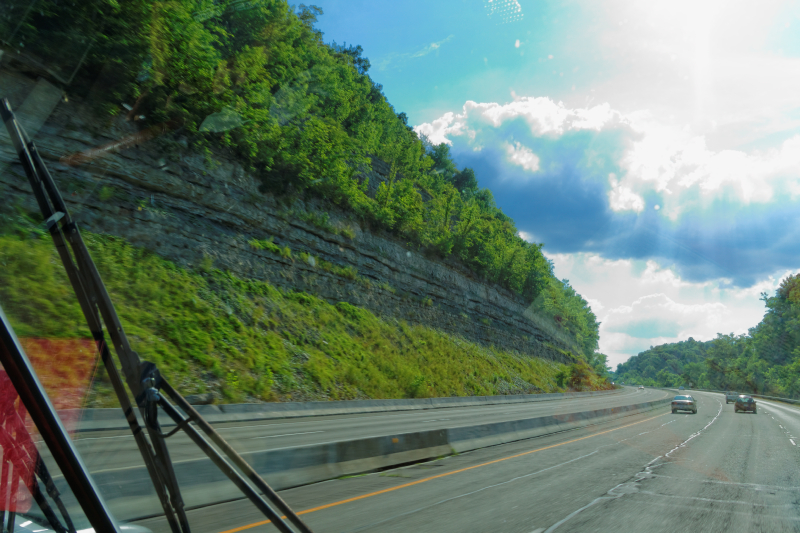 The Ohio Welcome Center was so un-memorable that I didn't even take a picture of it. Melissa, Hal and I walked back to the Bounder.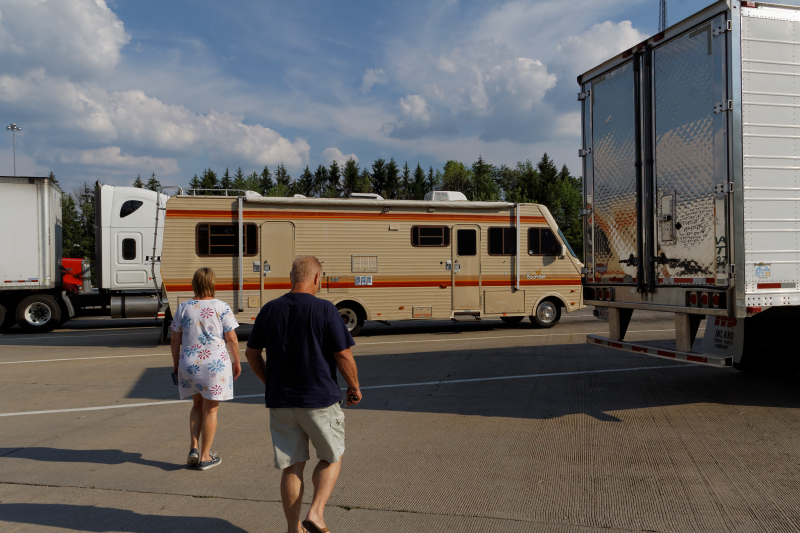 Just after the WC, we hit what would be our only major snag of the whole trip. There was construction west of us, around the city of Cambridge, Ohio, where the East-West I-70 route interchanged with the north-south I-77, and for some reason, Ohio DOT thought it best to work on the offramps that led traffic off of I-70 onto I-77 during a Friday afternoon in the summer. About ten miles east of the interchange, traffic came to a complete standstill. No, not a slow move here and there for a couple of feet. A complete standstill. Minutes passed. More minutes passed. The only movement was when westbound cars humped and bumped over the median between lanes and turned east to head back to the nearest exit. Then the rest of us hardy souls moved up one car-length at a time. After nearly two hours, it was getting ridiculous. I entertained notions that the entire roadway must have disappeared into a sinkhole up ahead, as there was no east bound traffic on the other side either. Finally, I got up the nerve, at a relatively smooth spot in the median, to haul the Bounder around, and head back towards Wheeling. We took the first exit we could and looked for west bound US 40, which we had of course been paralleling most of the way. It was a little two-lane road here, but we took it the few miles into Cambridge, and stopped for gas, our first fill up of the trip. Interestingly, my Brand New Pilot card wouldn't work, because I foolishly neglected to authorize and turn it on before we left. We called Pilot's customer support, and of course, the conversation went something like this:

ME: "I need to authorize my Pilot card so I can pay for the $150 bucks worth of gas I just pumped."
Pilot Customer Service: "Sure, no problem. What's the number on the card?"
I read it to him.
Pilot: "OK, now the authorization number on the back?"
I gave it to him.
Pilot: "Very good. Now, what's the user PIN code we sent you in an email to authorize the card?"
Me: "um.....I haven't the faintest idea. The email is home, on my computer, about 500 miles east of here."
Pilot: "Hmmm. Well, we can't authorize the card without that PIN."
Me: "But you KNOW it's me here. I gave you my Social Security number, my zip code, read the card number and authorization code to you, and even answered all your dumb security questions."
Pilot: "Yes, but we need that PIN code. We can send it to you again."
Me: "Great. I'll get it in two weeks when we get home."
Pilot: "When you get the PIN, call us back and we'll authorize the card."

Needless to say, we went on like that for about another 20 minutes, to the great amusement of the clerk waiting for his $150 and the line of cars now breathing heavily down my neck behind the Bounder. Pilot wouldn't turn the card on, no way no how, without that PIN number. So after a while we managed to back out the charge on the Pilot card and charge it to another gas card. There was nothing left to do now but go have dinner at a nearby Cracker Barrel, and head back west. After speaking with the locals, it seemed that they'd learned to live with the fact that the major North-South and East-West thruways in their city were completely closed off for normal vehicle traffic every evening from 3:30 PM until about 4AM in the morning. We took US 40 for another six or seven miles until we could safely re-join I-70. By now it was dark. We blew past the old speedtraps of Zanesville, and after an hour or so came upon Columbus. The capitol of Ohio had been my first-night destination, and within a few minutes of leaving it in our mirrors, we found a large Flying J/Pilot truck stop that we knew we could stay at for free, and perhaps give me a chance to work something out with a live Pilot person. We soon realized that spending the night amid about a hundred idling diesels is not really good for the sleep, so we drove out around front, and parked there. It was an uneventful stop. Our first day had been fairly easy, except for the slowdowns in PA and Ohio. Total Mileage on Day 1 : 535
Intro
Day 2