Day 10 - Mona to Moab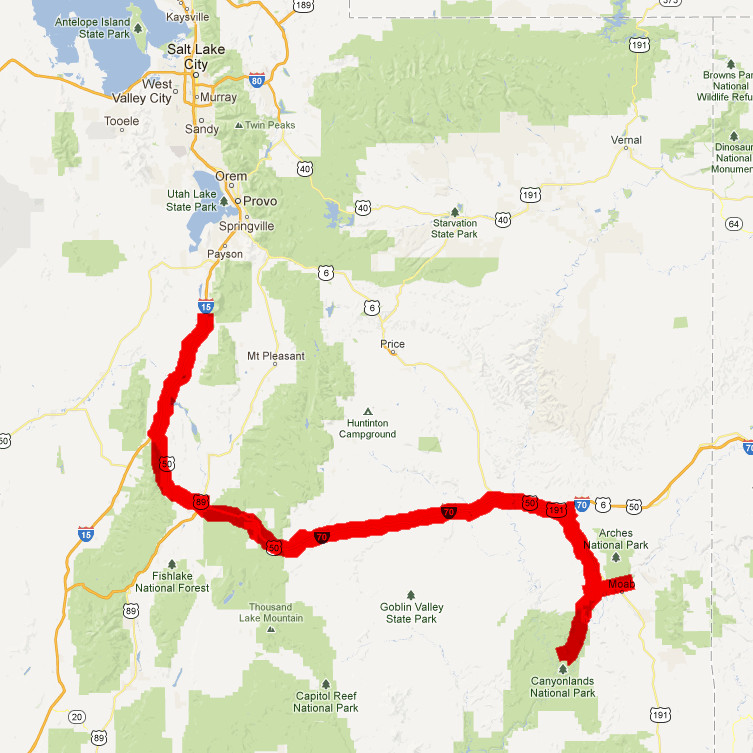 Sunday morning we woke to another clear but smoky sky. Today we were headed south on I-15 to the middle of the state, planning to see Canyonlands National Park and Dead Horse State Park, two of the places I wanted to see out here, and also we'd be on the Interstate 70 route through the San Rafael Swell, which was supposed to have some very dramatic scenery. We went south again, through Nephi, where we saw a bunch of old cars on a used car lot that Hal wanted me to photograph. Main Street in Nephi was pretty much deserted. Then, we headed south on the interstate, and passed one or two brushfires off in the distance. We even saw some real cowboys right along the roadway. It got more and more desolate as we headed for Scipio, where we'd branch off on a US hIghway 50 to connect to I-70. Scipio is one of the areas that was a favorite haunt of Butch Cassidy and the Sundance Kid back in the 1890s and early 1900s, or so they say.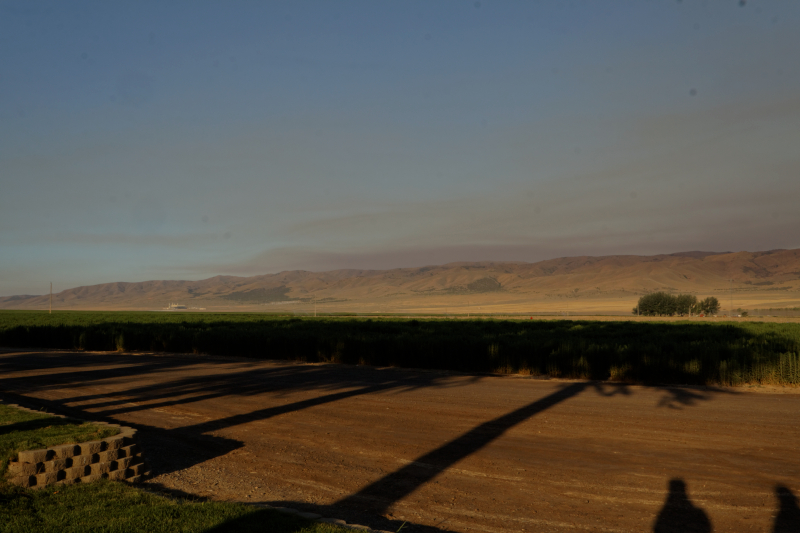 Sunday Morning at the Farm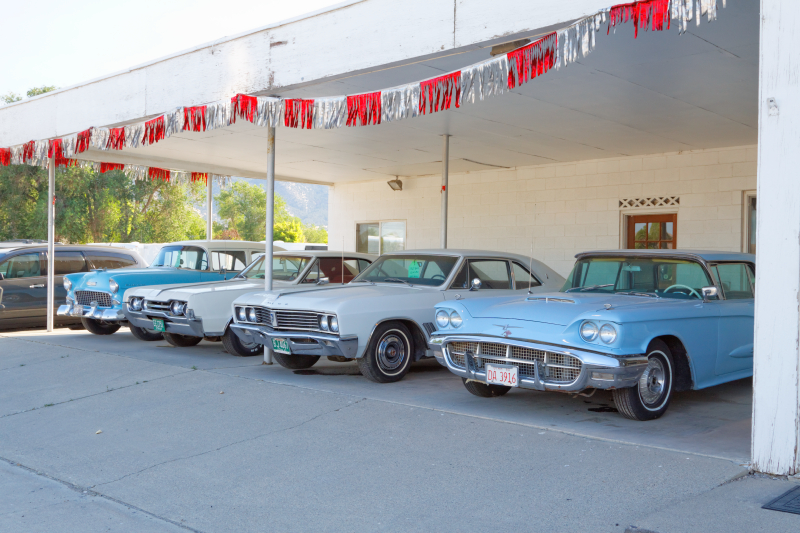 Take yer pick...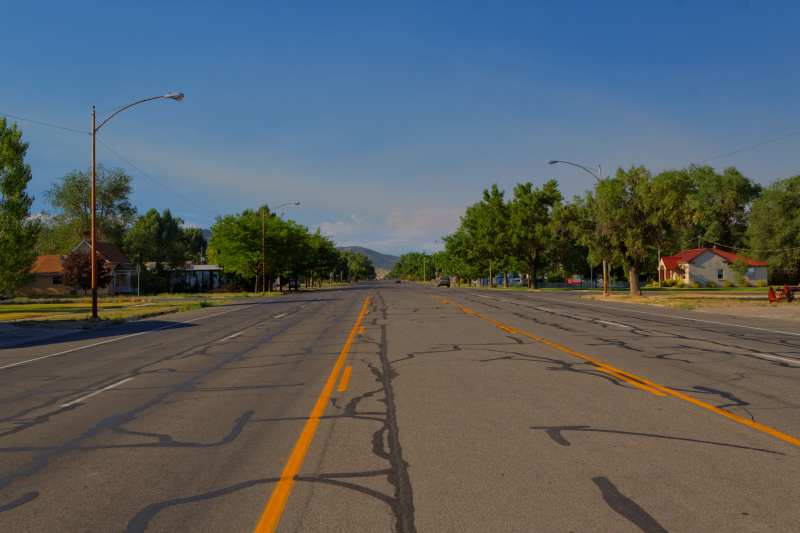 Main Street, Nephi, Sunday Morning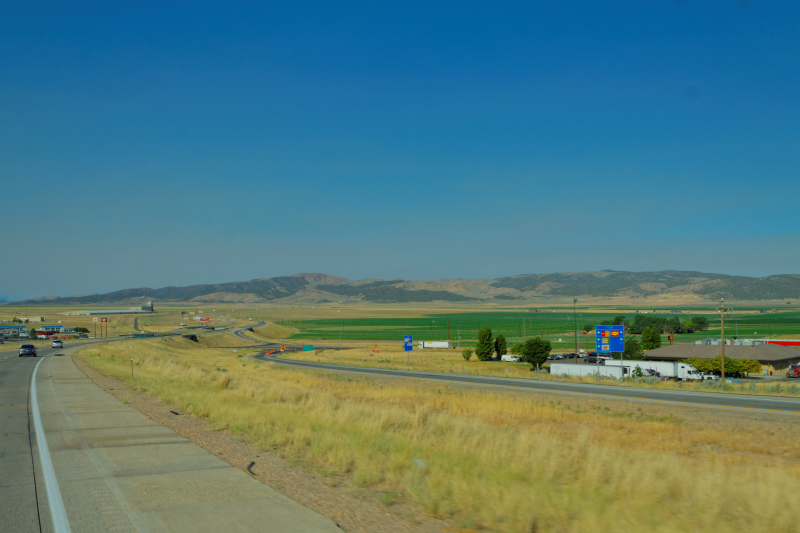 Back on I-15, heading south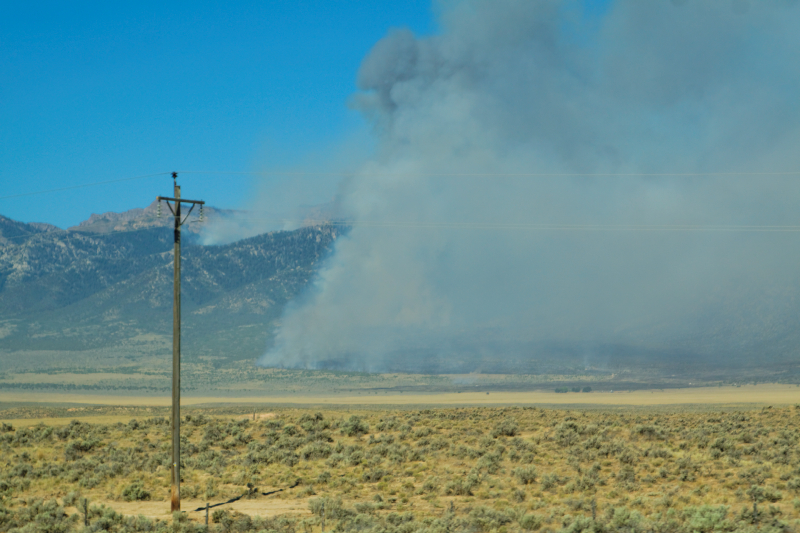 Brush Fire along I-15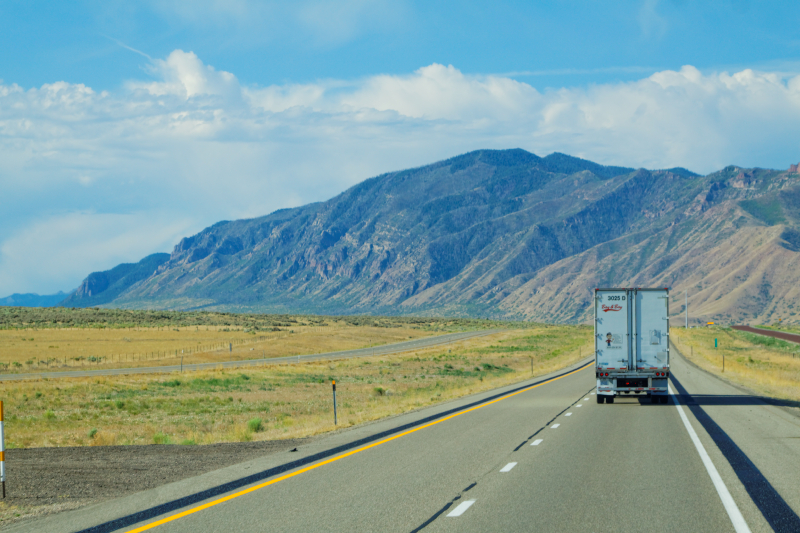 Skirting the foothills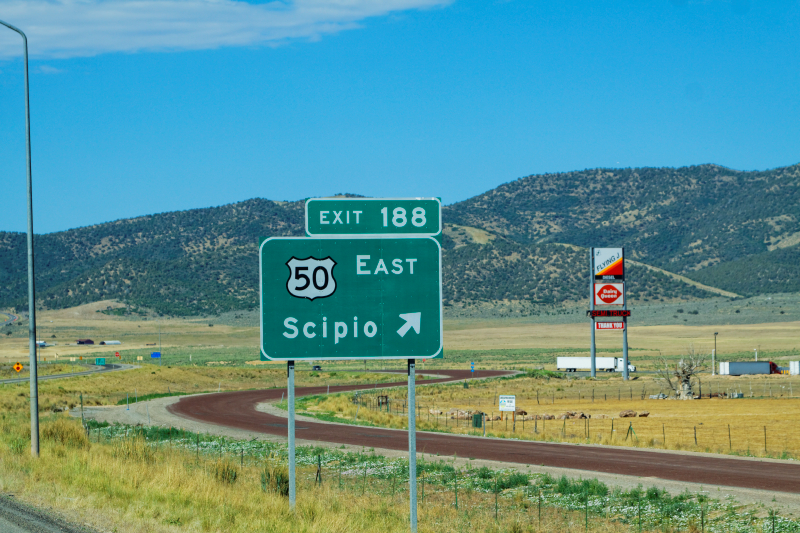 Rt 50 at Scipio
Once we hit Scipio, we traveled through the scenic but fairly desolate area that is the Fishlake National Forest. The foothills rose abruptly out of the plains on either side of the road. After about 40 or 50 miles, we came down into Salina, which is where we'd hook up with Interstate 70. Salina is a dry, dusty little burg. We ate some lunch at a Burger King.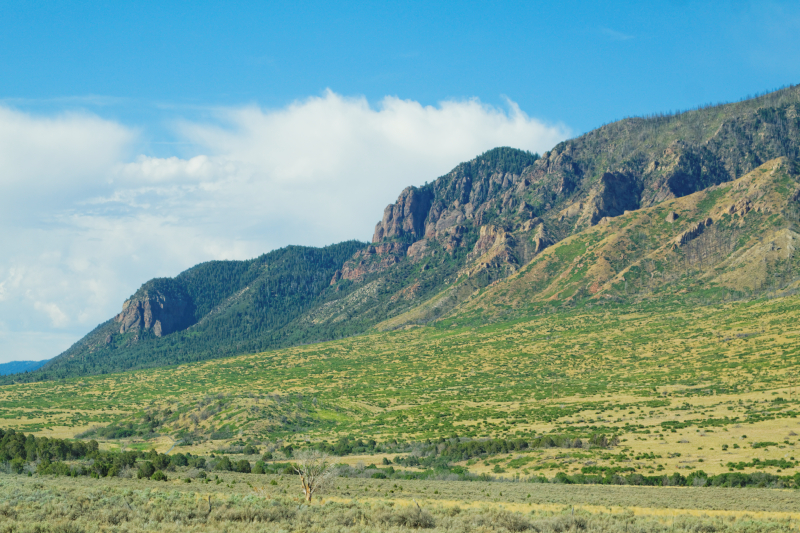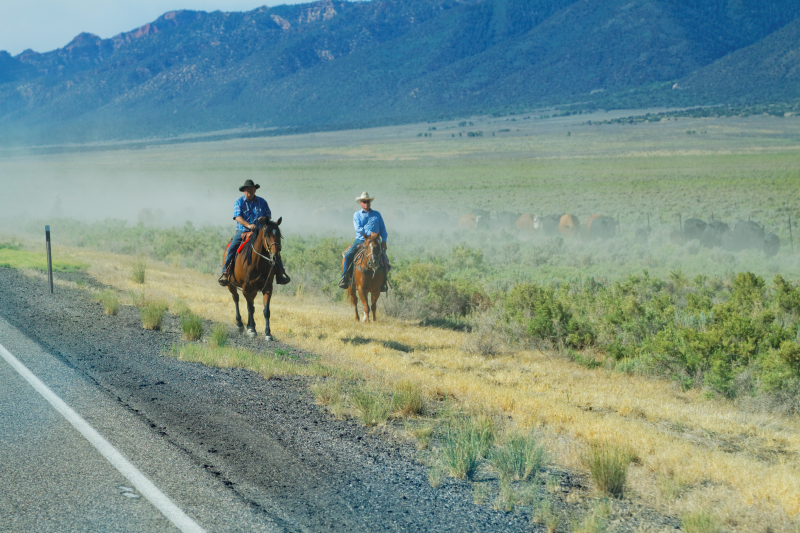 Git
along, little dogie...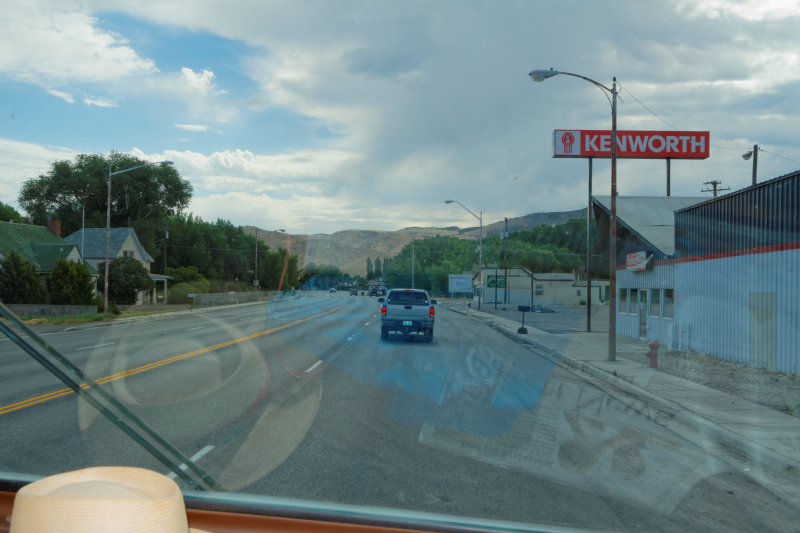 Entering Salina
7886 feet. That's the elevation we hit crossing the San Rafael Swell, in the La Sal mountains. US 50 and the interstate were co-routed through much of this area. We took wide, sweeping turns through the hills, a little up, a little down. We were still running through Fishlake National Forest. Odd name, as we saw neither fish nor lake. And not a whole lot of forest, actually. The road was broad and well banked, and I had to smile at one curve speed limit sign. We stopped at two or three scenic view areas, where the native peoples had their handicrafts laid out on blanket for sale to the traveler. They must have been expecting the Rockefeller party, though, because the prices were ridiculously high. This was a very desolate stretch of road, there was one length of 105 miles with no roadside services, no real exits to speak of, nothing but desert, rock and sky. There are a lot of pictures on this page, so take your time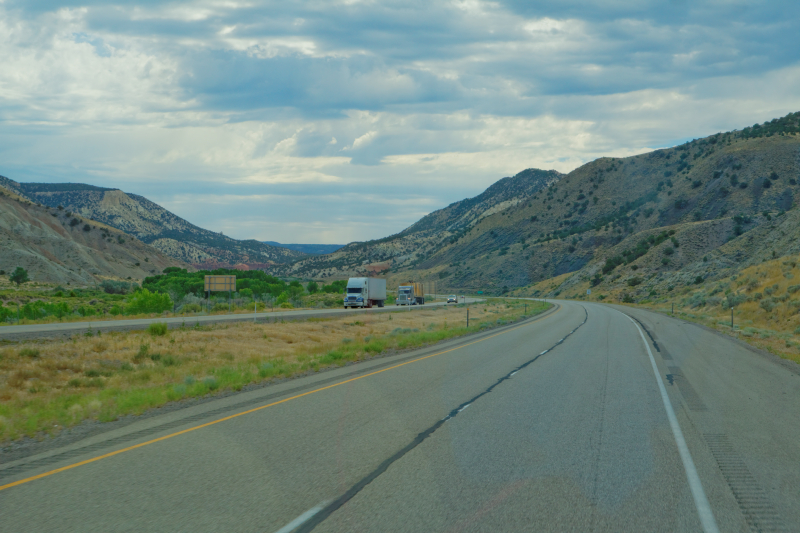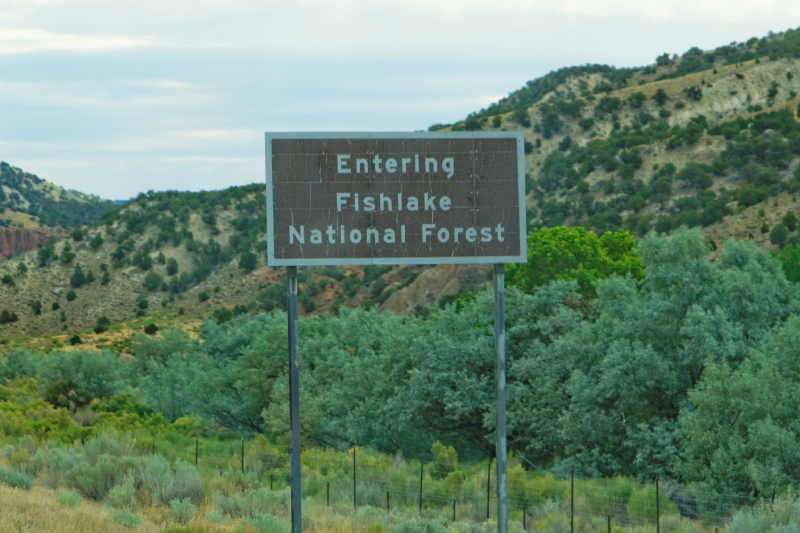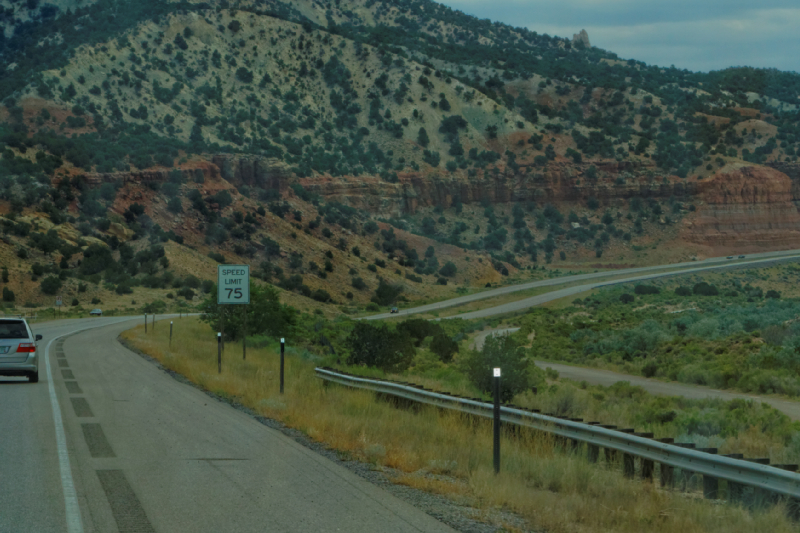 I don't think we approached the speed limit too often...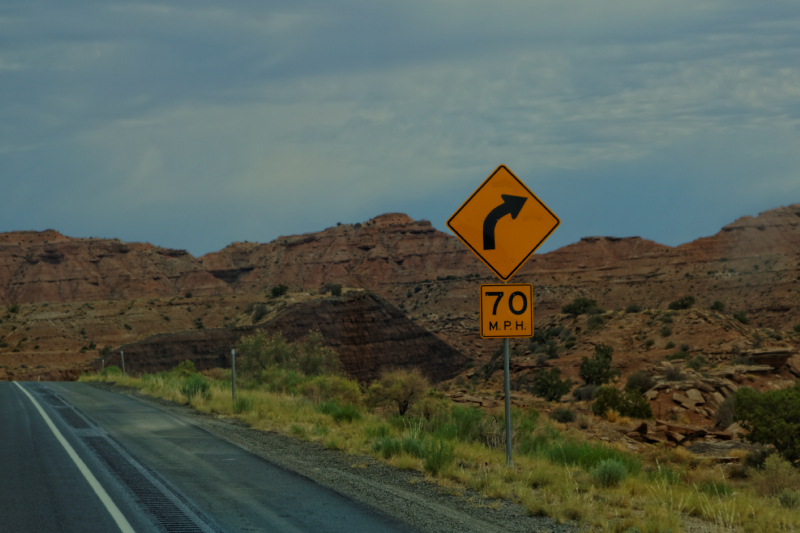 ..and slow down to 70 around that curve, Speed Racer...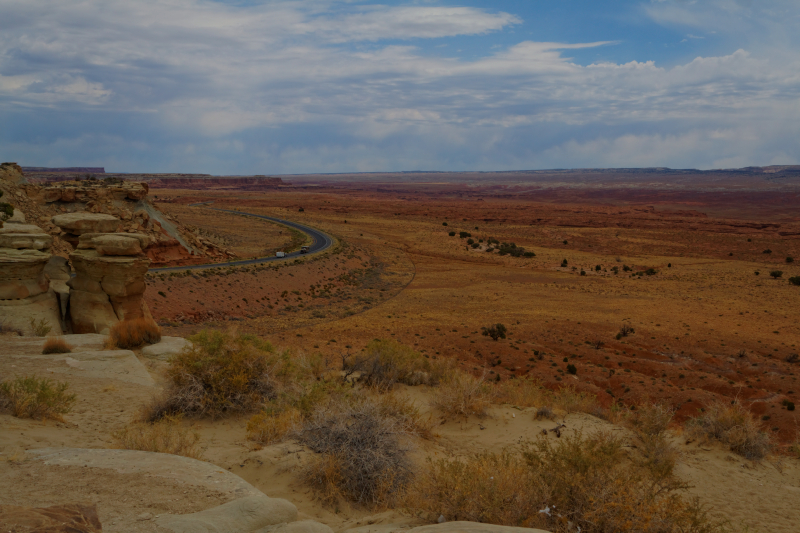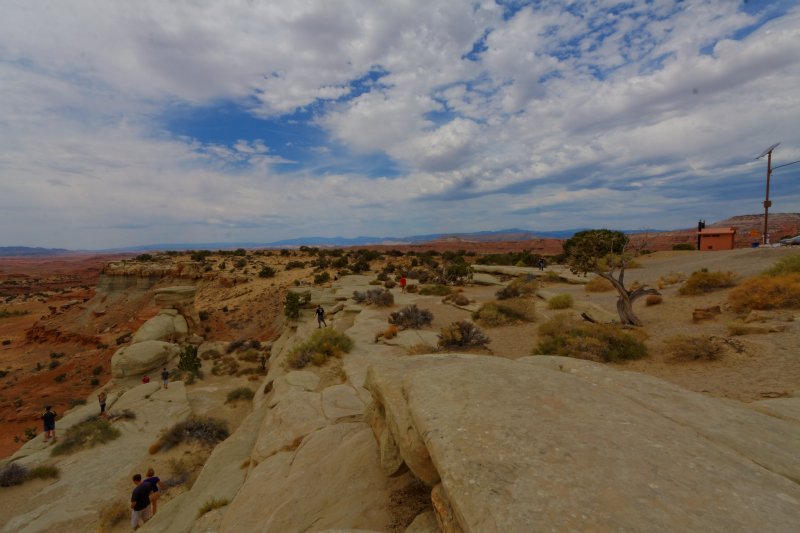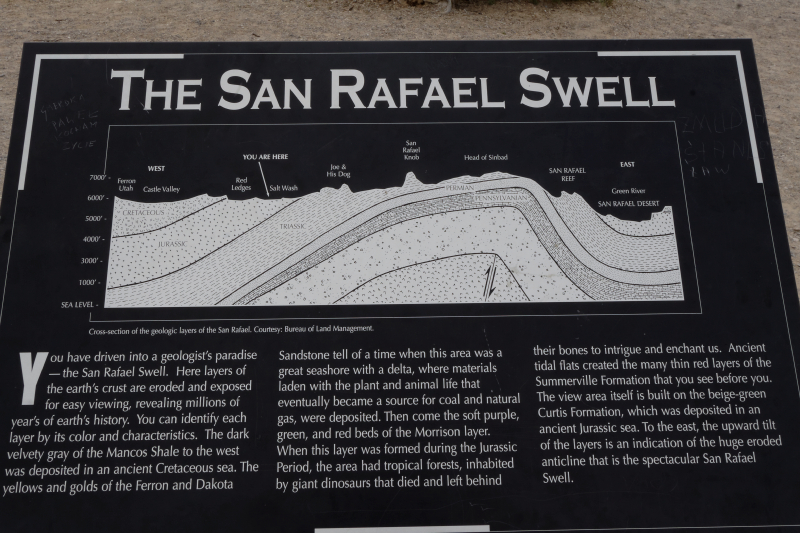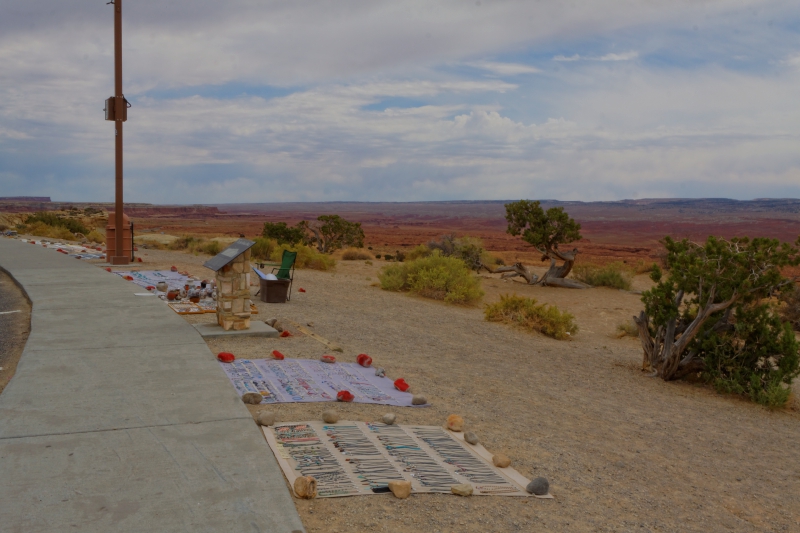 Trinkets for sale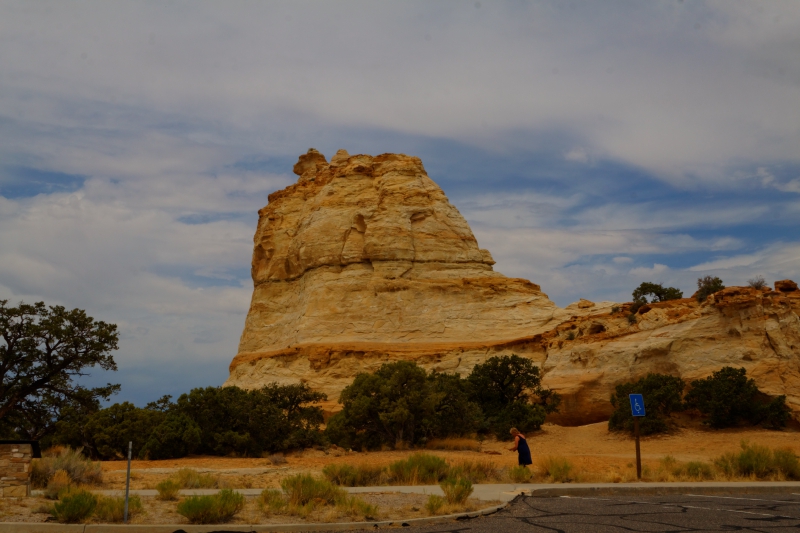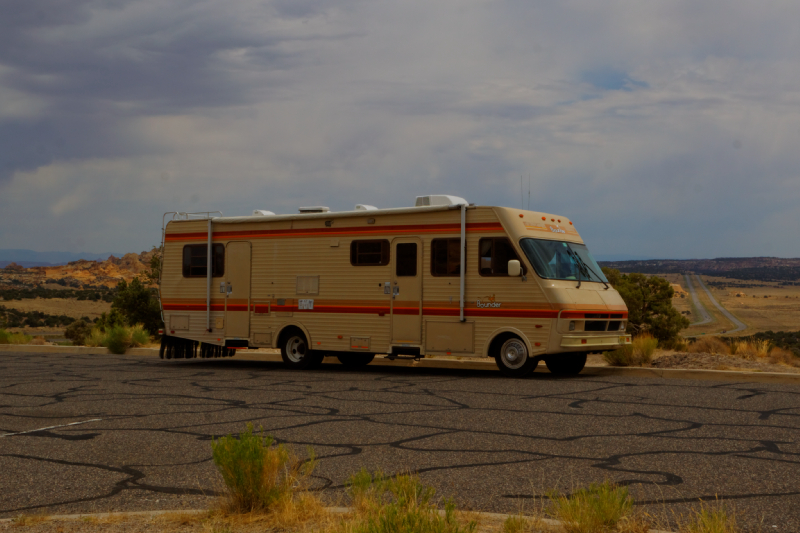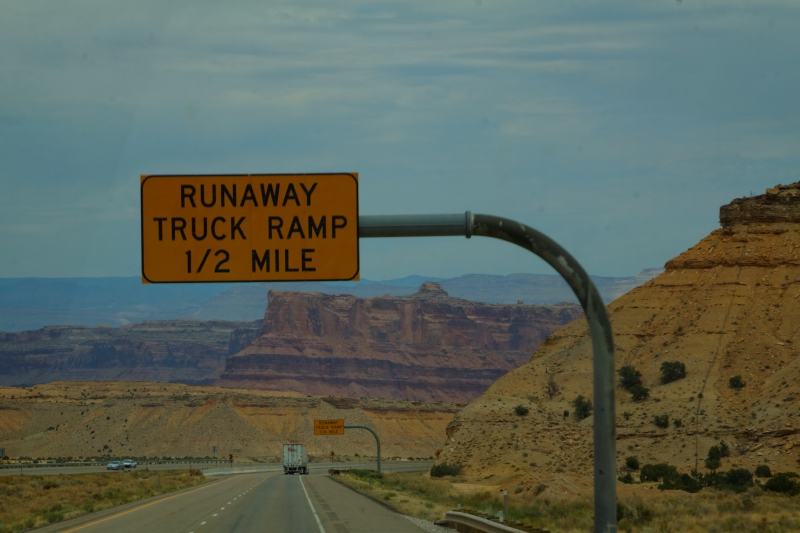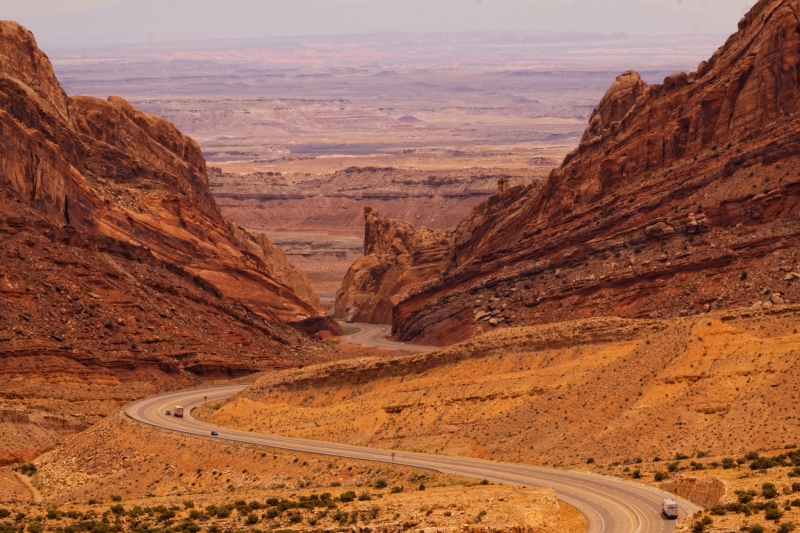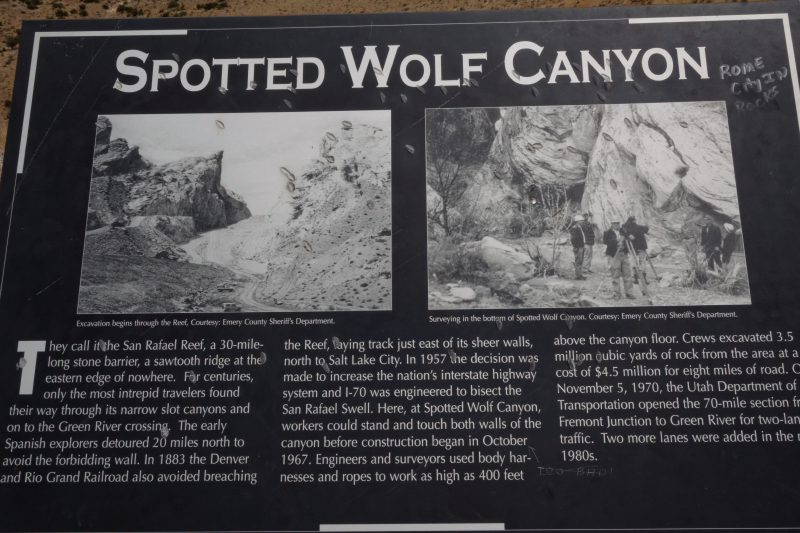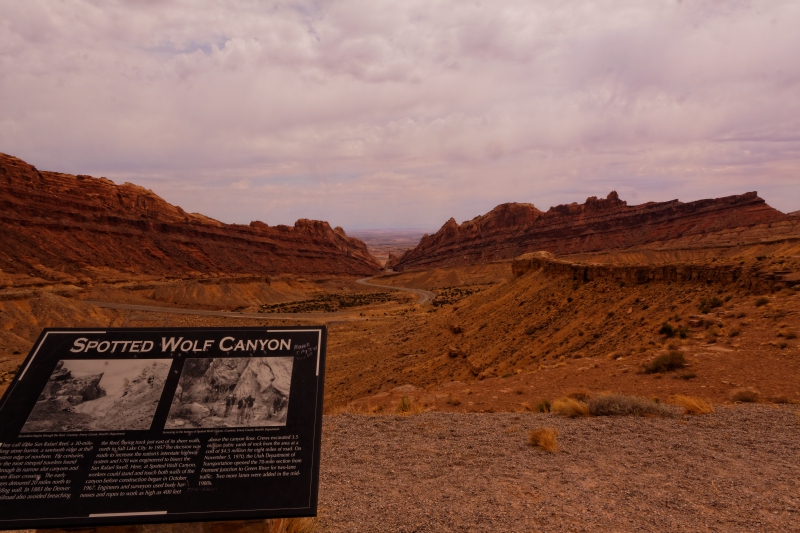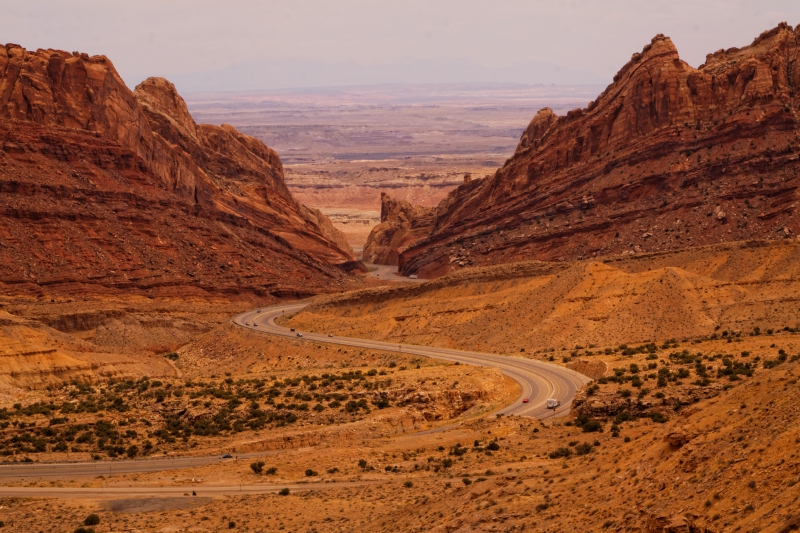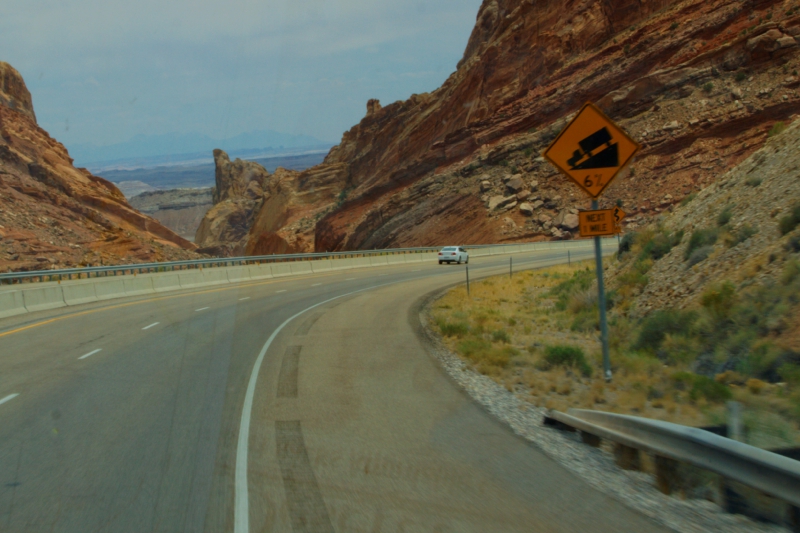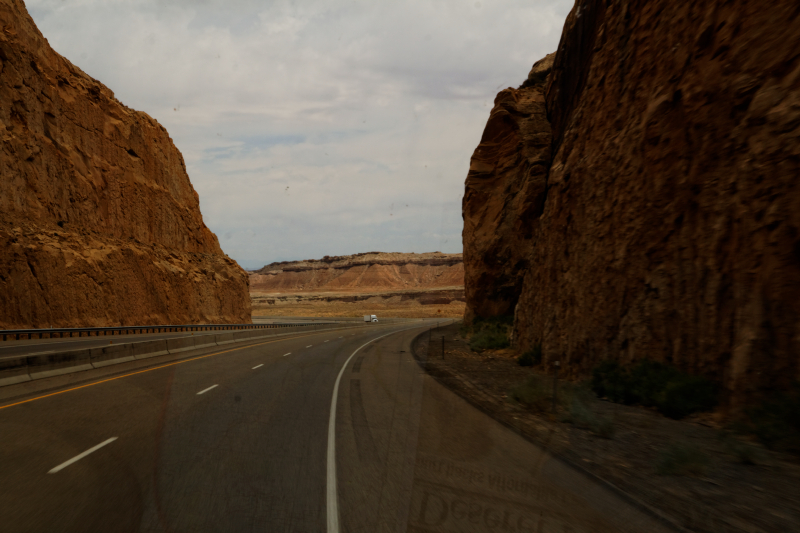 Through the Canyon, coming out onto the lower plains..On to Green River..
The road to Green River was a lot flatter. GR is a big jumping off point for rafting and such down the Colorado River into the Lake Powell, and further along, the Grand Canyon area. We cross the Colorado RIver, and a few miles farther down the road, found our turnoff to head to Moab and the Parks on the way.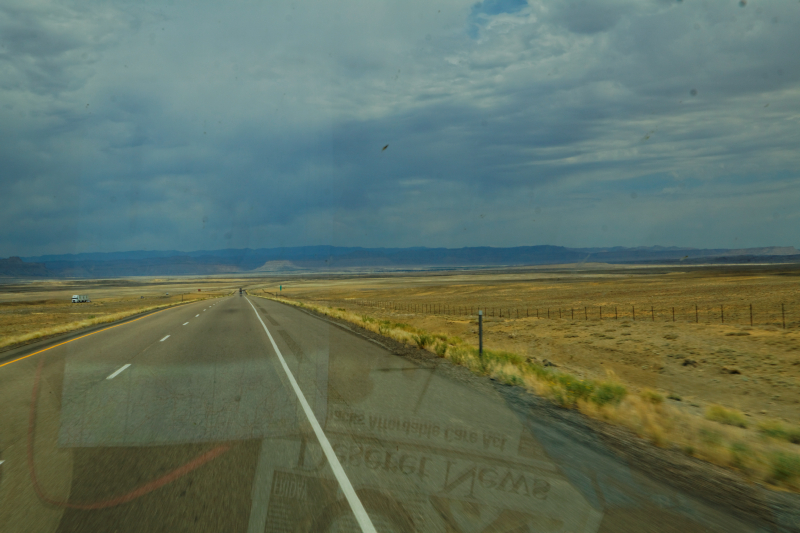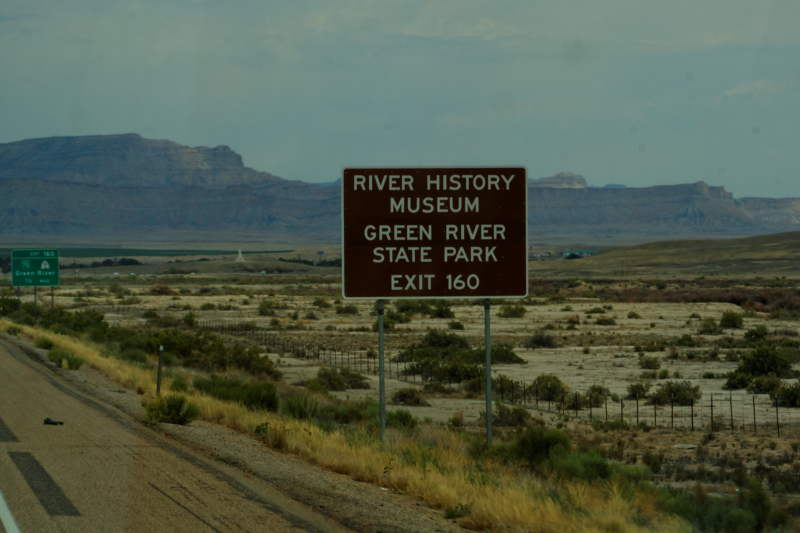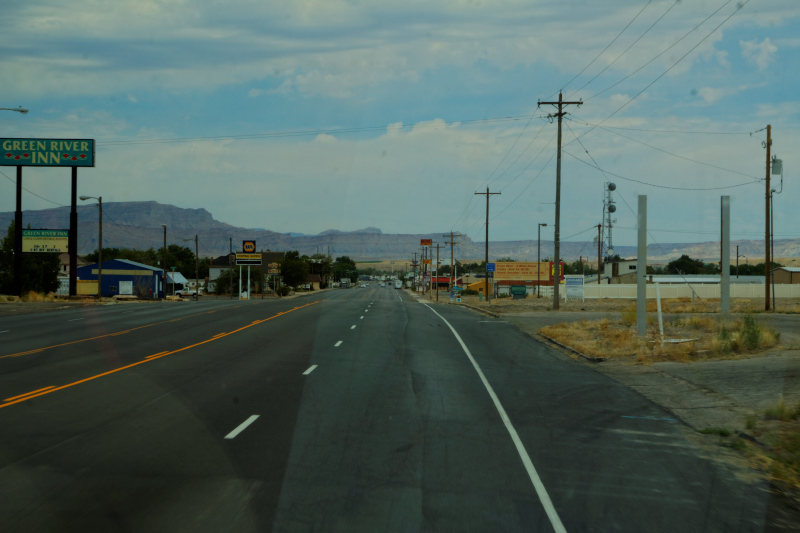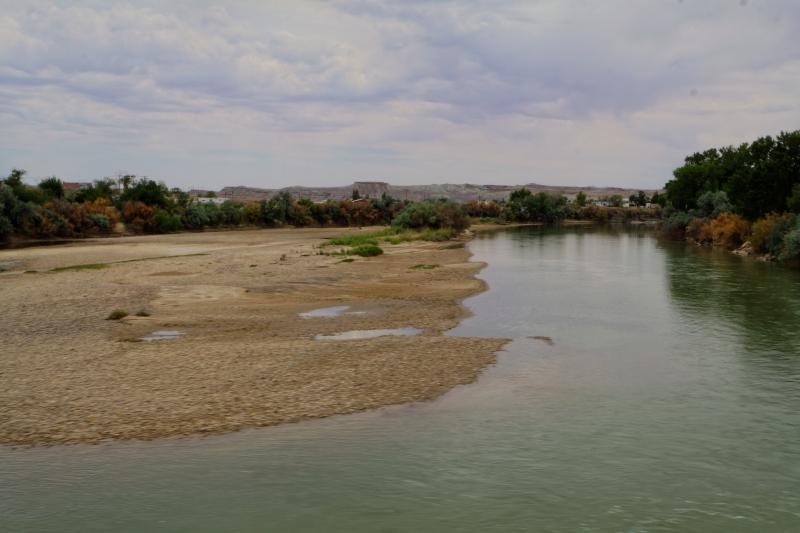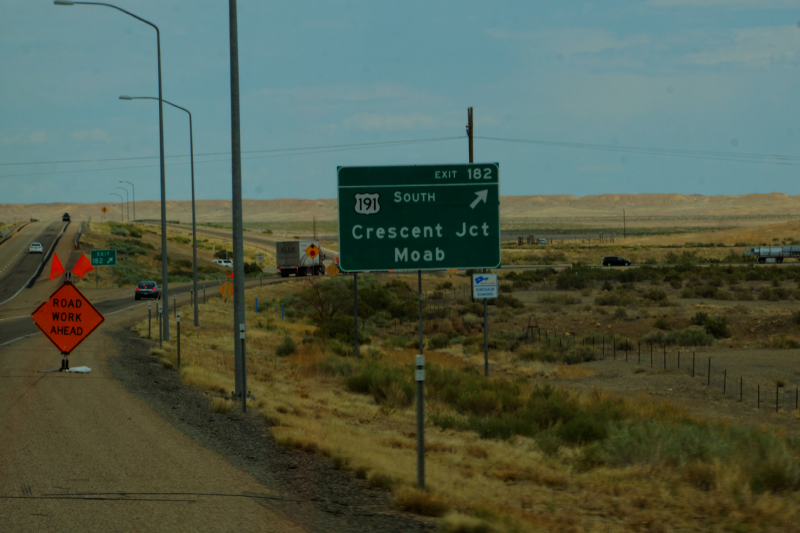 The road out to Canyonlands NP was deceptive - very flat, just kind of wandered around out in the middle of nowhere - you don't realize it, but you're driving up on TOP of the big flat mesa or whatever it is that surrounds this area. So there's not a lot of buildup or anticipation as scenery slowly comes into view or anything like that. Not like Disneyland where you see the Castle from 20 miles away... :) Canyonlands is a very basic park, not a lot of amenities, no lodge or other facilities, just a lot of land, some canyons, and the occasional bus load of tourists. There are only a couple of roads, and the one on the north of the park where we were leads to two relatively well-known scenic view areas, "Island in the Sky" and "Green River Overlook". We went to them both. The rest of the park is about 30 miles south, but there's no direct road to it and you have to circle around in about a 100 mile loop to get there. We decided to do that next time. The afternoon was getting a little big cloudy, and the wind was still, as it had been, ferocious but I got some decent shots anyway.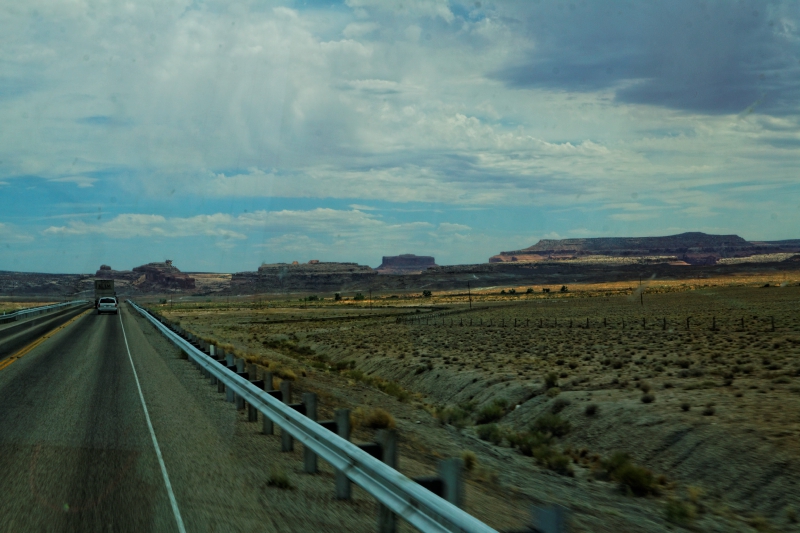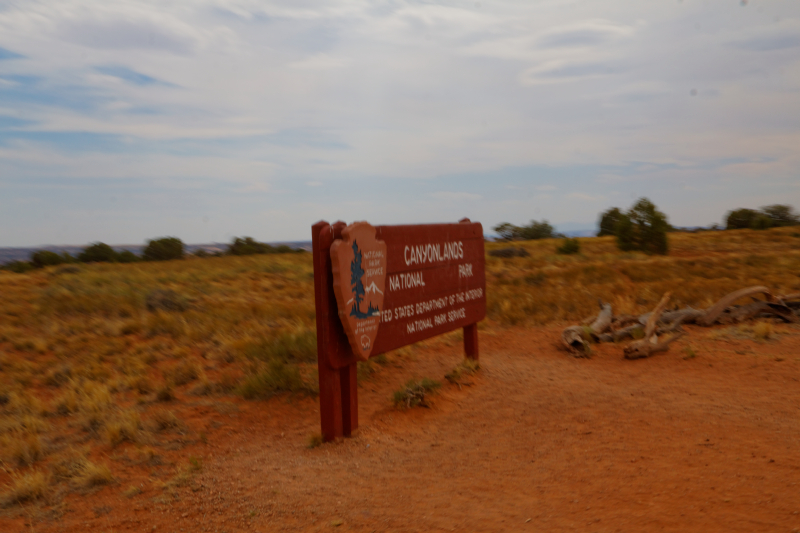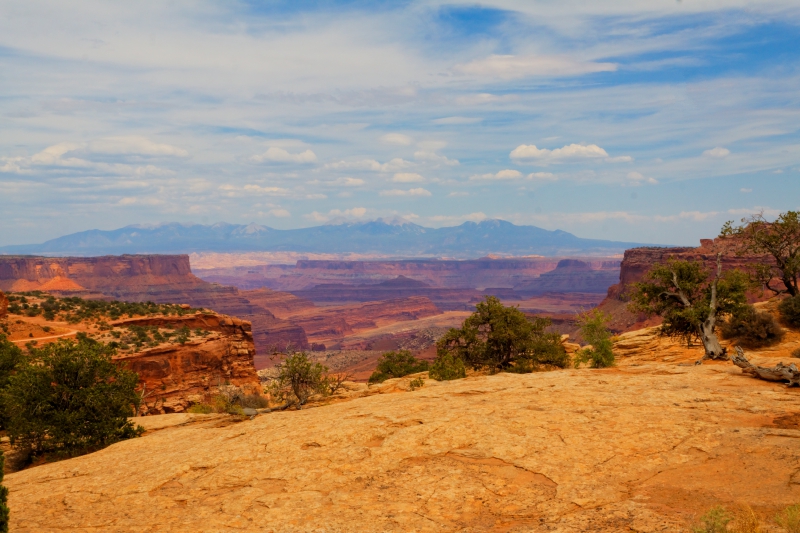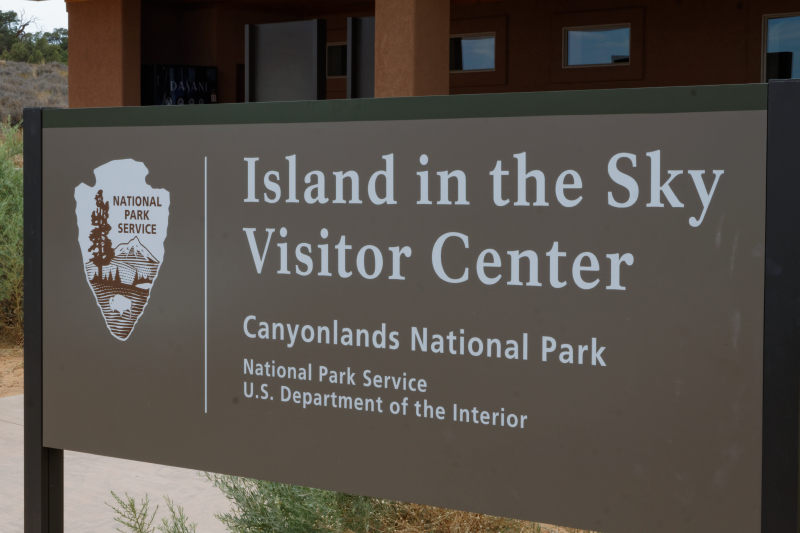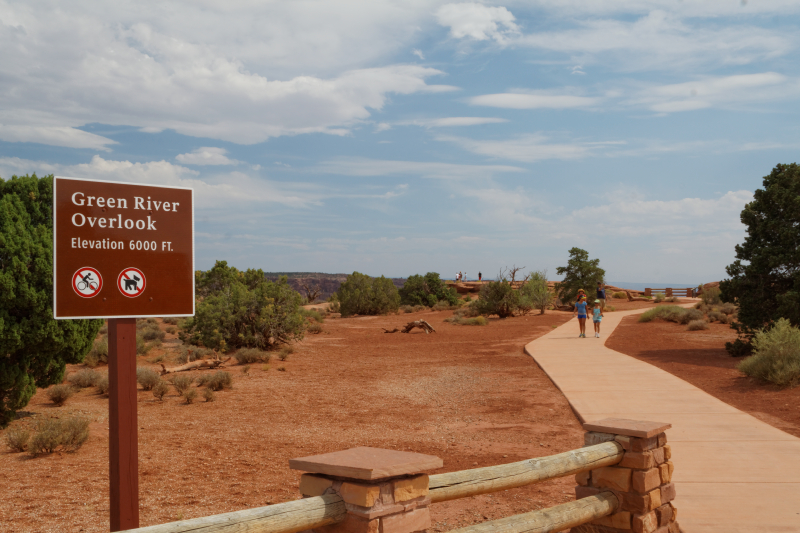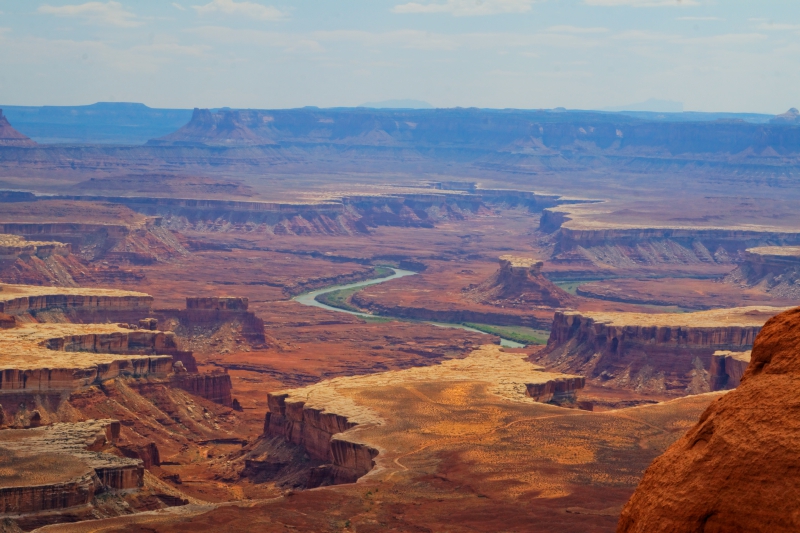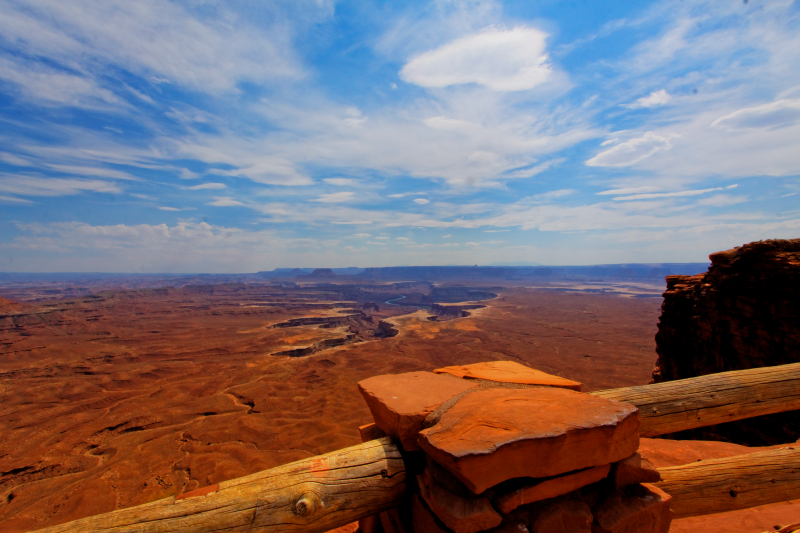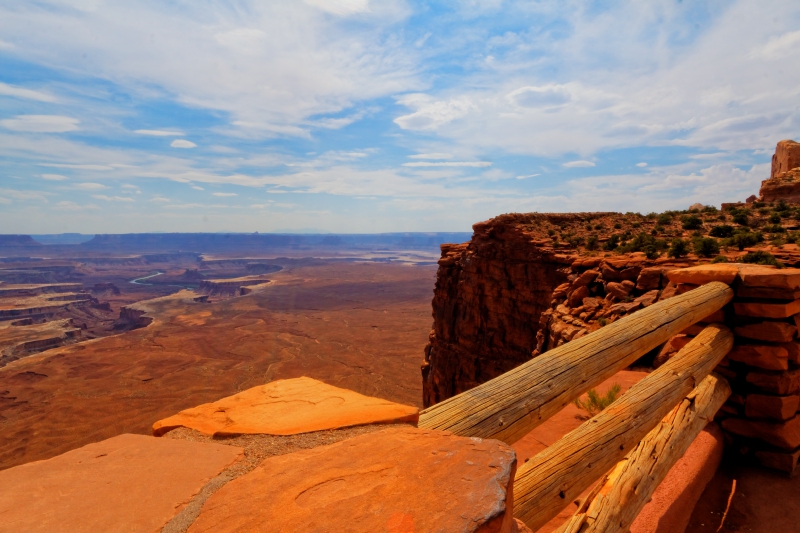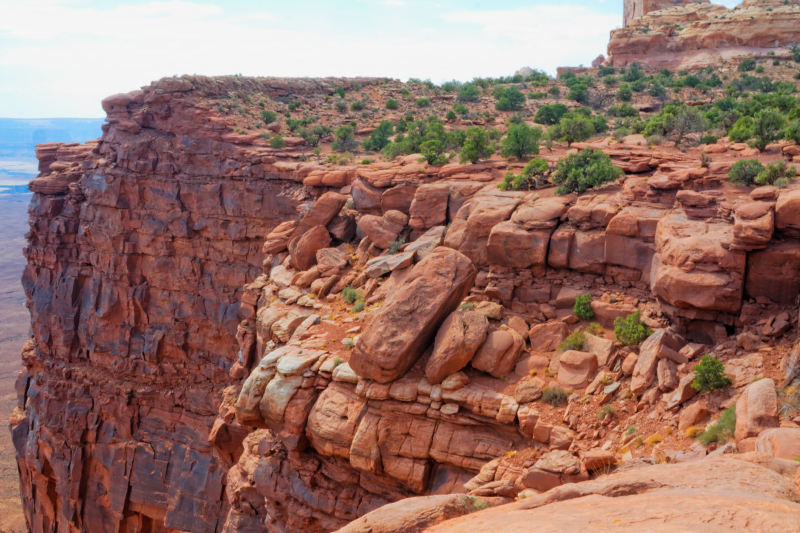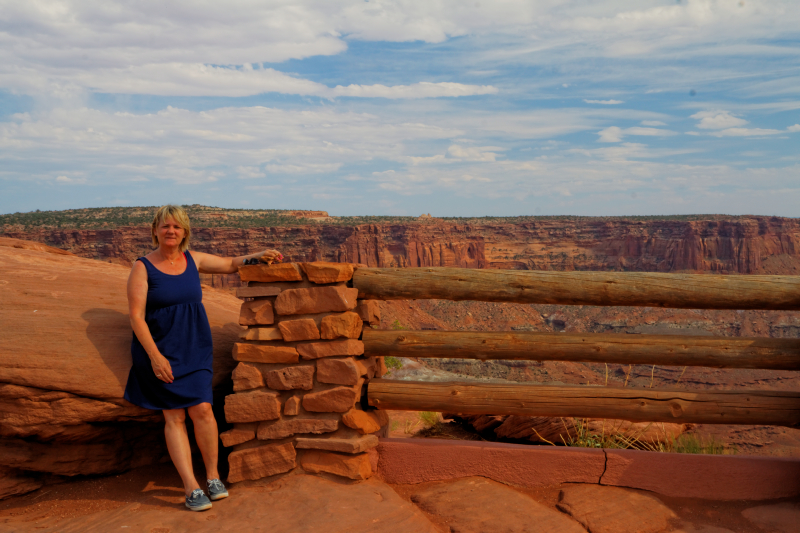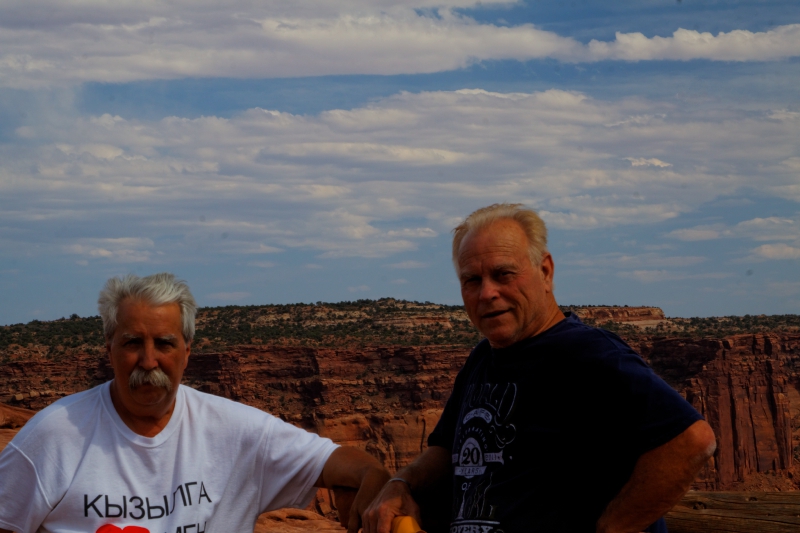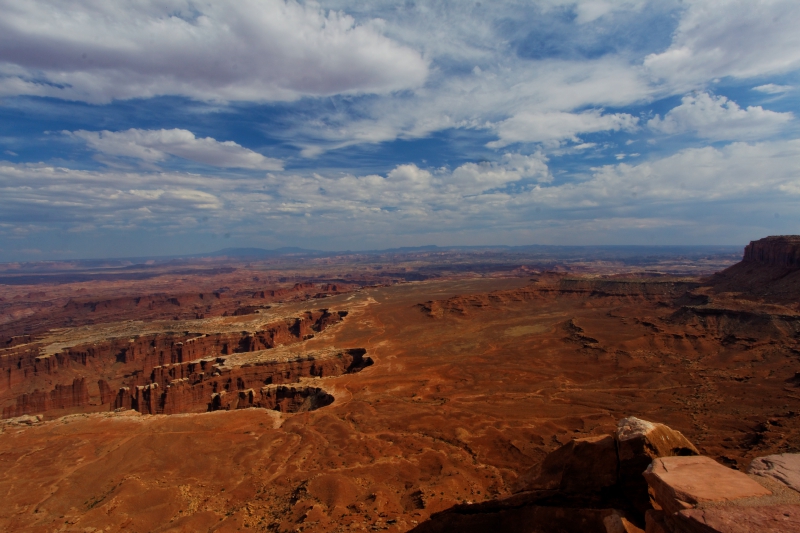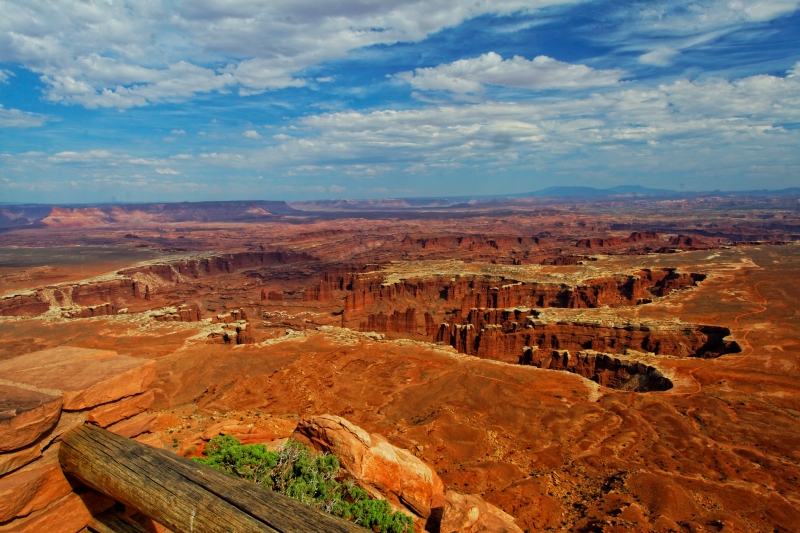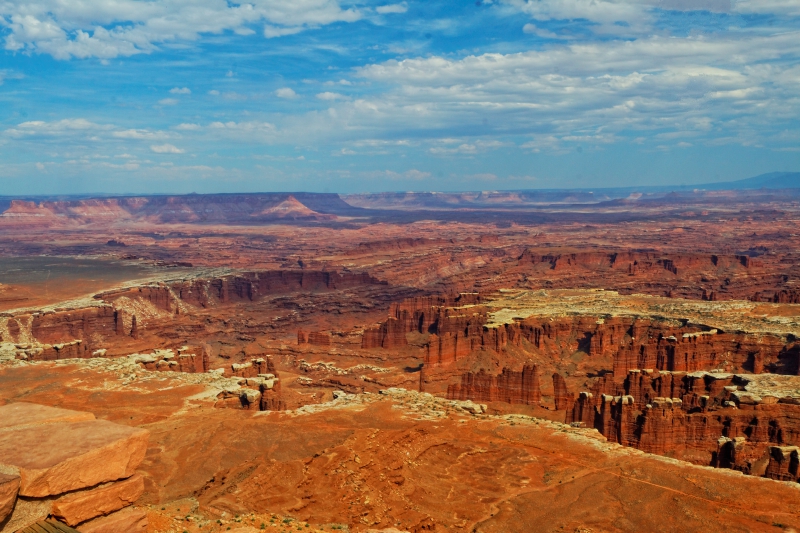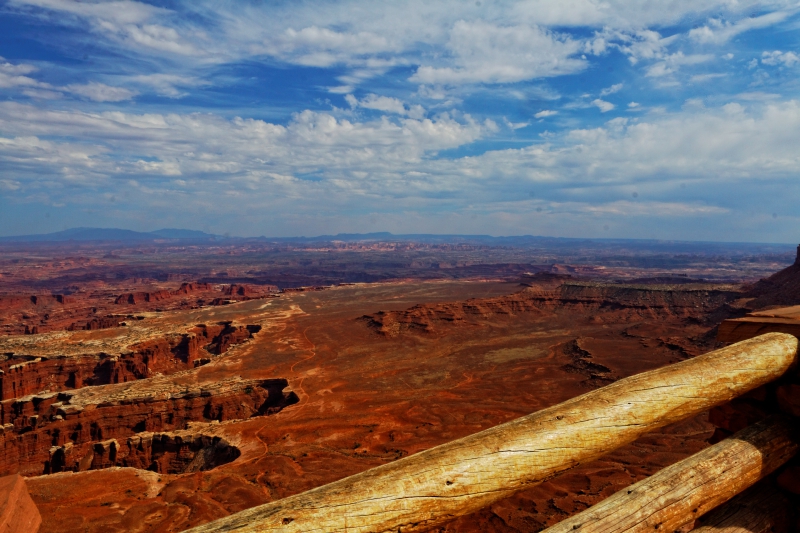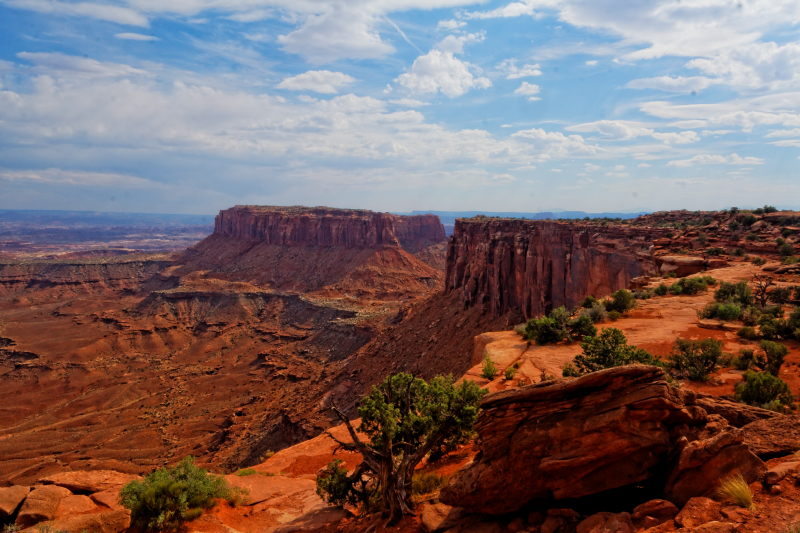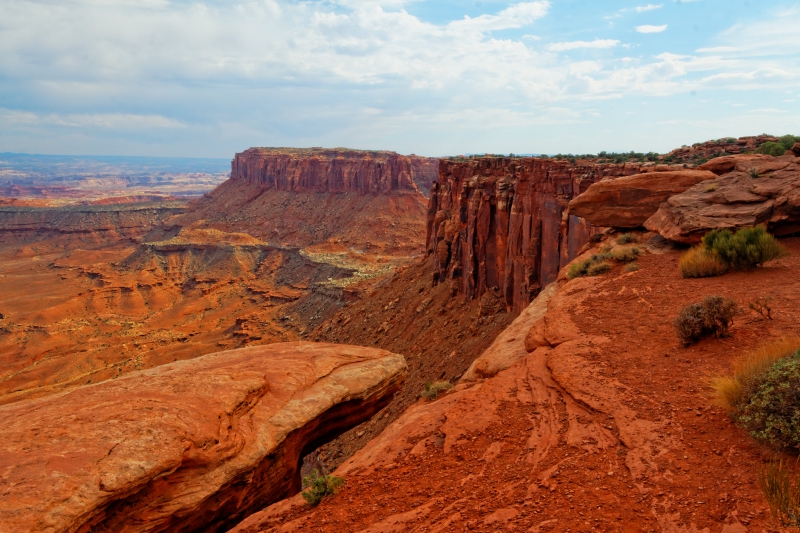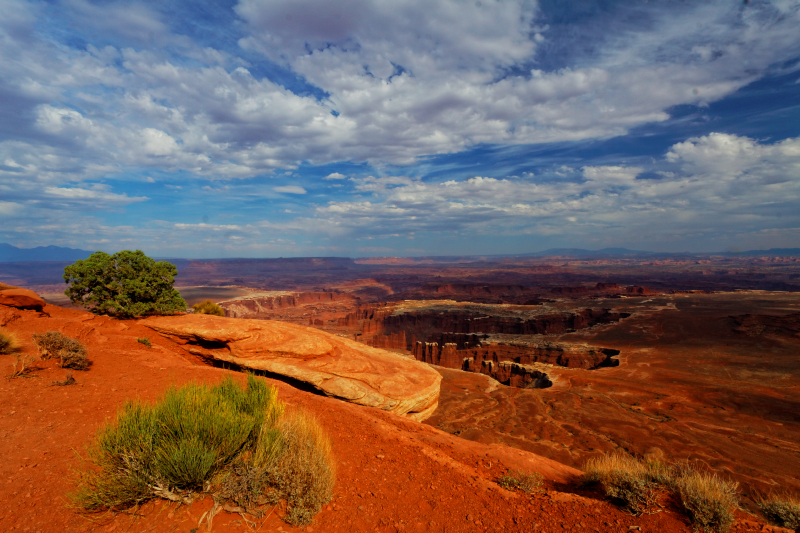 Gorgeous vistas heading off in all directions, but I wanted to see another well known spot nearby, Dead Horse Point. This was an area along the Colorado river where, according to legend, a bunch of horses were rounded up by local cow-pokes back in the 19th Century, and after culling out the good ones, they left the remainder penned in to starve. I don't buy it, considering how much the cowboy depended on his horse - it's like going to the pet store to buy a puppy and then setting fire to the place after you leave. I think it's much more likely that some poor horse DID starve to death, or maybe just die of natural causes out here someplace, and the "dead horse" descriptor just stuck. We rode back out of Canyonlands NP and drove the short distance back to Dead Horse Point state park. We were loosing our light as we got here, but I got some nice shots of the setting sun turning the western hills to gold. As we were leaving, the sun finally broke through the mass of clouds and haze that had been dogging us all day. We noticed shimmering spots of silver in the distance, that looked somewhat unnatural. We found out later they were potash mine drying ponds. We also found out that the odd railroad camp we saw way down by the river was a movie set for 'The Lone Ranger', starring Johnny Depp, due in theaters summer of 2013.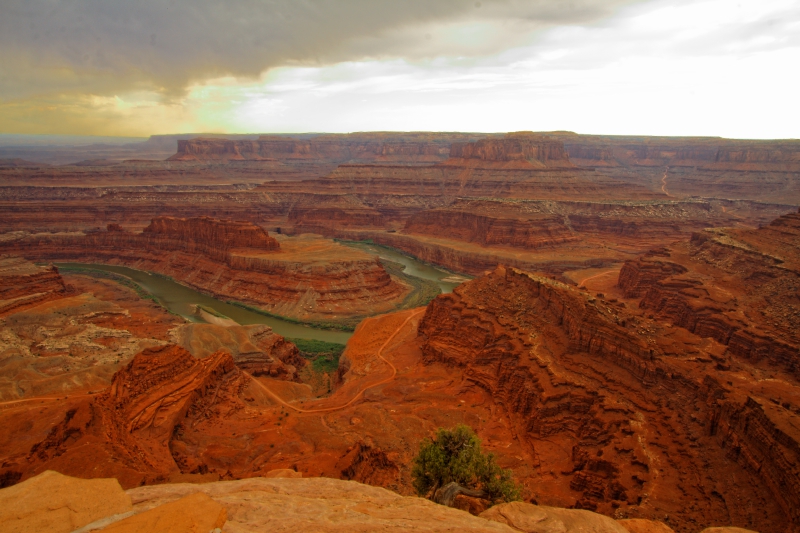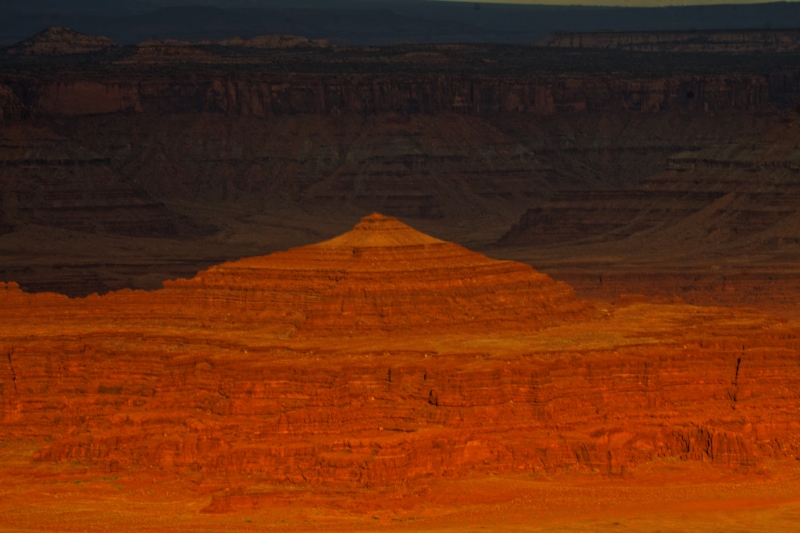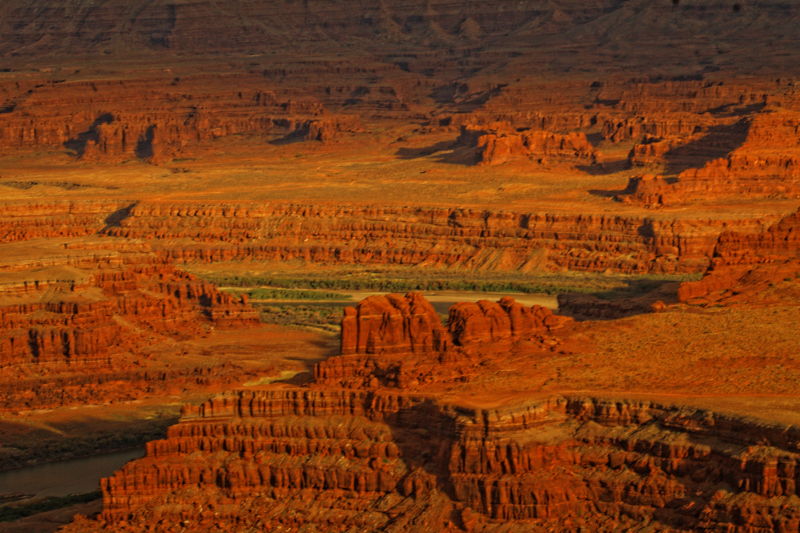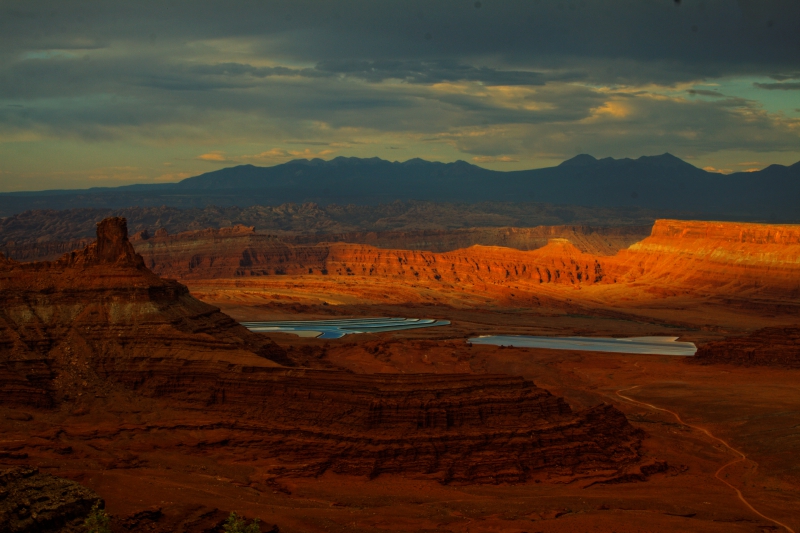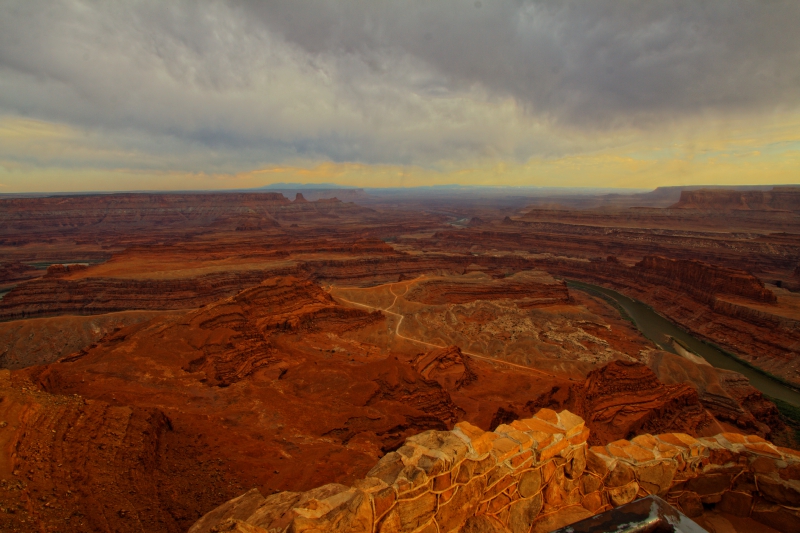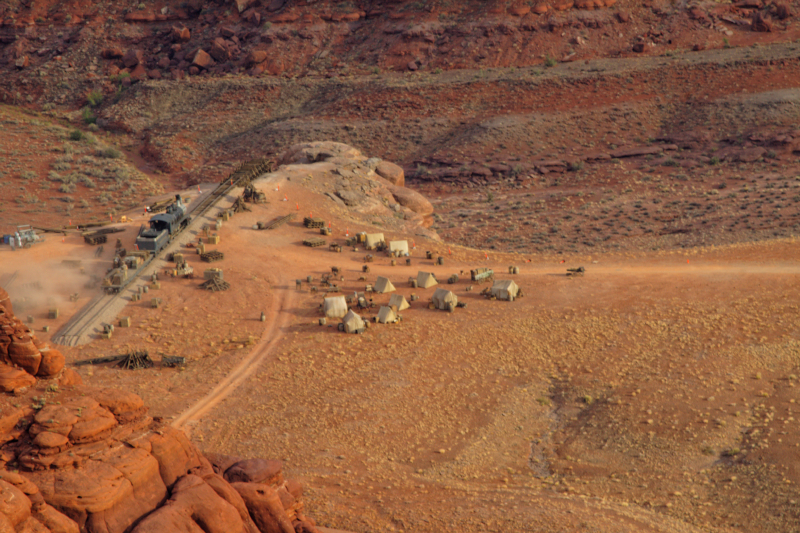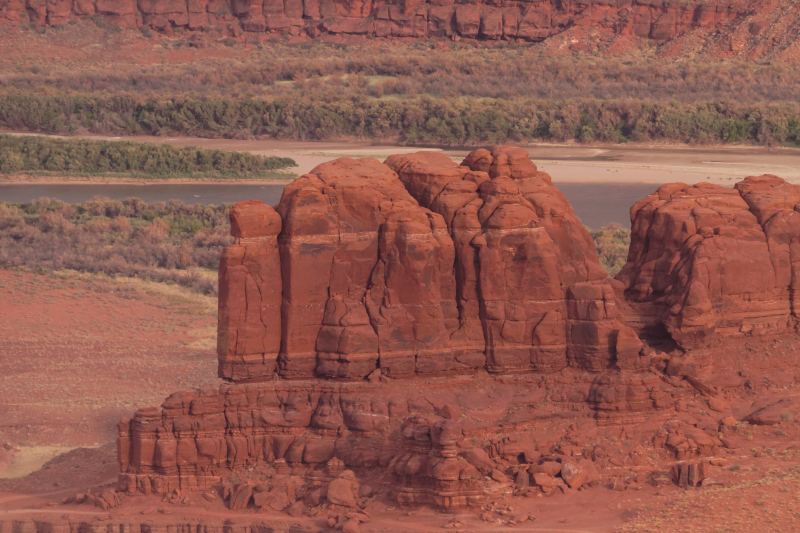 After Dead Horse Point, we drive the few miles back up the road, and then onto Moab. Dark clouds covered much of the sky, and it looked like a big storm was brewing, but nothing ever came of it. It did make getting photographs a bit challenging, but every now and then the setting sun broke through the clouds to light up some rocks in an interesting way. We passed high cliffs, desert scrub, and some neat rock on the way to Moab. Moab is a big 4X4 excursion spot, and is the main point of civilization in these parts. Nice little town along the Colorado River, with a high bank of mesas paralleling the roadway on the other side of town. We found our KOA campground and pulled in for the night, just as darkness fell. Tomorrow would be our visit to Arches National Park for the main part of the day, then on to Colorado.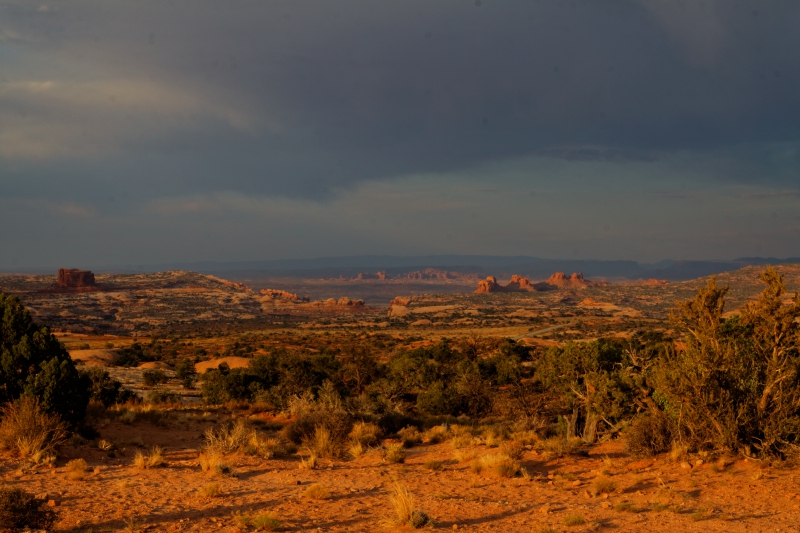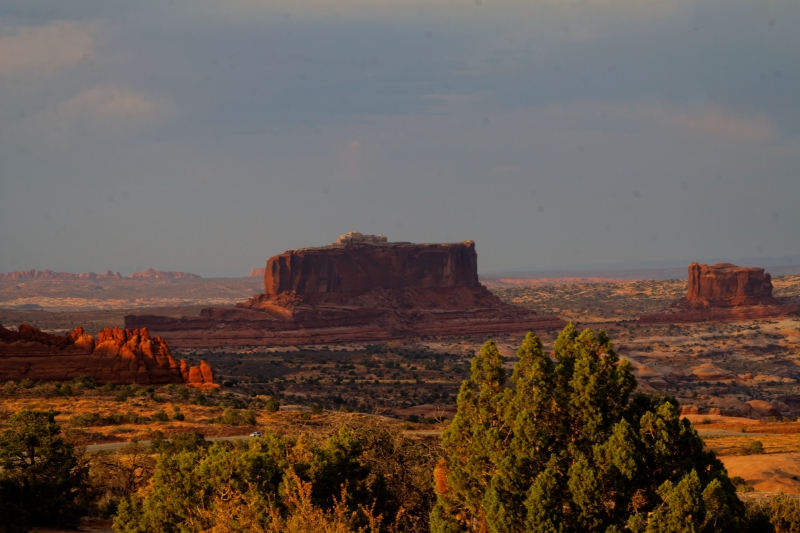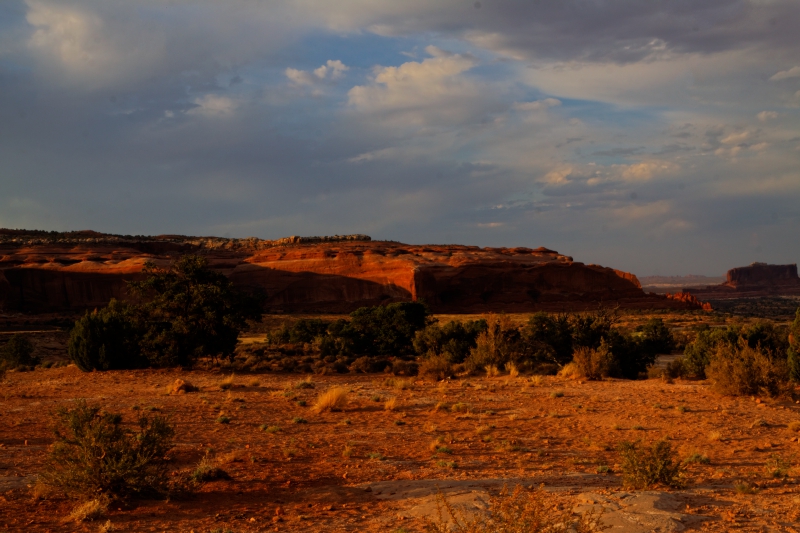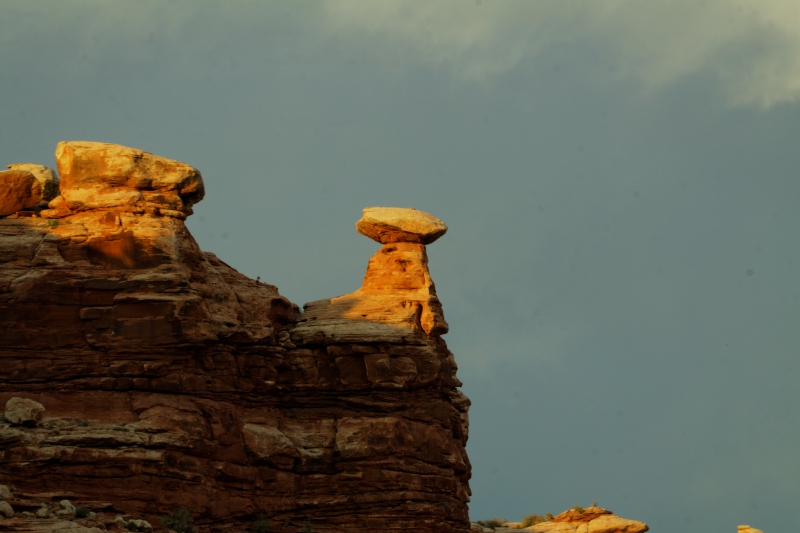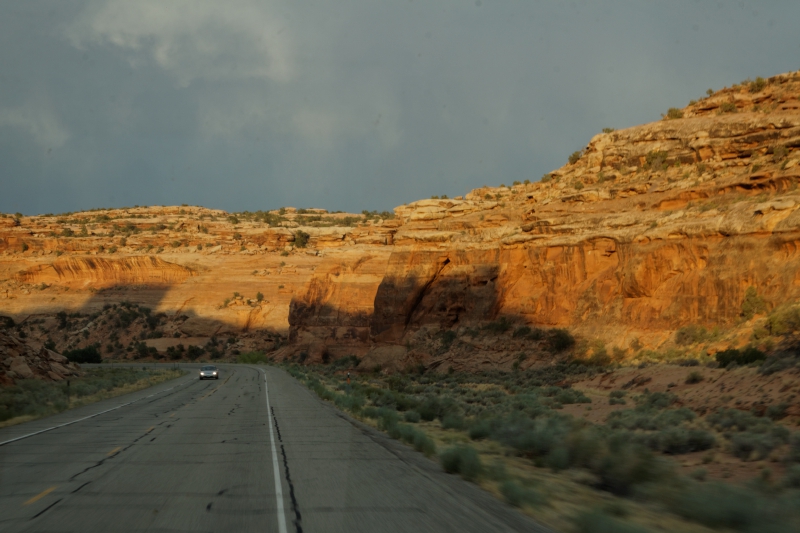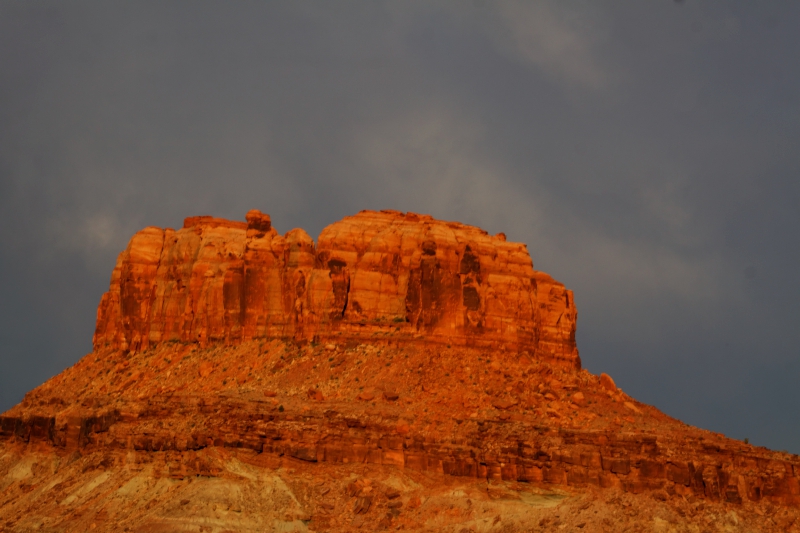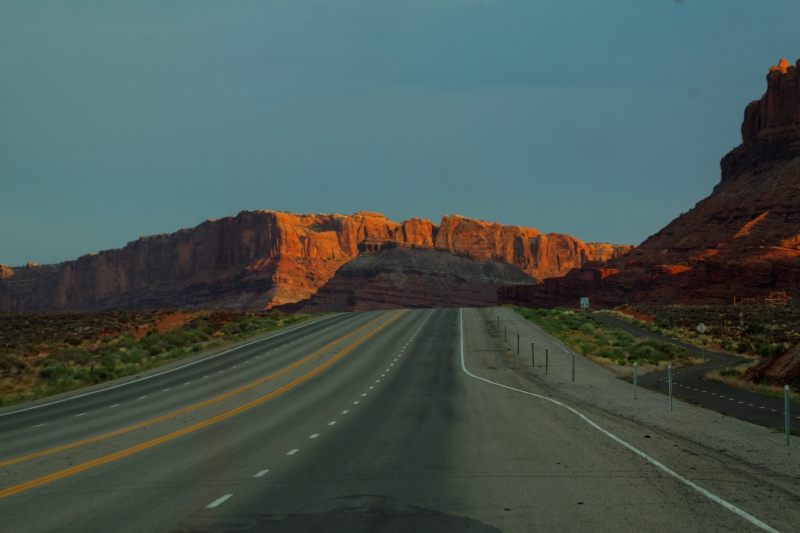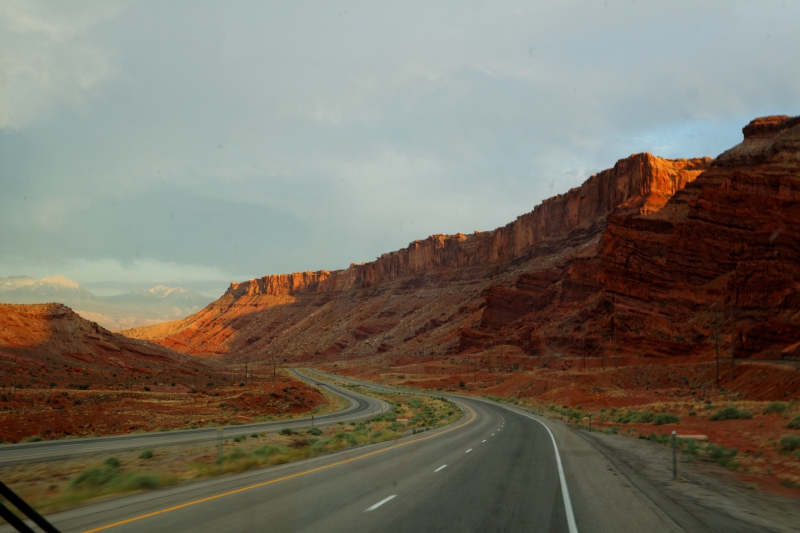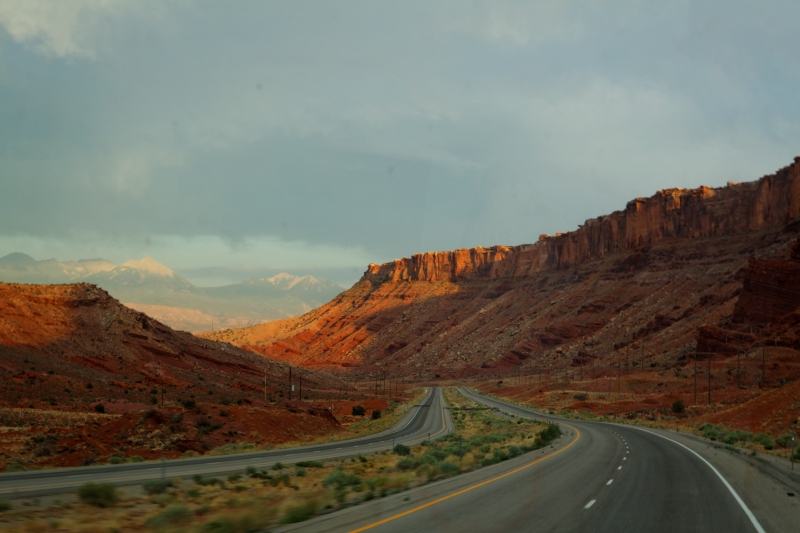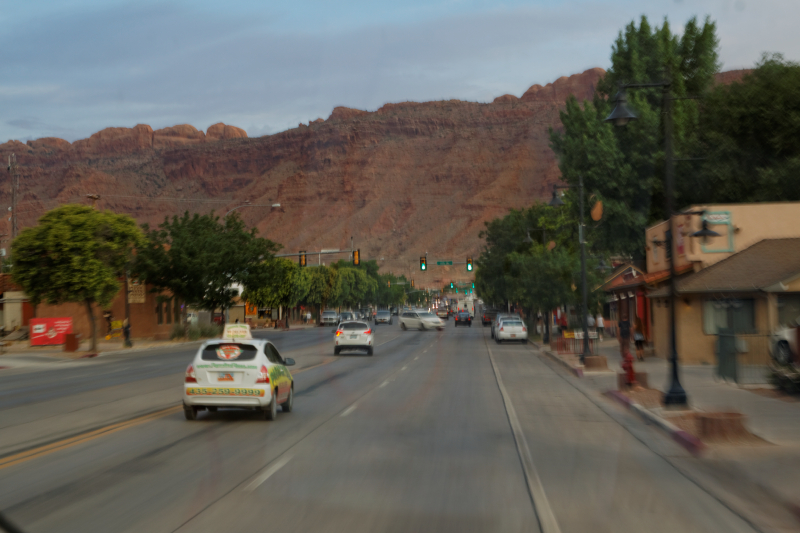 End of Day 10 - 327 miles
Day 9
Day 11