More Silly Scenes...
(or as the multitude of web authors brought up on DC Comics, Nintendo and Beavis and Butthead would spell it, "seens."
Aged relatives, retired to Vero Beach Florida, under a hovering brother Bill. This picture is from about 1988 or so. But Dad still doesn't wear socks...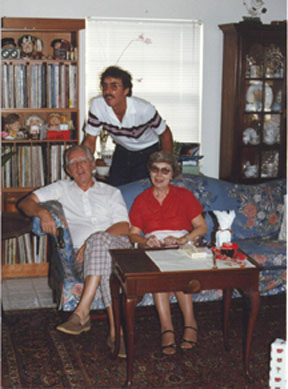 ---
| | |
| --- | --- |
| All right, who says my friends are goofy? The Famed Scott Saftler, DBCS 1984 | Well, maybe Don Biancamano is. He tries on his aunt's housedress as an apre' ski outfit, Pennsylvania Poconos, Feb 84ish? |
---
| | |
| --- | --- |
| I really hadn't planned on drinking it anyway, but thanks for the tip. | ".. I say guv'nor, hadn't you best trod on the brake pedal before you squish yonder amphibian?" |
---
My township planning commission meets to discuss my request for a zoning variance.