Day 8 - Salt Lake City to Mona, UT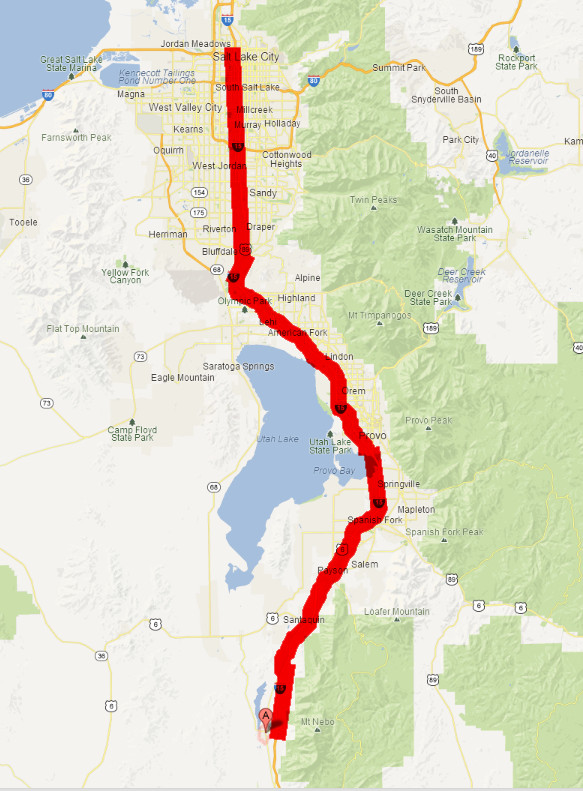 We didn't need to be at the convention until noon, so we spent the morning at the KOA swimmin' hole. It was nice to soak in some water for a while. But then it was time to go. First we had to drop the rental back off at the airport, so Hal followed me there, and had to circle the place while I dropped off. I got on board when he came around again. We headed back into town for the convention, and Hal and Melissa posed with some of the characters they had walking around - butterflies and such. We spent about an hour in the place, and then decided to get on the move.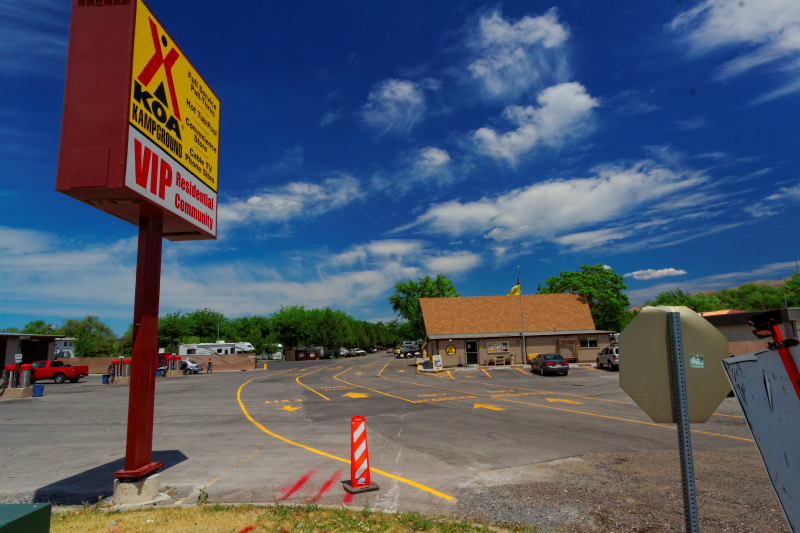 Goodbye to the Salt Lake City KOA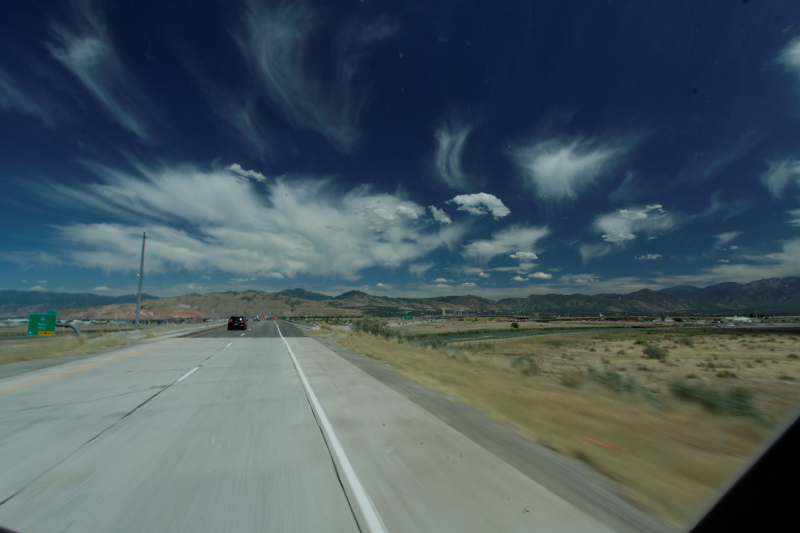 Back towards town from the airport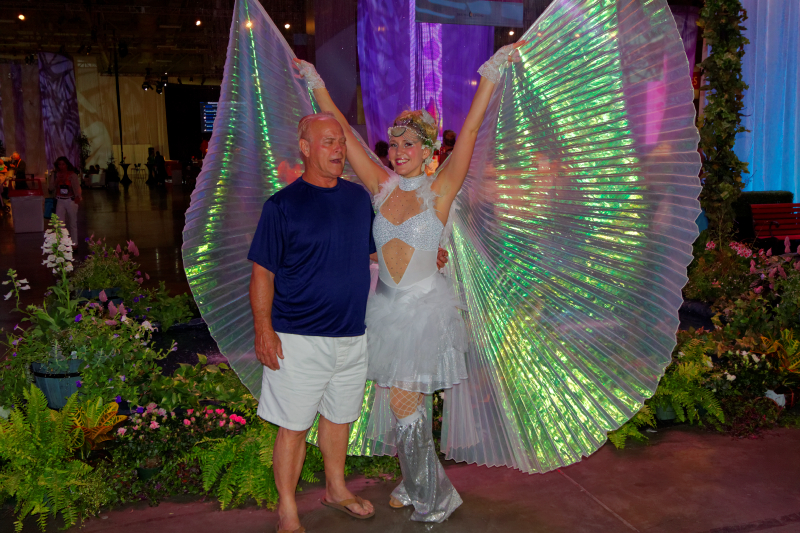 Convention Butterflies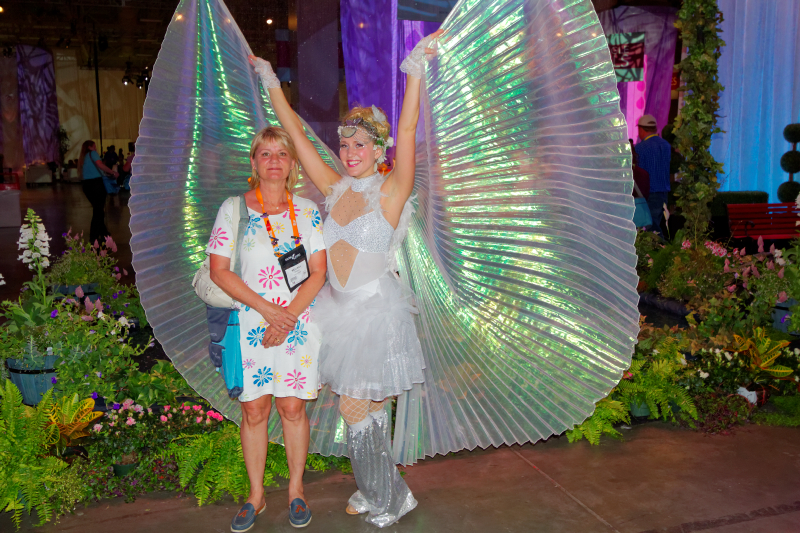 We headed south on I-15. Traffic was mildly heavy, but not all that bad. We rode south along the Wasatch Front range, it was nice scenery, seeing the green of the hills. We noticed a few peaks with lots of domes and antennas on them, I suppose for broadcasting and radar, that's the place to be. A few dozen miles south around American Fork we noticed a brush fire off to the west, sending smoke and haze into the air. We passed through Provo without incident around 5 pm or so. The air was getting noticeably darker with smoke as well. From listening to the radio, it seemed there were a dozen or so small brush fires in the area, all sending their smoke right into the atmosphere around us.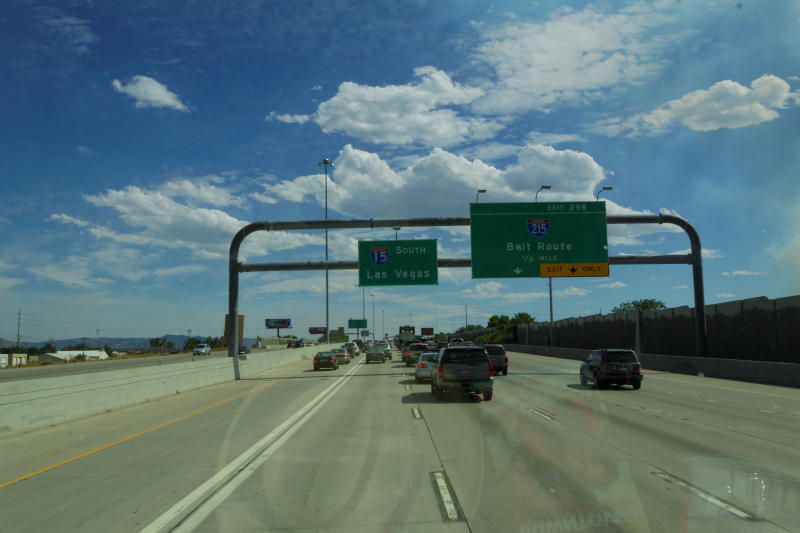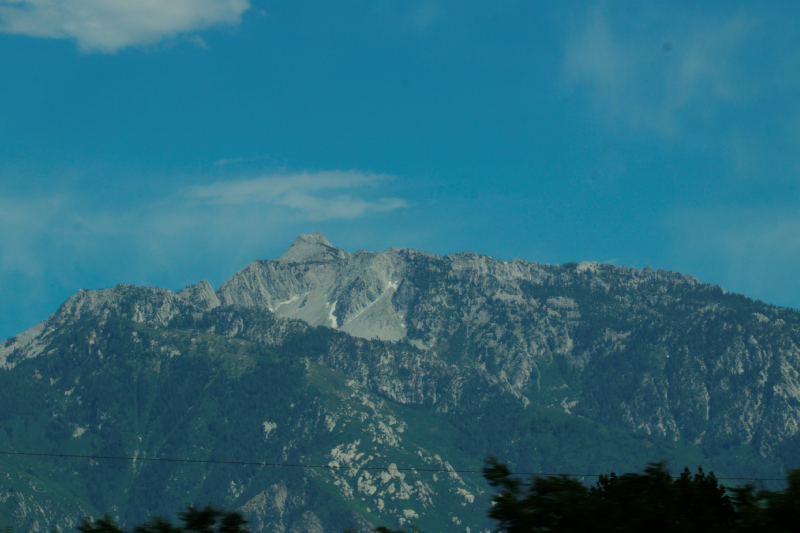 Mount Timpanogos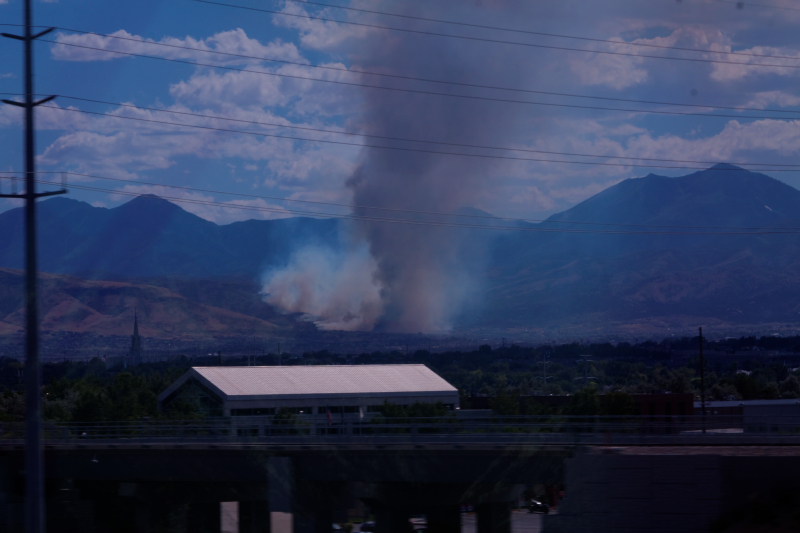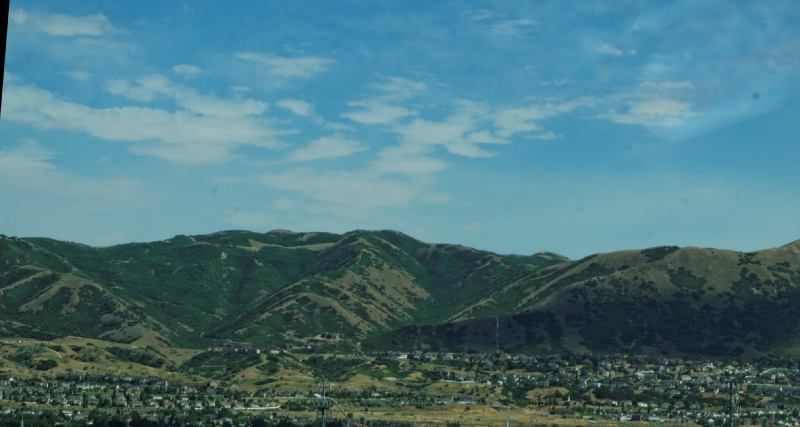 Provo
We found the farm where we'd be spending the day on Saturday, but there was not much civilization around. We drove south a few more miles to Nephi, and had dinner at Lisa's Kountry Kitchen, with the smoke clouds billowing ominously above. I confirmed the fact that in Utah, they don't know how to make a hoagie..it was horrible. After dinner, back north to the Farm. It was directly across from Mt. Nebo, which is the highest peak in the Wasatch Range, at around 11,800 feet. There are actually three summits on the mountain itself, I got some shots through the setting sun and the haze. Just north of Mt Nebo is another high peak, Bald Mountain. It appeared to have had some sort of blight hit many of the trees on its slopes, one could see the dead white trunks starkly against the remaining green. The day ended with the RV parked under a cool shade tree at the farm.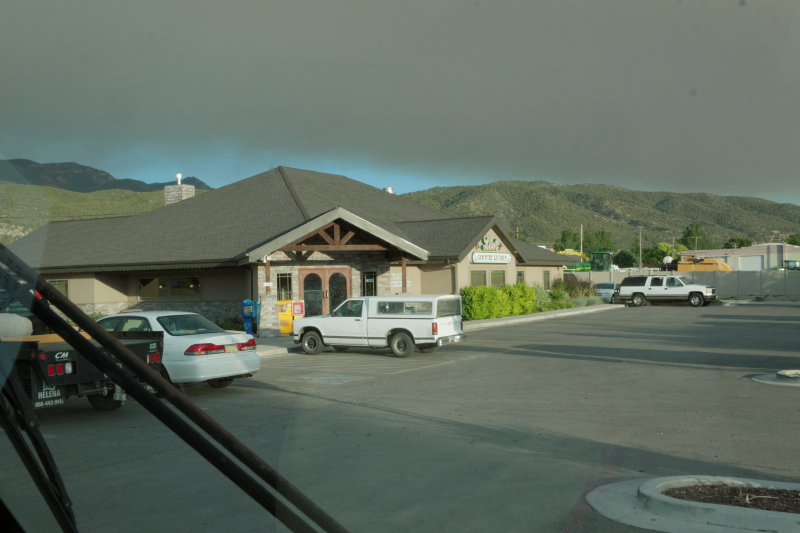 Lisa's Kountry Kitchen, under dark smoky skies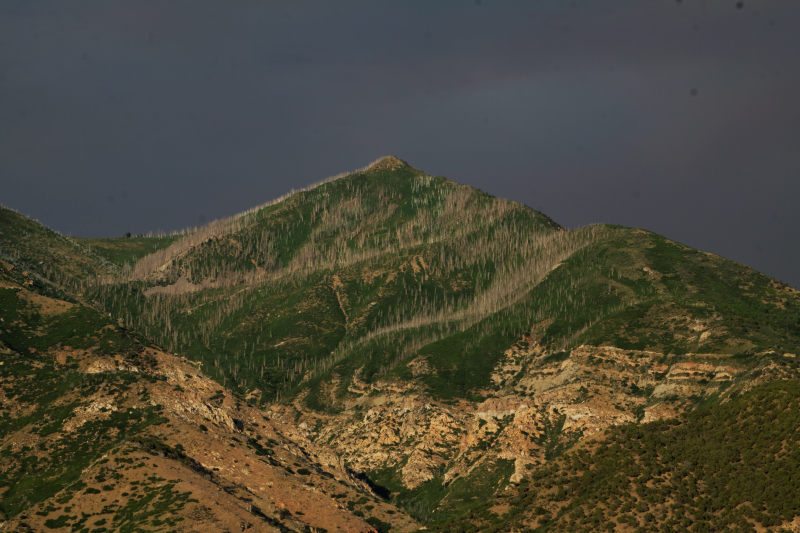 Bald Mountain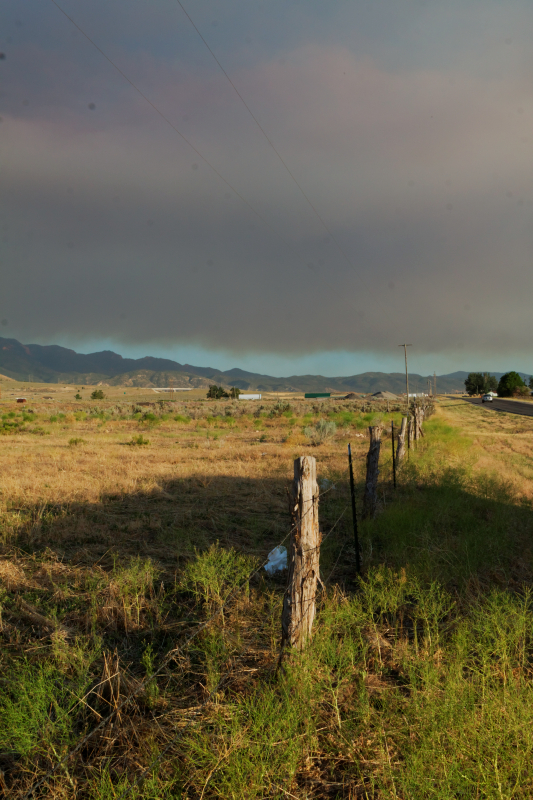 Smoke in the Mona Valley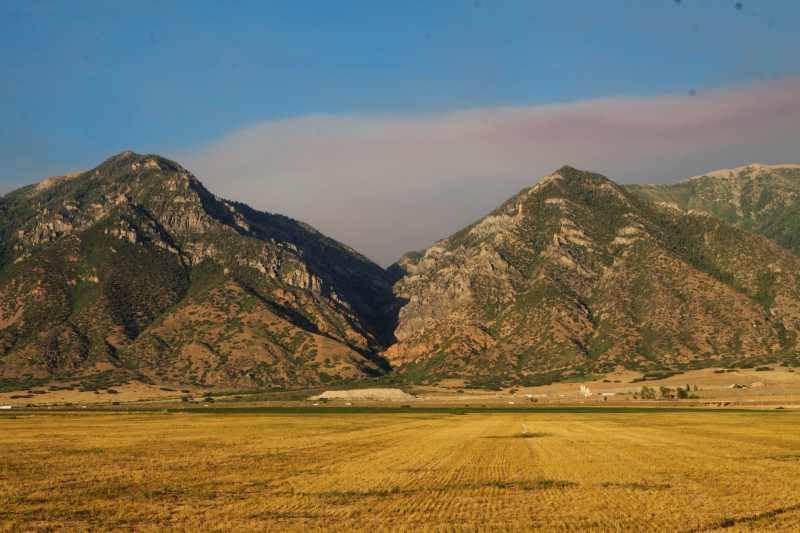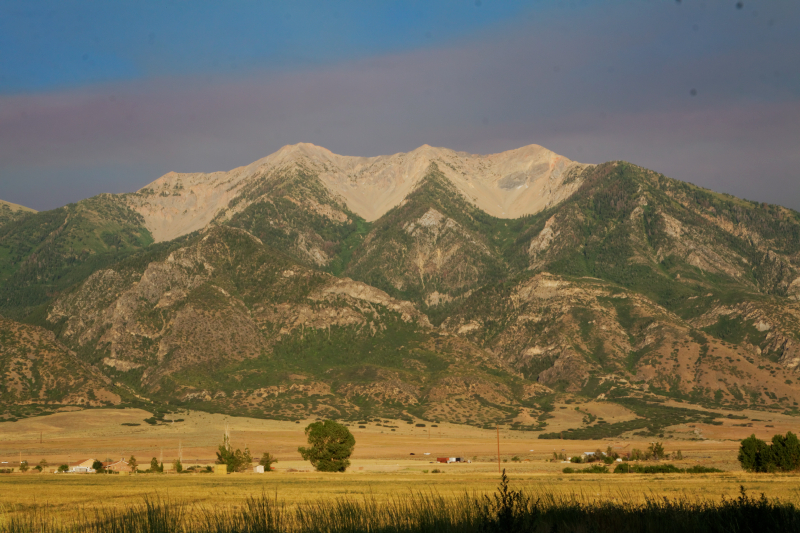 Mount Nebo's three peaks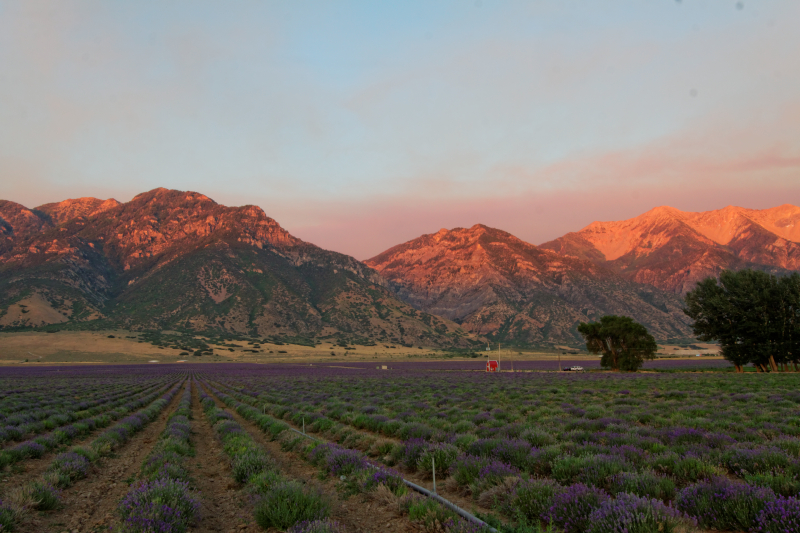 Sun setting in the Mona Valley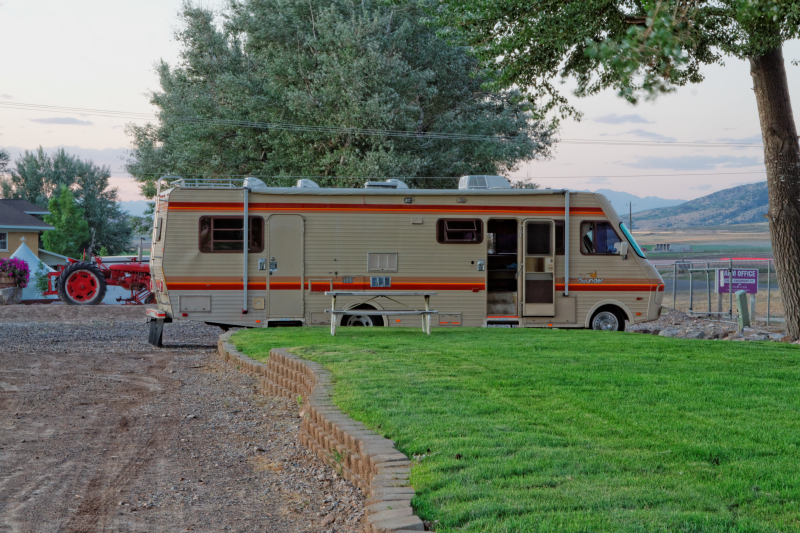 End of Day 8, total miles 116
Day 7
Day 9